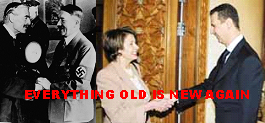 February 01, 2006
SOTU: Arianna Not Impressed
Some of Arianna Huffington's reactions to last night's SOTU:
17 mentions of "freedom" from the guy obsessed with assaulting it here at home.
Er, yeah, right. The fact that your blog has not been shut down because you disagree with the current administration notwithstanding, of course.
Did you notice the president had on a purple tie tonight? Very subtle. He could have come up with a purple finger or maybe covered head-to-toe in purple paint.
Very grown-up of you Arianna. Perhaps if it had been John Kerry up there he might have worn a pink tie to show his support of folks like Code Pink? I'll be honest, I didn't even notice the color of his tie.
One of the most heart-warming moments came when Joe Lieberman kissed W. even longer than he did at last year's speech. A salute to "Brokeback Mountain," I guess.
The representatives of the party of tolerance, who claim Republicans are homophobes, ride again. And of course, as Lieberman is now persona non grata in his own party, he is smeared right along with Bush.
I love that the biggest applause line of the night was an unintentional one, the spontaneous clapping that followed his mention of the fact that Congress hadn't acted on his Social Security plan. Bush looked flustered, unsure how to respond. Sitting next to me was actor (and HuffPost blogger) Paul Hipp who said: "Next time I want a president who can improv!"
It figures that her favorite part is where the Dems, who have no ideas of their own, pat themselves on the back for blocking SS egislation that, during the Clinton era, was supposedly important and needed to be looked into. And Bush wasn't exactly flustered. Respond? He didn't have to respond. He was the one giving a prepared speech. This was not a debate, and the Dems just acted like a bunch of spoiled brats.
I can't stomach anymore. Click here to read the rest if you care to. When it comes to snarky, nothing beats a disgruntled Dem supporter.

Show Comments »
November 01, 2005
Mark Steyn: It CAN Happen Here...
Brilliant as always:
What's the bigger threat? A globalisation that exports cheeseburgers and pop songs or a globalisation that exports the fiercest and unhealthiest aspects of its culture? Far too many American conservatives still think the dragons are at the far fringes of the map - that, in the 21st century, America can be a 19th-century republic untroubled by the world's pathogens because of its sheer distance from them.
What indeed?
(Note: The Telegraph link above requires registration, but it's free.)
Show Comments »