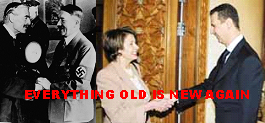 December 01, 2006
A Nativity Scene We Can All Enjoy
The Young Republicans of Texas UT have decided to put on a nativity display that should appease even the most hardened of anti-Christians:
"We've got Gary and Joseph instead of Mary and Joseph in order to symbolize ACLU support for homosexual marriage, and of course there isn't a Jesus in the manger," said Chairman Tony McDonald. "The three Wise Men are Lenin, Marx, and Stalin because the founders of the ACLU were strident supporters of Soviet style Communism. The whole scene is a tongue-in-cheek way of showing the many ways that the ACLU and the far left are out of touch with the values of mainstream America."
The scene will also display a terrorist shepherd and an angel in the form of Nancy Pelosi.
Just think of the benefits if this should catch on: no more homophobic depictions of Mary and Joseph, no more offensive Christ child, and terrorists are finally being given a fair shake.
If you're going to be in the area of the West Mall of the University of Texas campus on Monday and Tuesday, December 4th and 5th, be sure to give it a look-see.
h/t: Moonbattery
Show Comments »
November 08, 2005
Where Are the Protesters About This?
From the Washington Post:
A Chinese court on Tuesday sentenced a Protestant minister, his wife and her brother to prison terms of up to three years for illegally printing Bibles and other Christian publications, one of their lawyers said.
While I often see and hear of concern regarding the Chinese government's oppression of Buddhists and followers of Falun Gong (those folks are on the streets of New York daily right in front of my office building), I have yet to hear of much outcry regarding the jailing of Chinese for Christian activities.
Show Comments »
October 31, 2005
Kabbalah Bigwig Arrested for Fraud
Gosh, we didn't see this coming:
A woman suffering from cancer was talked into paying tens of thousands of dollars to the Israeli Kabbalah Center, on the pretext that the donation would help improve her condition.
After her death at the age of fifty, the woman's husband filed a complaint against the head of the center, Shaul Youdkevitch, who was consequently arrested by the police Sunday.
Has this guy been taking lessons from the good folks over at Scientology?
Come on, people...if you have to buy salvation, it ain't salvation.

Show Comments »