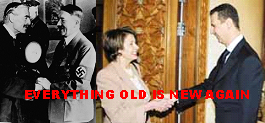 December 09, 2005
Inside Grand Central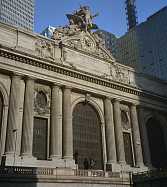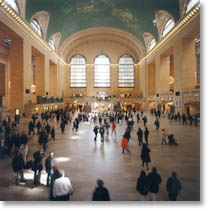 I just finished watching a fascinating 2-hour documentary on Grand Central Terminal in NYC on the National Geographic Channel (although I missed the first 45 minutes). It airs again at 6pm EST on Saturday, and I hope to catch the part I missed. As a commuter who goes through Grand Central twice a day, five days a week, I have a special connection to the terminal.
The show covers the entire history of the terminal: from its opening in 1913 and the golden age of railroading to its decline in the 1950s and '60s; the threat of demolition in the late '60s and early '70s to renovation in the late '80s and through the '90s; and the challenges it faces today (i.e. terrorism).
I remember going through Grand Central whenever I'd go into New York while in college in the late '80s, and having to avoid homeless people camped out in the horrendously dirty terminal. Today, you'd never know that it had reached that depressing state. The limestone, marble and gold leaf gleam, and I have not grown tired of looking at the October night sky ceiling. (I try to avoid looking like a tourist, but sometimes I can't help myself. Usually I'm in too much of a hurry to take a lot of time, but sometimes I get lucky.)
If you're planning on watching it, I won't spoil some of the interesting tidbits that may (or may not!) fascinate you. If you have New York in your travel plans, take a half hour or so and wander about Grand Central. It's well worth it!
Click here to see a "live" view from the National Geographic website.
And now, to bed!
Show Comments »