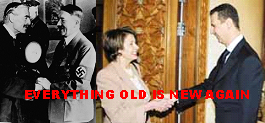 January 11, 2008
I'll Be On the Andrea Shea-King Show Sunday Night...
...to talk about the article I wrote for American Thinker about women voting for Hillary in order to show "solidarity" with another woman.
Rush Limbaugh mentioned the article in the first segment of today's show, which as you can imagine was a major thrill for me.
Click either here or here for info on Andrea's show. I'll be on between 10:30 and 11 p.m. ET, but the show actually gets underway at 9, and Andrea has a lot of good people lined up. Hope you can tune in!
Show Comments »
November 19, 2007
Guest Spot Tonight on Outside the Wire
UPDATE (11/20): Click here for the podcast for the November 19th show...I'm on during the 1st hour; from 9:30 to 10.
Tonight I'll be starting my bi-weekly guest stint on Outside the Wire with Bob Parks (I love this guy's voice!) in conjunction with my FamilySecurityMatters.org gig. We'll be talking about Diana West's new book "Death of the Grownup."
Click here to see a list of the 40 plus stations Outside the Wire can be heard on (it's part of the new Intel Radio Network). If there isn't a station near you, you can listen to a podcast of the show afterward...I believe the live streaming is still having its kinks worked out.
Show Comments »
September 16, 2007
I'll Be on the Andrea Shea-King Show TONIGHT
Andrea-Shea King has invited me to be on her 580 WDBO, Orlando show this evening to discuss the Gathering of Eagles yesterday in Washington D.C. Some of her other guests tonight include Kristinn Taylor of Free Republic (who was a huge part of the GOE) and Lt. Col. Buzz Patterson, another major participant.
The show begins at 9pm ET. I'll be on around 9:30, but be sure to listen to the entire show to hear her speak with all of her great guests. ThirdWaveDave has information on how to listen online here.
Show Comments »
July 02, 2007
I'll be on BlogTalk Radio with Andrea Shea-King Tonight
Andrea Shea-King*, who has a show on BlogTalk Radio Monday through Thursday at 9 pm ET, has invited me to stop by tonight to shoot the breeze. Later in the hour, Seton Motley will be by with some wisdom and witicism.
Tune in tonight at 9 pm ET by clicking here.
*Andrea's blog is Radio Patriot, and her show website is ASKShow.com.

Show Comments »
June 24, 2007
Lifelike Pundits Radio
I joined Aaron for Lifelike Pundits Radio on BlogTalk Radio today. We blabbed for an hour about the CAP report, journalists who give to political candidates and causes, and the fact that I am now a contributing writer for Newsbusters.org. Paul was supposed to call in to chat about The Sopranos, but he must have slept in.
Click here to listen if you'd like to hear us!
Show Comments »
June 17, 2007
LifelikePundits Radio
Today I joined Aaron and Pat for an edition of LifelikePundits Radio on Blogtalk Radio. Our topics today were debunking the 9/11 Truth movement (Pat's specialty on his Screw Loose Change blog) and how some conservatives like Linda Chavez think that conservatives who oppose the current "immigration reform" bill are closet racists. I wrote an article about this issue over at FamilySecurityMatters.org last week.
Click here to listen the show (the audio link is on the upper right hand corner of the page). It's 30 minutes long.
Show Comments »
June 04, 2007
Blogmeister on KGAB's Morning Zone Tomorrow
I'll be featured on AM 650 KGAB Cheyenne (Wyoming) tomorrow morning right after the 7:30 am Mountain (9:30 am Eastern) news block in my guise as a FamilySecurityMatters.org contributing editor. Morning hosts Dave and Amy will be talking to me about the piece I wrote for FSM last week entitled Saying Goodbye to Cindy Sheehan.
If you're interested in tuning in, KGAB has a live stream available here.
UPDATE 6/5/07: Just got off the phone with Dave, whom I enjoyed speaking with. Unfortunately the only caller was someone who wanted to talk about the replacement for the Wyoming Republican senator who just died last night, and he started kvetching that it would be Dick Cheney's doing if a Republican was chosen to replace Sen. Thomas. Sheesh, the man hasn't even been buried yet! Other than that, the discussion went swimmingly!
Show Comments »