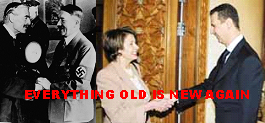 December 05, 2008
Move America Forward Asks You to Support Our Troops This Christmas/Hannukah Season
The message below is from Melanie Morgan at Move America Forward:
Hello, it's Melanie Morgan, Chairman of Move America Forward (the nation's largest pro-troop organization) and I have a favor to ask of you.
Our group is trying to make sure every single U.S. military servicemember serving in Iraq or Afghanistan receives a care package this holiday season. We want all of our troops to know how much we love and appreciate them.
I've looked over our orders for the past week, and we need many more Americans to sponsor care packages if we're going to meet this goal. I don't believe in failure, especially when it comes to our troops, so I am pleading with you for your help.
Would you please sponsor care packages in your name via the links below, so that we can send a giant shipment of love and support to our troops this Christmas and Hanukkah holiday season?
Order a Coffee/Cookies Pack for 1 Troop - HERE
Order a Large Variety Pack for 5 U.S. Troops - HERE
Order a Platoon Care Package for 10+ U.S. Troops - HERE
Order a Battalion Care Package for 20+ U.S. Troops - HERE
Order a Company Care Package for 50 U.S. Troops - HERE
And you can learn more about our care package operations and what this is all about by watching this short video on Move America Forward's care packages for the troops program: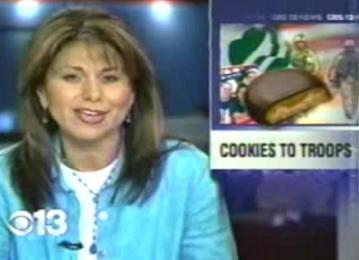 ******
They do so much for us...let's do this for them.
Show Comments Ľ
November 11, 2008
Veteran's Day 2008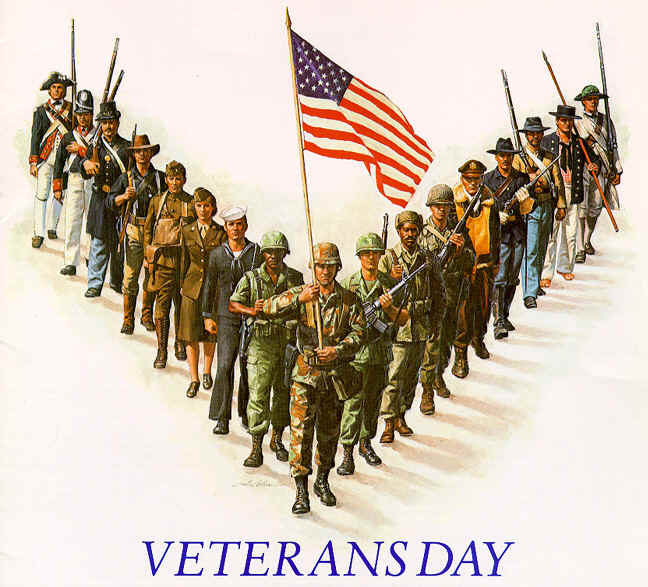 Thank you.
Show Comments Ľ
June 22, 2008
AWESOME Marines Recruiting Ad
The Marines usually have really great recruiting ads, and their latest is no exception. Check it out!
h/t: Raymond Kraft
Show Comments Ľ
February 05, 2008
Berkeley Marine Nonsense UPDATE
Looks like all of the phone calls and e-mails have had an effect on a couple of members of the Berkeley city council regarding the council's desire to oust a Marine recruiting center from that "shining dingy city on a hill":
A week after blasting the Marines as "unwelcome intruders" in Berkeley, two City Council members want the city to back off the declaration that ignited the wrath of the nation's right wing and inspired a Republican senator to try to sever Berkeley's federal funding.
Council members Betty Olds and Laurie Capitelli on Monday proposed that Berkeley rescind its letter to the U.S. Marine Corps that stated that the downtown Berkeley recruiting center "is not welcome in our city," and publicly declare that Berkeley is against the war but supports the troops.
The City Council will vote on Olds' and Capitelli's two proposals at its meeting next Tuesday.
"I think we shouldn't be seen across the country as hating the Marines," said Olds, who voted against last week's proposals. "If you make a mistake, like we did, you should admit it and correct it and move on."
"We're against the war but we support the troops" is still a crock o' cr@p, but it's better than nothing, considering the source. And surprise! Even some Berkeley residents were angered.
Apparently the council is split between factions of those who don't want to be seen as Marine haters and those who believe that Berkeley should stand by its convictions. Which, of course, is easy to do from the comfort of your council office, knowing that our military would be there to protect you should the occasion arrive. Hatred of the military usually doesn't extend to taking responsibility for protecting yourself in a national emergency.
Color me cynical: I think this sudden about-face has more to do with the possibility of losing federal money than reaching out to our military or anyone who supports it.
h/t: Michelle Malkin
Background: Move America Forward Plans Protest at Berkeley City Council Over Marine Recruiting Center Harassment
More: Zombie has photos from the front...in this case, the moonbats making nuisances of themselves in front of the Marine recruiting center.
Show Comments Ľ
February 02, 2008
Move America Forward Plans Protest at Berkeley City Council Over Marine Recruiting Center Harassment
I just received a press release from Melanie Morgan at Move America Foward about Berkeley's attempts to get a Marine recruiting center out of their city. Here's the press release in full: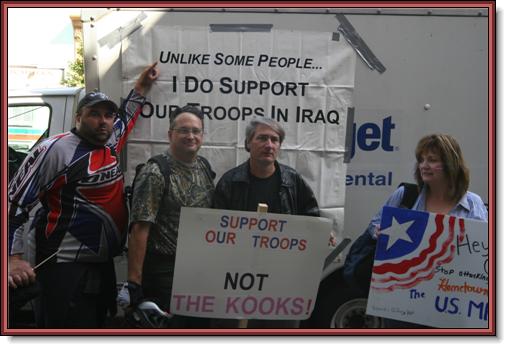 Berkeley Mayor -- Free Speech Thief
BERKELEY Ė Berkeley Mayor Tom Bates, convicted of stealing 1,000 free newspapers from the Daily Californian newsstands in 2002, is at it again.
The Mayor is attempting to steal the free speech rights of the United States Marine Corps by harassing the recruiting center into abandoning its lease.
Move America Forward has launched a petition drive denouncing the Mayor and the Council, while demanding an apology to the USMC at its website www.moveamericaforward.com.
The response was so overwhelming it crashed the site within minutes after launching, fueled by intense coverage from bloggers, talk radio, Internet, television reports and pro-troops organizations like the American Legion, Vets for Freedom, Gathering of Eagles and EaglesUp.
Move America Forward plans to deliver the protest petitions at the Berkeley City Council's next regularly scheduled meeting on February 12th.
ďWe are looking at all options to stop Berkeley from issuing gifts of public funds, such as free parking spaces, and violating the Constitution,Ē said Catherine Moy, Executive Director of Move America Forward. ďWe have contacted all branches of our government to redress these issues, and will explore all legal, legislative and executive avenues to stop the injustice perpetrated by the Berkeley City Council.Ē
A national backlash erupted last week over Berkeleyís attack on Marines. Mayor Tom Bates was forced to reconsider resolutions telling Americaís heroes they are ďintruders.Ē
However, Bates has taken a further steps to shutter the doors of the Marineís recruiting station.
Bates told the Contra Costa Times that he would broker a deal to release the Marineís from their building lease. But the Marines said they will stay.
ďMayor Bates, in his arrogance, has crossed the line by trying to steal the Marineís First Amendment Rights, and we will not stand for this treasonous behavior. His stunning offer to "broker a deal" to release the Marine's from its building lease shows the depth of his contempt for our military men and women,Ē said Melanie Morgan, chairman of Move America Forward. ďOur group will stand with the Marines until their attackers stop.Ē
The Berkeley council on Tuesday passed two resolutions condemning the Marines as part of a campaign by anti-war activists to shut down the recruiting center. The council also gave Code Pink, a leftist group that daily harasses the Marines with hate speech, a free parking place and noise permit.
Move America Forward initiated a campaign for people to call and e-mail the rogue City Council. Thousands of e-mails, calls and letters of denunciation have poured into the offices of Bates and other council members who support the efforts to drive the USMC out of town.
Move America Forward applauds the proposed legislation by U.S. Senator Jim DeMint to strip Berkeley of all pork barrel spending, amounting to $2.1 million dollars.
A companion bill in Congress is now being prepared.
***
I agree that Berkeley shouldn't get federal dollars if it wants to keep our military out of its city limits. It's even tempting to suggest that should our shores need defense against invading forces that Berkeley be left to its own devices.
But what can you expect from a city who re-elects a mayor who stole 1,000 copies of a (free) newspaper because that edition had the endorsement of his opponent in an election?
Show Comments Ľ
November 12, 2007
IEDs: Land Mines in All but Name?
One was internationally "banned" 10 years ago; the other is used with disturbing frequency in Iraq and elsewhere in the Middle East by al Qaeda and its allies. So what exactly is the difference?
According to Wikipedia, "a land mine is an explosive device designed to be placed on or in the ground to explode when triggered by an operator or the proximity of a vehicle, person or animal." And "an improvised explosive device (IED) is a bomb constructed and deployed in ways other than in conventional military action. They may be partially comprised of conventional military explosives, such as an artillery round, attached to a detonating mechanism...IEDs are often placed on the curb of roads so as to detonate at passing vehicles or pedestrians, and so are sometimes known as roadside bombs."
In other words, both of them can either set in or on the road so that passing vehicles or pedestrians will trigger them to explode OR detonated in another manner. What's the difference? Not much, as far as I can see. The big question is, are IEDs called what they are because land mines were "banned" internationally? Is this a way for the "international community" to save face? If anyone can clarify this for me, I'd be most grateful.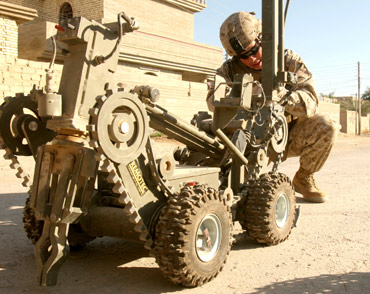 Detonating an IED...or is it a land mine?
Show Comments Ľ
August 03, 2007
History's Best-Behaved Military
That's the title of Ralph Peters' column in today's NY Post. Not that you'd know it, the way our press savages them as a matter of course. Peters points out that our soldiers are far more law-abiding than the general population. Read it and see if you don't agree.
On a tip from Kitty!
Show Comments Ľ
March 12, 2007
Operation Military Support
You may already know about this, but I didn't until my good friend Jeanette told me about it. It's Operation Military Support, and not only does this group tell you how to donate items to our military overseas, but they will also hook you up with someone who does not get a lot of mail from back home. I just signed up and received my soldier pen pal. How about you?
Show Comments Ľ
December 28, 2006
Home Depot Supports the Troops
I just got back from Home Depot. I usually hate going there for a couple of reasons: first of all, it's usually very crowded. It also annoys me to no end that everything at the Home Depot is written in both English and Spanish, which in my opinion discourages our immigrant population (legal and otherwise) from making the effort to learn English, and thus also discouraging them from integrating into American society.
However, tonight there were no crowds. (From the looks of the parking lots as I drove by, everyone was at Best Buy and Borders.) More importantly, a sign caught my eye when I walked in.
Here's the deal: if you received a Home Depot card for Christmas and redeem it between January 1 and January 28, Home Depot will donate 5% of the value of each card, up to $1 million, to the USO. The money will go toward both the building of new USO facilities and the upkeep of current facilities. Here's the online press release detailing the program.
In case you don't know, the USO provides morale-boosting programs and services for our troops overseas. Think of Bob Hope's legendary visits to the troops over his long career -- they were sponsored by the USO.
So if you received a Home Depot gift card, get off your butt before January 28 and use it! Our troops will thank you for it.


Joining forces for troops overseas

Show Comments Ľ
November 20, 2006
Charlie Rangel's Draft Replay
UPDATE: Nancy Pelosi says no.
From the Washington Times:
The incoming Democratic chairman of the House Ways and Means panel says he will introduce a bill to reinstitute a military draft in order to provide the U.S. with more troops, while Sen. John McCain continued his call for increase of troop levels in Iraq.

Rep. Charles B. Rangel of New York first called for a draft in January 2003, when Democrats were the minority party in both houses of Congress. Now that his party controls Capitol Hill, he was asked yesterday on CBS' "Face the Nation" if he was still serious about the proposal.

"You bet your life. Underscore 'serious,' " he said.

"I don't see how anyone can support the [Iraq] war and not support the draft," said Mr. Rangel, alluding to Mr. McCain's call for increased troop levels in Iraq and to the need to combat threats elsewhere in the world. "If we're going to challenge Iran and challenge North Korea and then, as some people have asked, to send more troops to Iraq, we can't do that without a draft."
Of course it's possible to support the war and not support a draft. A draft should be a last-ditch effort, and to my knowledge, we haven't reached that point.
Gone are the days when you could push a guy through six weeks of basic training, shove a gun in his hands and say, "Fight!" The Pentagon opposes a draft for that very reason. Today's complicated weapons systems need soldiers who are specially trained to use them. In other words, it's not your grandfather's Army anymore. The only way it would work would be to require draftees to stay in the military longer than a couple of years, and in that case, Canada's population will see a sudden upsurge in its population.
What's hypocritical is to say you support the troops but don't happen to support what they're doing right now, which is fighting in Iraq. It's also hypocritical to have voted for the war and then say it was a mistake, which is what many Democrats have done. (Rangel, at least, is not hypocritial in this instance.)
In my opinion, this whole thing is meant to make our presence in the Middle East even more divisive than it is now. It's got nothing to do with sharing the sacrifice, and everything to do with giving aging hippies and their protťgťs more ammunition for something to which they are already opposed.
Michelle Malkin weighs in.
Show Comments Ľ
October 19, 2006
Military Family Compassionate Auction
UPDATE: Click here to view and bid! The auction ends on October 26th at 7:59 pm PDT.
***THIS POST WILL REMAIN ON TOP UNTIL OCTOBER 19...SCROLL DOWN FOR NEW MATERIAL!***
For those of you who have always wondered how you can give back to our military, I have news for you:
Lt. Col. Robert "Buzz" Patterson, USAF (Ret.), Chief Operating Officer with the David Horowitz Freedom Center, is donating and will personally autograph a trio of his best selling books: "Reckless Disregard: How Liberal Democrats Undercut Our Military, Endanger Our Soldiers, and Jeopardize Our Security"; "Dereliction of Duty - The Eyewitness Account of How Bill Clinton Compromised America's National Security"; and his most recent book "War Crimes - The Left's Campaign to Eliminate the Military and Lose the War on Terror", debuting in January '07.
Patterson was the senior ranking officer of the five military aides serving in the Clinton White House, and carried the "nuclear football" - the top secret briefcase containing the launch codes for America's nuclear weapons.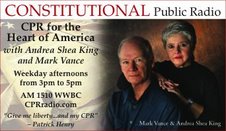 Constitutional Public Radio is honored to join Buzz Patterson in this benefit auction for Army Spc. Reid Stanley ("SC Eagle" at Kafstorm) and his wife Ellicia, who is battling cancer of the brain, breast, and lungs. They have three young children. And mounting expenses.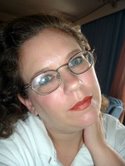 SC Eagle writes at his website: "We have finally received word back from the military. Hospice care is not covered. Which means, any home care we provide Ellicia here will be out of our own pocket. This is going to be expensive. So, reluctantly, and humbly, we'd like to ask those of you who stop by... Please help. Anything will be appreciated. Ellicia will likely need home care as her mind shuts down. And she wants to be at home, not in a hospital... home, surrounded by our children." And military insurance doesn't cover that.
"SC Eagle", stationed in Germany, was deployed to Afghanistan, and now faces another, more personal war, one with Ellicia's life in the balance.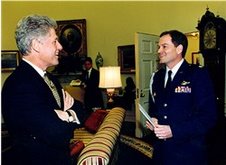 Patterson will autograph each book with a personal message to the top bidder.
Sure to make a thoughtful and personal Christmas gift for that special military guy or gal or your favorite veteran, the three-book set will be an historic keepsake for years to come, and help a military family in their time of need.
The auction will begin at 10 pm (ET) Thursday, October 19th. As soon as a link for the auction is available, I'll post it here. Our military and their families give so much. This is a small way to help repay all that they are willing to sacrifice for us.
Show Comments Ľ
September 23, 2006
Helping Those Who Help Us
*Sticky post...this will remain at the top until 9/23. Scroll down for newer content.*
As pointed out by Andrea Shea-King and Mark Vance, milblogger SC Eagle's wife, Ellicia, has been diagnosed with terminal cancer. The couple has young children, and you can imagine how difficult a time they are having in dealing with this. While she would like to stay at home with her family, military insurance does not cover hospice care.
If you would like to help, donations are gratefully being accepted. Click here for details.
Show Comments Ľ
October 23, 2005
Camp Katrina
I just wanted to let you all know about a new blog out there, called Camp Katrina. What's it about?
SPC Phil Van Treuren was among the National Guard soldiers deployed to help victims of Hurricane Katrina. The blog aims to share stories and photos from National Guardsmen who were or are still involved with the relief efforts. It's easy to forget what's going on down South once the MSM has left the scene, looking for a fresh disaster to milk.
For once, let's see things from the soldier's point of view, not just the MSM's. Go on over and see what it's all about!
Show Comments Ľ
March 18, 2005
Creative Deserters Get a Boost from the NYT
An article by Monica Davey in today's edition of the New York Times is entitled "Un-Volunteering: Troops Improvise to Find Way Out." In it, Davey chronicles the struggles of a handful of soldiers in an all-volunteer army to get out of going back to Iraq.
Word of such cases spread among soldiers. Some reacted with disgust, accusing their colleagues of cowardice: how could they let down other soldiers in a time of war, when, unlike the draftees of the Vietnam War, they had all volunteered? Others, though, say the cases made them think more about their ambivalence. "What I've seen is that soldiers are more afraid to make a stand for themselves than they are to go into combat," said Sergeant Mejia, who was released in February after nearly nine months of confinement at Fort Sill, Okla., for desertion. "Until I took a stand, I was really going against my own conscience. I was so afraid to be called a coward."
Davey conveniently uses no direct quotes from those soldiers who react with "disgust." I suppose it would have ruined the left-wing tilt of her story, and we all know how important continuity is, as presenting both sides of the story might confuse the reader.
It's interesting how so much emphasis is put on these soldiers who, after signing up for a stint in the armed forces, decide now that their conscience can't allow them to go back and do a job they promised to do. And those soldiers who do stay and do their duty, as difficult as it may be, are ignored. Those like Sergeant Mejia, quoted above, are lauded for standing up to the bullies otherwise known as the U.S. Army.
Desertion is nothing new in the armed forces, both in America and other countries. For example, during World War II, there were 40,000 deserters reported from the U.S. Army and 100,000 from the British Army. Of course, a good number of those soldiers were drafted, and the death rate was approximately 1 in 14. Today, the number is much lower, with an early estimate as being only 1 in 1,100 (source: Keeping Down Casualties).
Have we wondered why 6,000 troops from the Army and 1,300 from the Marines (according to Pentagon records) have deserted since the beginning of the war in Iraq? Could it possibly have anything to do with the overwhelming negativity emanating from the left-leaning mainstream media and scads of protests from hate-America faux peace groups like Code Pink? What about former presidential candidate John Kerry, and his so-called support for the troops but not the war?
Why would anyone want to fight for a cause that is ostensibly so unpopular at home?
More citizens support the war than the MSM would like to report. So they ignore the rest of us, and use their power to influence the outcome. By demoralizing our soldiers, the MSM threatens the chance for success in Iraq and elsewhere in the Middle East.
But don't you dare question their patriotism!
Show Comments Ľ