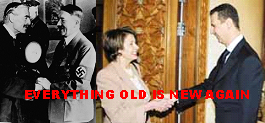 October 17, 2010
HIV/AIDS rebuttal
At a rally in Massachusetts, the President got all testy when challenged about AIDS research. Now, to be honest, AIDS activists will protest a pebble in the road and declare it incurable. But once again the President went for a FUD moment. (Fear, Uncertainty and Doubt)
You know if he's going to go for a teachable epiphany, maybe he should know what he's talking about.
President Bush (you may remember him as the boogeyman) was responsible for the most successful HIV/AIDS program on record.
I know, facts.

Show Comments »
November 11, 2008
Communist Party Ecstatic over Obama Win
Why am I not surprised?
Hailing Barack Obama's win as a victory for the "working class," the Communist Party USA is calling on the president-elect to carry out his promises, including his noted commitment to "spread the wealth."
An editorial by the People's Weekly World said the victory was for "workers of all job titles, professions, shapes, colors, sizes, hairstyles and languages."
[...]
The paper said Obama's victory is "important … not only for people here in the U.S., but also for our sisters and brothers around the world."
"The election outcome represents a clear mandate for pro-people change on taxes, health care, the war in Iraq, job creation and economic relief, union organizing and the Employee Free Choice Act. Reform and relief are in the air. Their scope and depth will be the arena of struggle. The best thing the coalition that won this victory can do is to stick together and help the new administration carry through on its promises," the editorial said.
Read it all here, if you have the stomach for it.
On a tip from Timothy.
Show Comments »