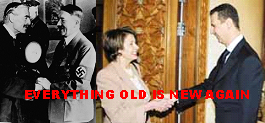 May 23, 2008
Just in Time For Memorial Day
My friend Joe Skelly has written a moving tribute to Mike Spann, the first American soldier to die on a foreign battlefield in what is known as the War on Terror.
I won't waste your time with excerpts. Go over and read the whole thing yourself.
And don't forget to fly your flag this Memorial Day weekend in honor of Mike Spann and all of our other fallen heroes, from today and yesterday. Their sacrifice makes our way of life possible.
Show Comments »
March 03, 2008
Unfortunate: Melanie Morgan Off the Air at KSFO
WABC's John Gambling has a partner in the unemployment line: Melanie Morgan, who has co-hosted KSFO's morning show in San Francisco for the past 14 years, is among those who got the chop from Citadel Broadcasting, which recently acquired ABC radio.
But those who might be rejoicing that the conservative powerhouse will no longer be on the air in one of America's furthest leftwing utopias shouldn't celebrate too soon: this leaves Melanie more time to devote to MoveAmericaForward.org, the organization she has chaired since 2004.
Here's to Melanie's chance to make an even bigger difference for soldiers and their families everywhere!
Here's the press release with all the info:
Renowned radio personality and national conservative leader, Melanie Morgan, delivered her final broadcast on talk radio powerhouse KSFO 560 AM today – Monday, March 3, 2008.
The owner of KSFO radio, Citadel Broadcasting, decided not to renew Morgan's contract as part of the company's announced across-the-board financial cost cutting.
Melanie Morgan has been a fixture on KSFO for the past 14 years, enjoying a run from 1994-2008 that far exceeded industry standards for longevity.
During that time, Morgan emerged as one of the nation's most dynamic conservative activists, using the radio airwaves to motivate listeners who shared her passion to take action and fight for causes important to them.
Morgan's on-air activism included an effort that removed the carcinogen MTBE from gasoline in California, launching of the historic Recall Gray Davis campaign that led to the election of Arnold Schwarzenegger as Governor of California, and co-founding the nation's largest pro-troop organization, Move America Forward (website: www.MoveAmericaForward.org).
"It has truly been an honor for me to work at KSFO for the past 14 years. What I loved most about my time at KSFO was that it allowed me to connect with listeners and take action to make real changes in the world," said Melanie Morgan.
"We never had a one-way dialogue with our listeners, and we never believed that we had to resolve ourselves to accept the status quo. We got out of our chairs, left our homes and offices, and circulated petitions, rallied for our troops and met with government leaders.
"We did all this to make sure that we left an even better world for our children than the one we had inherited from generations before us," Morgan said.
As part of her ongoing conservative activism, Morgan has traveled to the Middle East twice to interview U.S. Troops stationed in Iraq and Kuwait. Her broadcast efforts from Iraq resulted in her winning the Associated Press's Mark Twain Journalism Award, and The Peninsula Press Club's award for Best Interview or Talk Show.
"Meeting our troops who are on the frontlines of the war against terrorism stands as the most powerful experience in my broadcast career," said Morgan.
Morgan's career with ABC began in 1981 when she was a television reporter for KGO TV. In 1984, she became an on-air personality for KGO radio where she worked for six years before switching over to ABC-San Francisco sister-station, KSFO 560 AM, co-hosting the Lee Rodgers and Melanie Morgan show. In 2006, Citadel Broadcasting acquired the ABC Radio group. She has reported on the scene from the Marine barracks bombing in Beirut, Lebanon; the Mexico City earthquake; and the Tiananmen Square massacre in China.
Melanie Morgan says her focus in the days ahead remains unchanged: She will remain a conservative activist leader.
"My commitment and dedication to serve as a leader in the movement to support our military men and women continues to grow, and I am very proud to serve as Chairman of the pro-troop non-profit group, Move America Forward," Morgan said.
Melanie Morgan is not compensated for her work with Move America Forward, a fact since the group was first launched in 2004.
Morgan will also continue her weekly column for the news website www.WorldNetDaily.com and will continue to serve as a television analyst on news programs on cable and broadcast television stations and networks.
"My passion and commitment to the troops who are fighting in Iraq, Afghanistan and around the world are foremost in my heart.
While I will miss my good friends Lee Rodgers and Officer Vic, and our great producer Sheri Yee, I am excited to stay close to the conservative grassroots. And I'll always lead with my chin out," Morgan concluded.
Show Comments »
February 24, 2008
Move America Forward Fights Berkeley City Council
This ad goes national tomorrow. Check it out, forward it to people you know, and go to Move America Forward's website to sign the petition against Berkeley's anti-military actions.
Berkeley: an American disgrace.
Show Comments »
February 13, 2008
Chaos in Berkeley...No Thanks to the Cops
Melanie Morgan sent out an e-mail describing the shameful acts yesterday by the City Council of Berkeley, Code Pink and their supporters, and the Berkeley Police. For those of us who weren't there, it's an eye-opening account of how bad things have deteriorated in that city on the left coast. I'll reprint it in full below.
Also, my friend Thirdwave Dave was there, and he called his live updates in to Andrea at Radio Patriot. You can see the thread here.
I say just allow California to secede. Really.
Below is Melanie's account:
Pro-troop demonstration still going strong –but here is my after action report after 15 hours on the frontlines.
If I were a headline writer I would describe the situation as CHAOS AND ANARCHY IN BERKELEY today.
Not by our side –by the Marine haters and American traitors.
The cops were openly hostile toward the people who showed up at 5:00 a.m., never stepping in to protect the patriots from the assaults that took place against elderly folks, Gold Star parents, Blue Star families and Joe and Jane Citizen who were waving the flags and showing their pride in the Marines. The police allowed hundreds of Berkeley High School kids (accompanied by their teachers) to gather with CodePink, receive their mandatory face masks and F---k Bush t-shirts, and allowed them to mill around our PA where they tried to cut the power cords to the system.
Berkeley police repeatedly allowed CodePink to violate our permits, and never lifted a finger to stop their crowd from interfering with our activities until the very end, after we screamed blue bloody hell.
When Catherine Moy, the Executive Director of MAF called the police to tell them a riot was erupting in the early hours –THEY HUNG UP ON HER.
Cat called the Highway Patrol, who referred her back to the Berkeley police –WHO HUNG UP ON HER.
It was positively shameful.
Move America Forward's attorney Jim Sweeney took depositions from ten people who were assaulted by CodePink, International A.N.S.W.E.R. and socialists who showed up en masse.
The City Council has been notified by fax that we are filing a federal lawsuit for deprivation of our civil rights.
We didn't start this fight, but we are damn sure gonna finish it.
The pro-troops demonstration is still going strong at 7:30 p.m. PST, with all streets around the Berkeley City Council closed off as the CodePinkos continue to receive preferential treatment by the Berkeley PD.
Move America Forward's sound permit was turned off at 5:00 in the afternoon, while the Pinkos were allowed to use their system to sing Kumbaya and other 60's peace chants.
Berkeley, the birthplace of free speech, is now officially the center of intolerant hatred for anyone who sticks up for the men and women who are fighting and dying to protect THEIR rights.
Before our sound system was nearly sabotaged, a young man posing as a pro-troop supporter asked to speak to the crowd. I allowed him to talk (about his family's 'service', when he started spewing obscenities about the 'illegal, immoral, unjust war' . I grabbed the microphone back, and he tried to clobber me with it.
Gold Star Dad Mark Crowley knocked him to the ground, where he found a faceful of dirt to keep him company.
Our side sang God Bless America, America the beautiful and other stirring songs that seemed to enrage the elderly commies.
25,000 petitions were collected by Move America Forward with the help of other pro-troops groups like Gathering of Eagles, EaglesUp, Vets for Freedom and others.
There were Eagles EVERYWHERE today.
And Patriot Guard Riders.
And American Legion vets.
And members of the Military Order of the Purple Heart.
5,000 petition signatures were also collected by an organization in Washington headed by Nicholas Provenzano, who flew out to Berkeley on the red-eye to deliver to the City Council announcing an economic boycott of Berkeley until it reverses it shameful treatment of our Marines.
Red, White and Blue Americans rushed to our side from Atlanta, Georgia, New York, Pennsylvania, Colorado, San Diego, and other parts of the United States.
Our crowds numbered into the thousands throughout the day.
So gratifying. So humbling.
People of all ages, races, and political backgrounds (yes even some incensed liberals) honored our active duty service members serving in Iraq and Afghanistan, and in other parts around the world.
We spoke of the sacrifice and the nobility of the military families who support their sons and daughters, husbands and wives.
And we gave a HOOO-AWW especially to our Marines, who find themselves prevented from speaking while under assault, not from a evil enemy abroad, but from the insurgents here at home.
We should be proud and exhilarated by the turn-out and passion of so many people who set aside their lives, showed up, and spoke out.
I don't know what will happen with the Berkeley City Council, but I would be you that dollars to donuts, they'll issue some mealy-mouthed WE SUPPORT THE TROOPS, JUST NOT THEIR MISSION crap, and then keep in place all the restrictions that make recruiting on Shattuck avenue all but impossible.
I have no idea how the media will portray this historic event –I can only tell you that 3 TV helicopters were overhead almost all day long, every major media outlet in the Bay Area, as well as national TV and print reporters–but OUR people spoke eloquently, passionately, and with conviction about the hateful attitude that the City of Berkeley has displayed toward the USMC.
Show Comments »
October 19, 2007
Rush's eBay Auction of Dingy Harry's Letter Surpasses $2 Million!
And the auction has a few hours to go. (It ends at 1 pm Eastern.)
Don't forget, Rush promised to match the winning bid dollar for dollar, and all proceeds (each and every penny) go to the Marine Corps -- Law Enforcement Foundation. The foundation provides scholarships to the children of Marines and law enforcement officers who die in the line of duty.
Way to go Rush...and way to go to whoever is bidding for this (disgraceful) piece of history. Ol' Harry must be a bit peeved, but there's really nothing he can say to turn this one around. His nose is being rubbed in his foolishness like a puppy being housetrained. The thing is, a puppy eventually learns.
Previous: Rush Limbaugh Auctions Off Harry Reid's Letter to Clear Channel
Show Comments »
October 18, 2007
Patriots Outnumber Moonbats in Berkeley
Melanie Morgan of Move America Forward worked her magic in Berkeley today, where patrtiots outnumbered "peace" activists in a counter-protest at a Marine recruitment office.
Hoo-rah!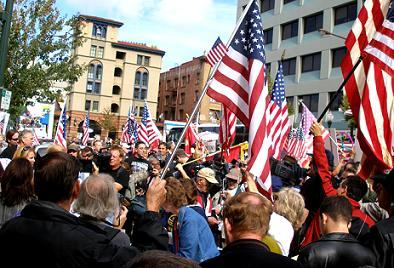 From the Contra Costa Times (free registration required):
Flag-waving demonstrators far outnumbered a group of peace advocates who were protesting a U.S. Marine Corps recruiting center in downtown on Wednesday.
[...]
On one side of the street was CodePINK, Grandmothers Against the War, Berkeley East Bay Gray Panthers, Women in Black and other peace groups holding "no war" signs and chanting "out of Iraq."
On the other were military veterans, mothers and fathers of soldiers, members of the UC Berkeley College Republicans and Melanie Morgan, whose conservative talk show airs on KSFO. They waved American flags and chanted "USA, USA, USA."
The reporter goes on to say how Berkeley is not exactly fertile ground for recruitment, which is hardly a big surprise.
As Aaron said to me via IM, "It's like we were there in spirit!"
Go to Move America Forward's site to check out their report and links to others blogging. It's truly a great day!
Show Comments »
October 14, 2007
Rush Limbaugh Auctions Off Harry Reid's Letter to Clear Channel
I didn't hear about this earlier because I am unable to listen to Rush's show at work. However, I found the video of him making a pre-announcement announcement last week to a live audience in Philly, and from there went to the eBay listing.
This auction is for serious bidders only; you have to be pre-approved. Check out the listing to see how much people are willing to pay for it!
And all proceeds go to the Marine Corps Law Enforcement Foundation, a charity that provides scholarships to the children of Marines and federal law enforcement personnel whose parents die in the line of duty.
Rush is a board member of this charity. Yeah, he doesn't care about the troops.
h/t: Ian Schwartz
Show Comments »
September 15, 2007
Gathering of Eagles III
So I spent most of my day on the Mall in Washington D.C. with Aaron. We arrived at 8:30 am and made our way to the area where MoveAmericaForward.org had their platform set up. The day started out a bit cloudy, but brightened up as it progressed. Here, you'll see that the crowd is a bit thin, but it got larger throughout the day.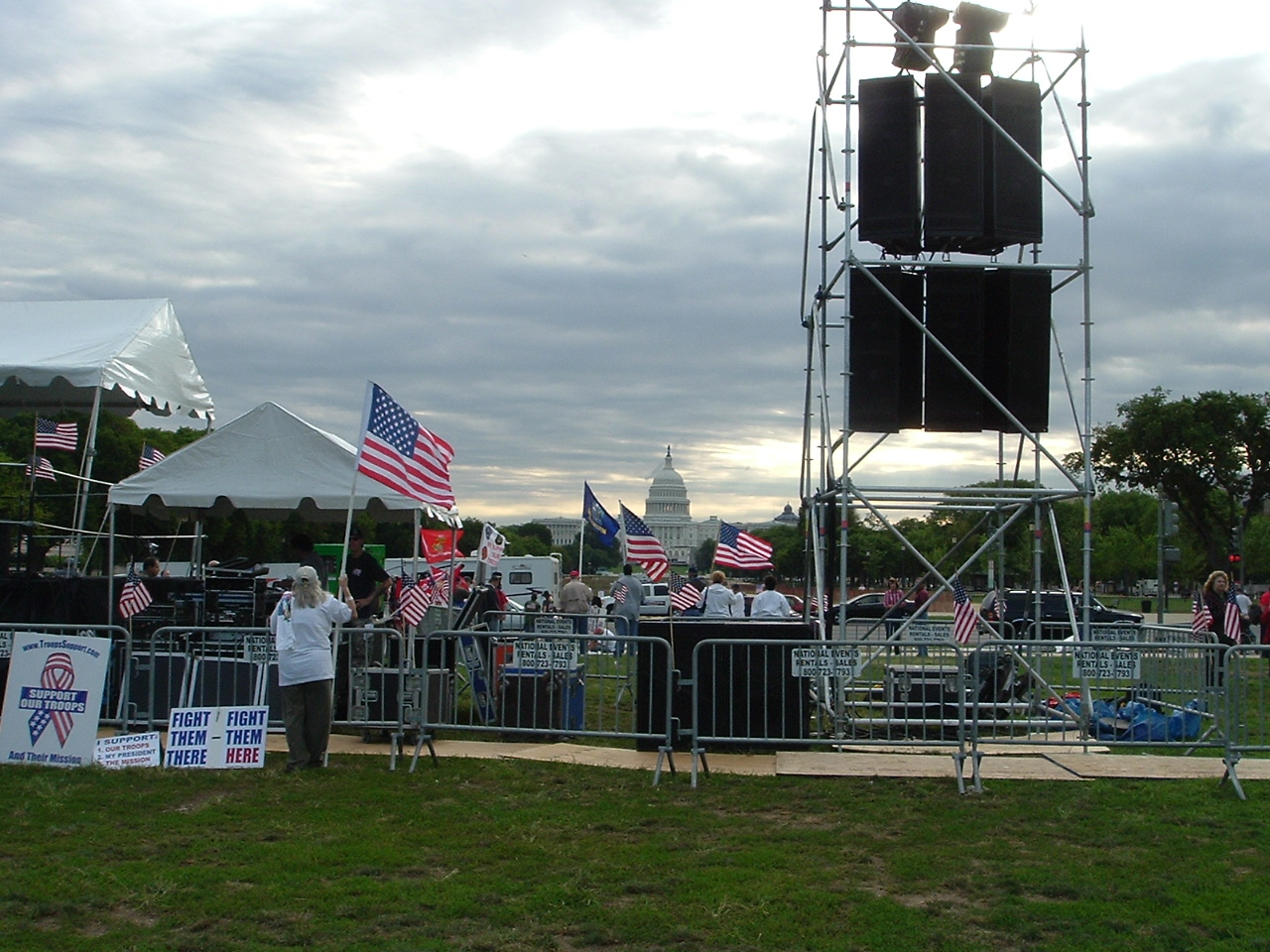 Some of the groups represented today were Free Republic, Protest Warriors, MoveAmericaForward.org and Families United. Thanks to all of them for making the day possible. Below, Aaron is ready to let us all know what he thinks: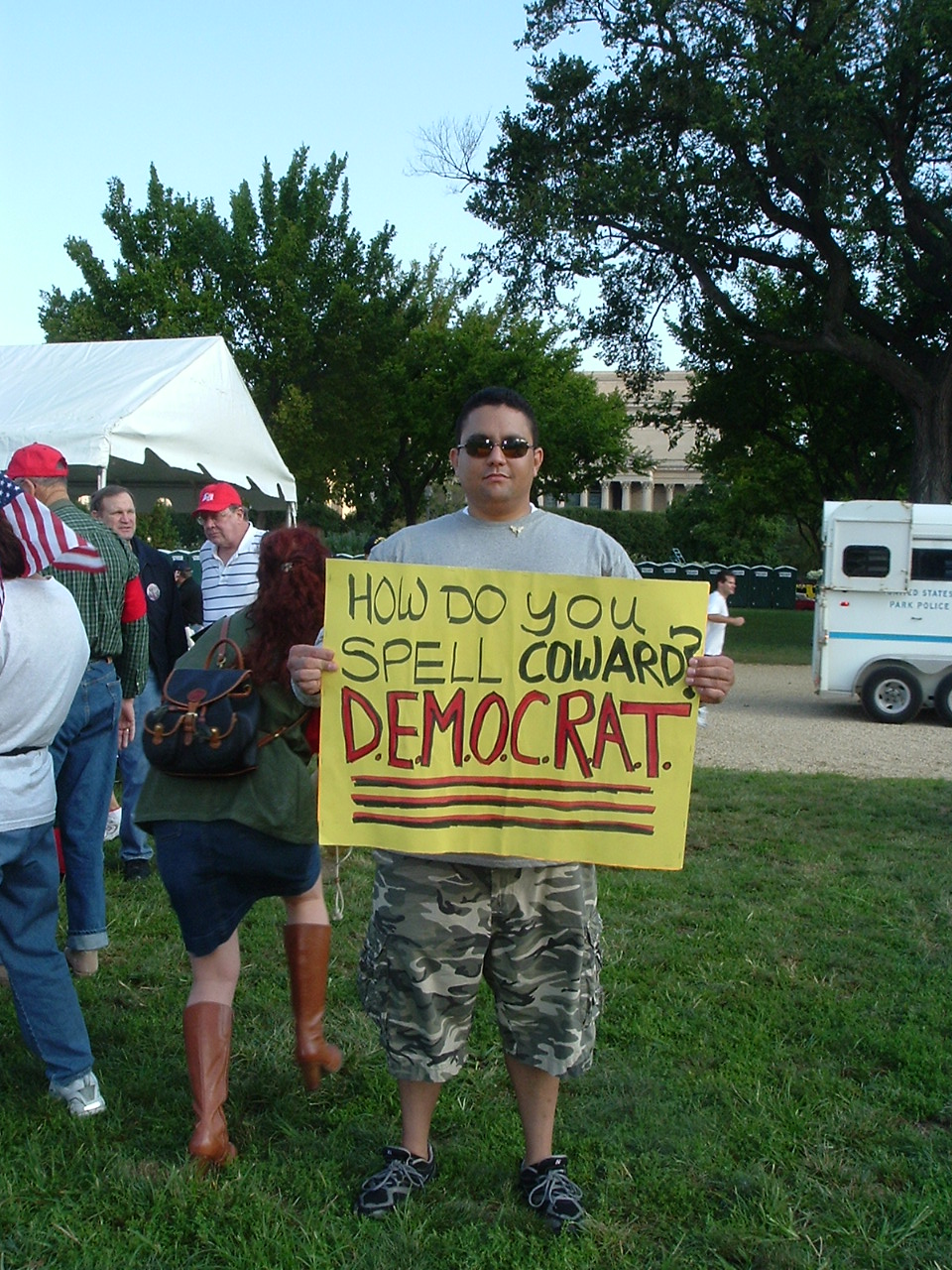 To warm the crowd up just a little, Dwayne Cleveland from Georgia was on hand to sing a patriotic song. Aaron and I moved throughout the crowd, looking at some of the great signs and t-shirts that people were sporting. Below is one of my favorites...I saw them on quite a few people today: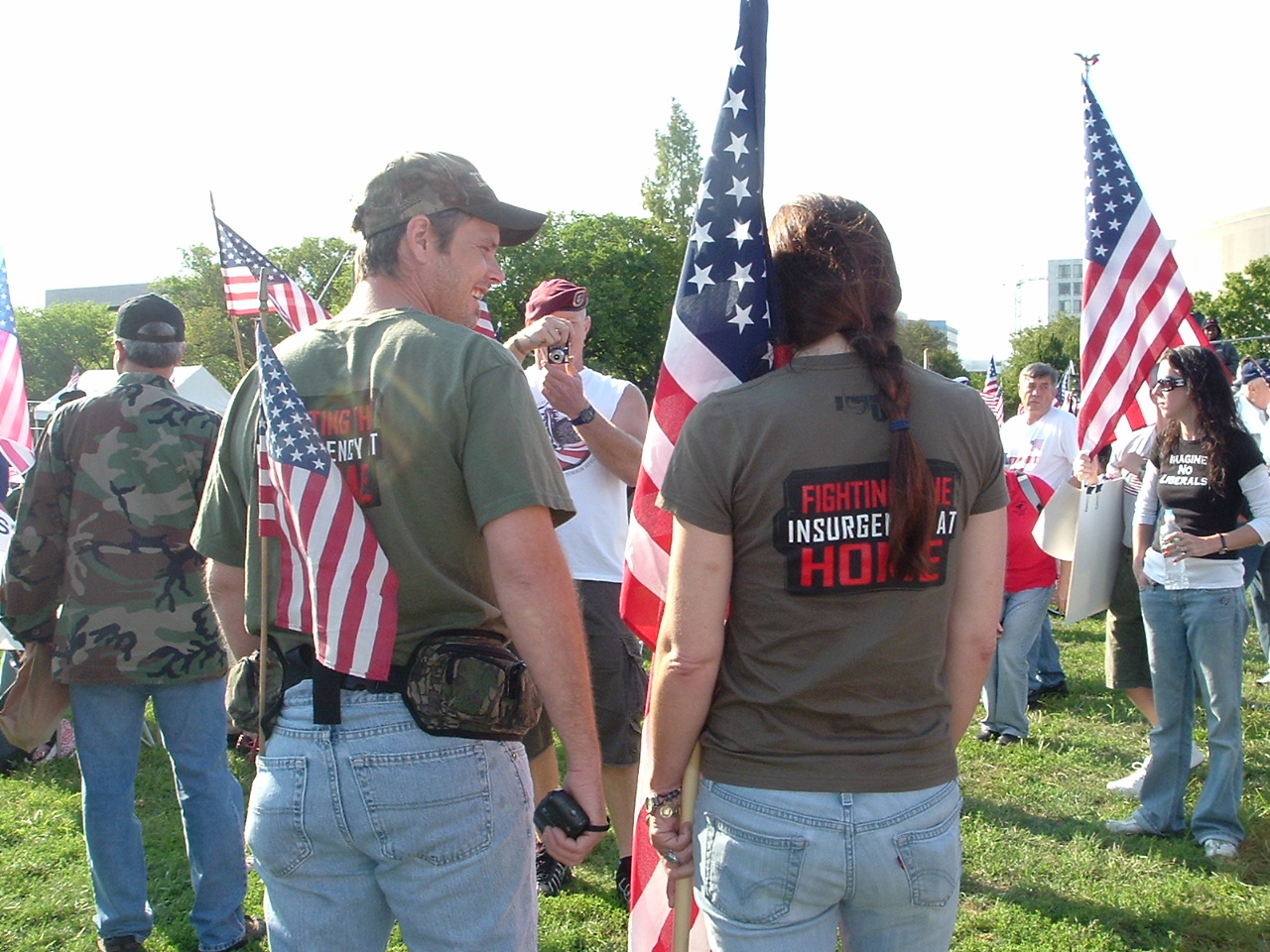 The College Republicans from American University made a small but spirited showing: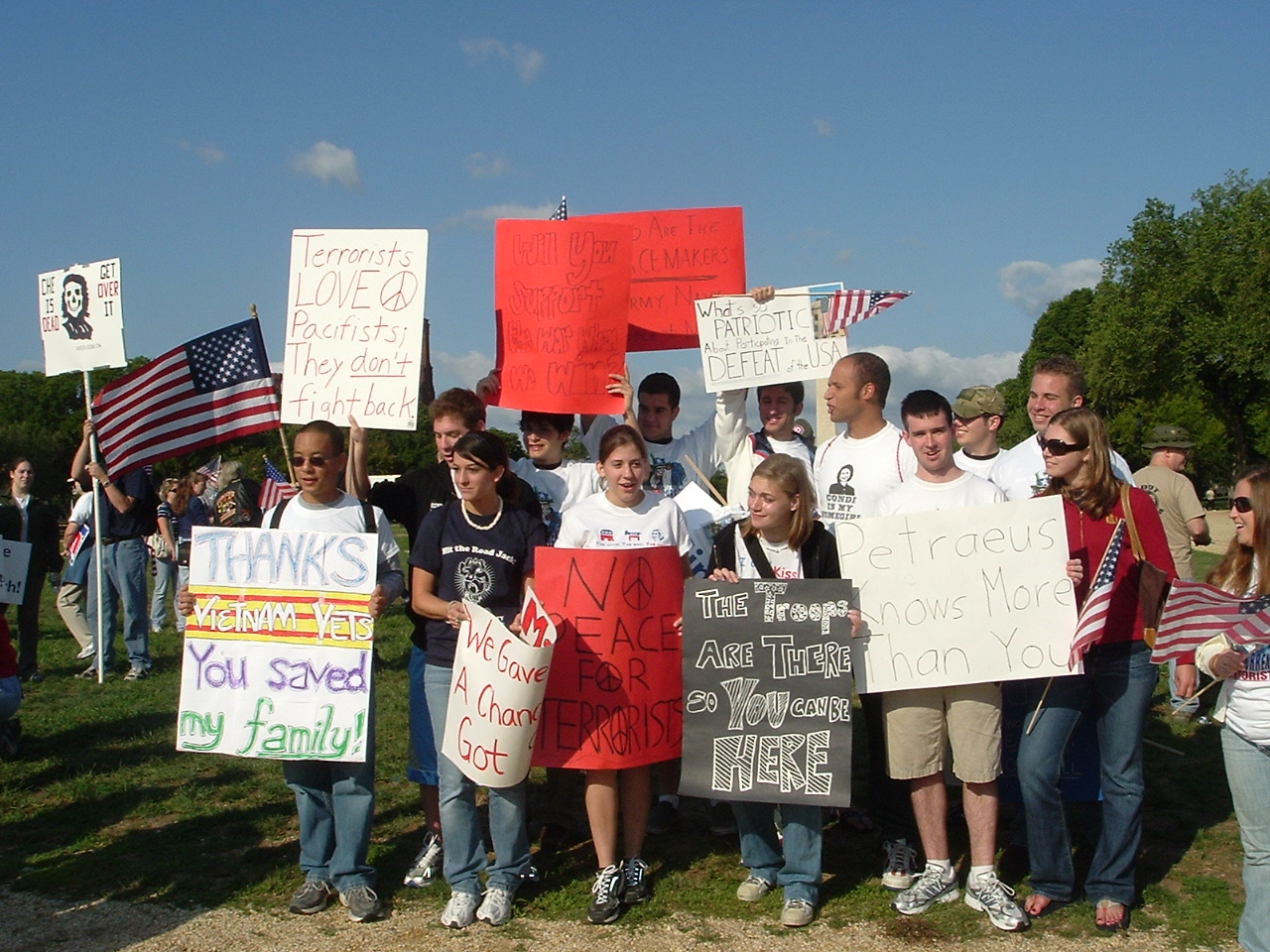 Another great sign...yes he is dead, and so is his relativity. Get over it!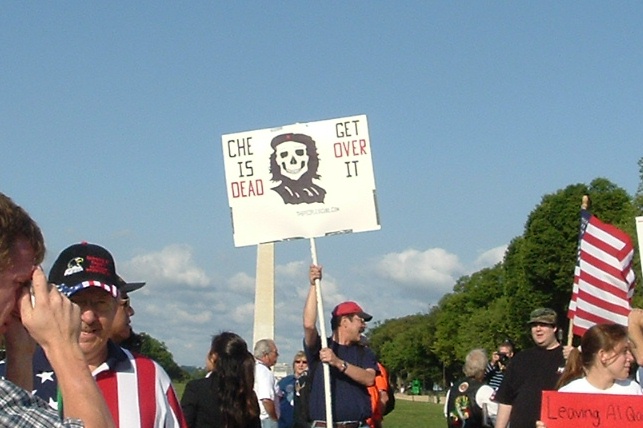 If you had to, er, "wash your hands" (as my stepfather would say), the facilities were plentiful AND clean. Unfortunately, one of the stalls was permanently occupied: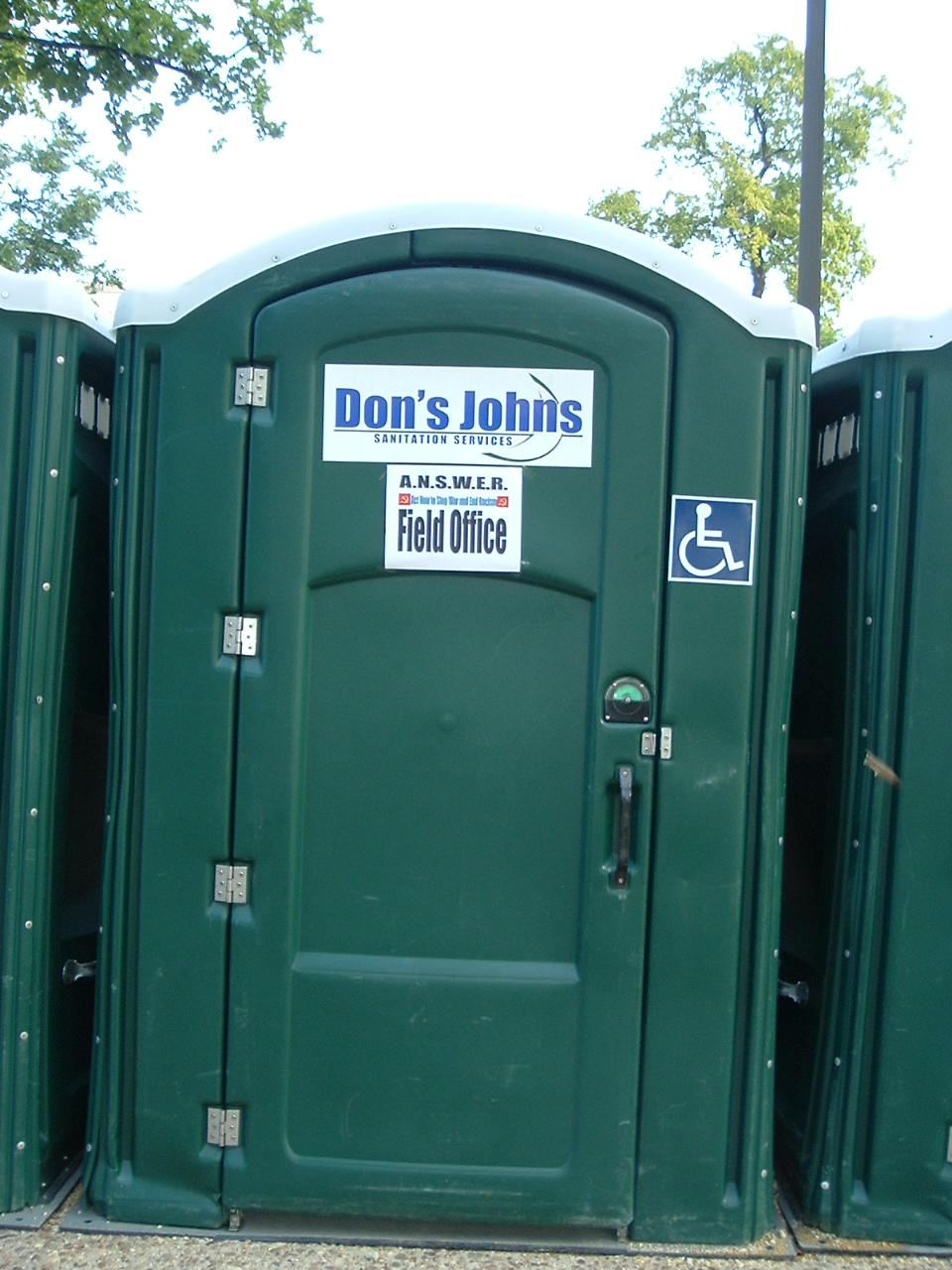 Two others had permanent occupants; Cindy Sheehan and Ramsay Clark.
The proceedings began around 9:30 am, and Kristinn Taylor from Free Republic led the public in a rousing chant of USA, USA!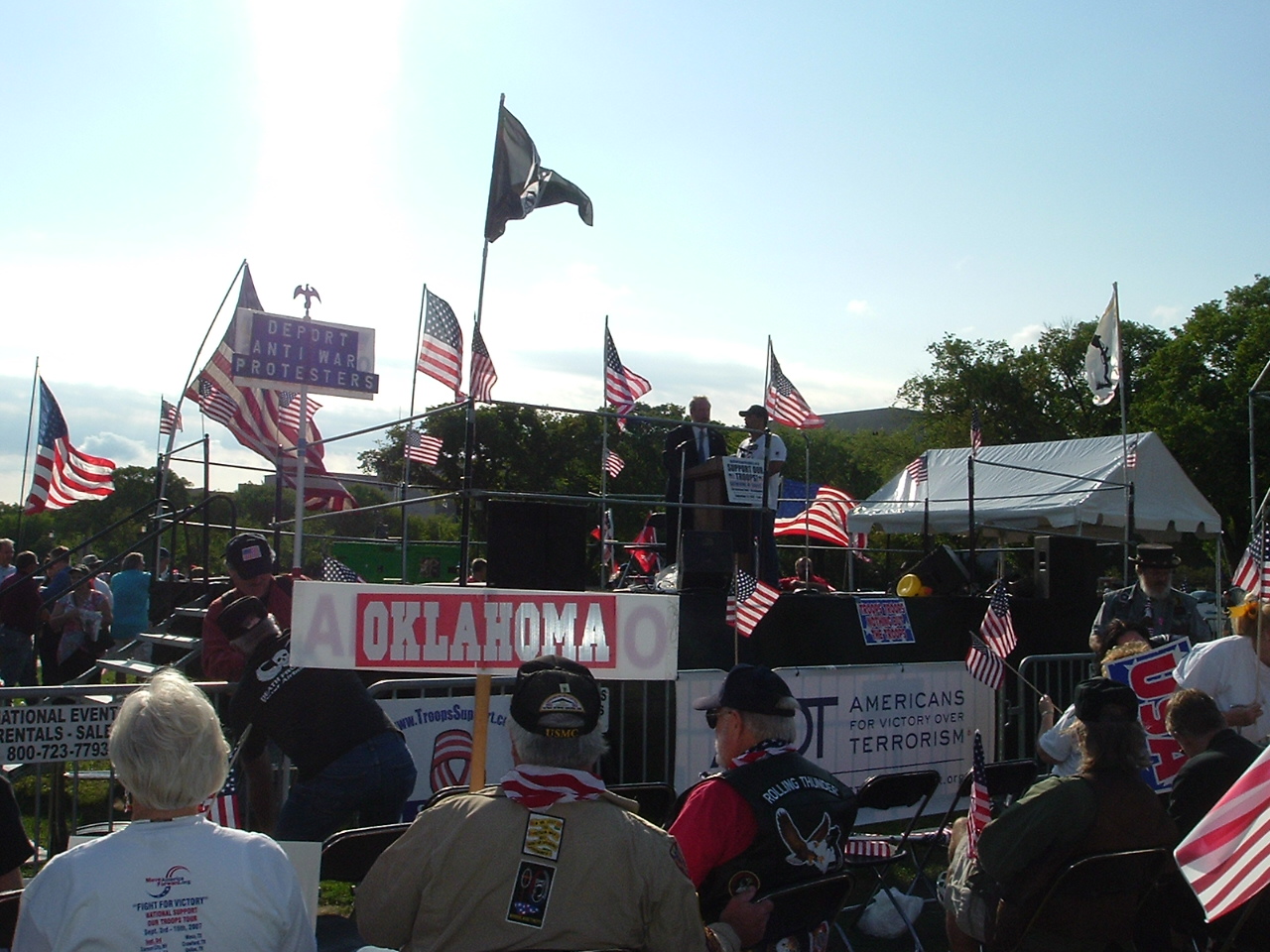 Kristinn then passed the microphone over to Melanie Morgan. I'm not a great note-taker when people are talking, but I managed to take down some of Melanie's remarks, along with remarks made by other speakers. Melanie was full of pep and energy, praising "the patriotic Americans who stepped forward" to give a message of "love and support for our troops." Something she said was echoed throughout the rest of the rally: "We will win this war...surrender is never an option!"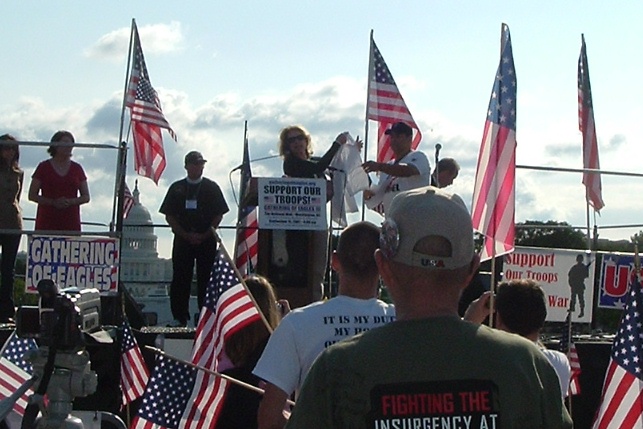 After Melanie's opening salvo, the Pledge of Allegiance was led by Megan Ortega, the National Anthem was sung a capella by Kit Lange (from Free Republic). The audience joined in. Rev. Hawke then gave the invocation. As part of his invocation, Rev. Hawke prayed to "enlighten those at the other end of this Mall, in that domed building, [that] surrender is not a word in our vocabulary."
Some of the speakers included Larry Bailey and Chris Hill from the Gathering of Eagles. Chris was very impassioned. His remarks included the following: "I would bleed on that flag to keep the stripes red, and I know I'm not alone...I don't care what they [anti-war protestors] have to say anymore...you do not speak for me."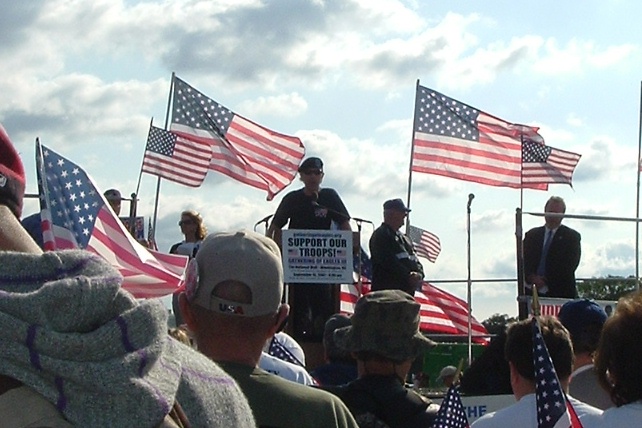 Peter Hesgeth, president of Vets for Freedom, also spoke. He discussed the "two Americas," but they aren't the ones John Edwards likes to talk about. In addtition to reminding us that since American GIs first soaked the beaches of Normandy in blood up until now, they have "fought and died oppressing all that is evil." He also reminded us that "now is the time to stand by our troops, stand by their commanders, and stand by their mission." Wise words indeed.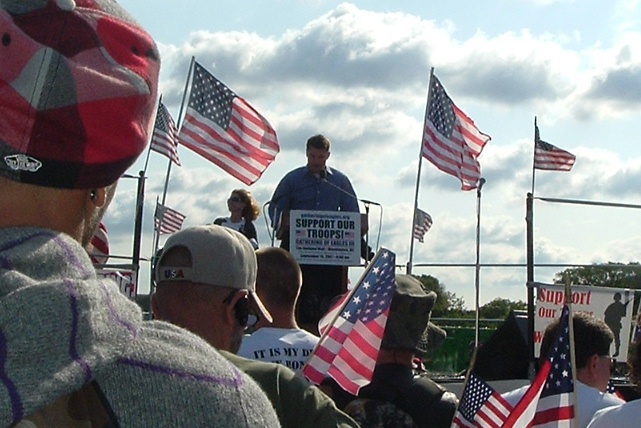 Excerpts from the speech made by Bradley Blakeman of FreedomsWatch.org: "We give voice to real Americans...this is just the beginning...victory is our only option...America will never surrender to our enemies." He compared our current struggle against Islamofascists to the rise of the Nazis: "We will not let this happen again."
Lloyd Marcus sang at the GOE on March 17th. This time, his dad was along for the ride, and joined Lloyd onstage as he sang "Remember 9/11."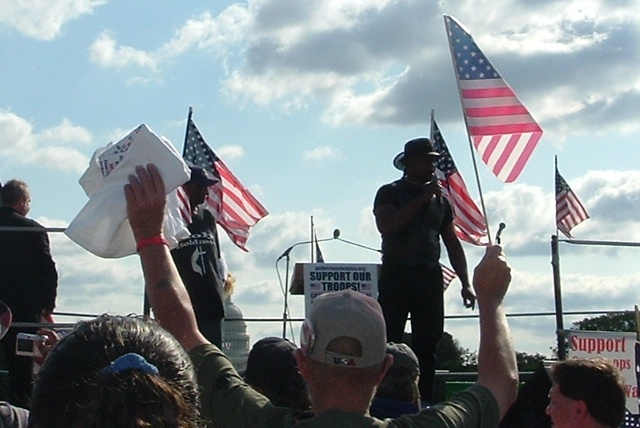 There are so many speakers, I can't do them all justice. Dr. Kimberly Cagin said that "America is in Iraq to defend our homesoil anad our allies against those who would destroy us." Merrilee Carlson, head of Families United, spoke of her son, Sgt. Michael Carlson, who died when the Bradley he was in went into a culvert and into the water. Because he was able to partly pry open the hatch, two out of the seven soldiers survived. Shouts of "hero" resonated through the crowd as Merrilee spoke.
Lt. Col. Buzz Patterson was introduced by Melanie Morgan, who said "he carried the nuclear football for President Bill Clinton...and has regretted it ever since." During his speech, Buzz said, "I've seen firsthand how leftwing politicians hate the military. It's disgusting." He also said that "the Left only wins when America loses."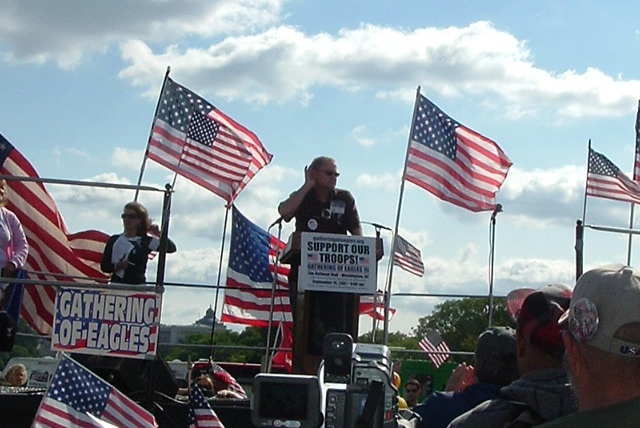 Some of the more impassioned speeches, which elicited great responses from the crowd, included those by Blue Star and Gold Star parents, including Deborah Johns (Blue Star) and Debbie Lee (Gold Star). Deborah Johns declared, "No retreat, no surrender, not now, not ever!" Greg Garvey, Gold Star father of Sgt. Justin Garvey, said, "Do you know what time it is? It's AKT -- a** kickin' time."
Joe and Jan Johnson, whose son Justin was friends with Casey Sheehan and died shortly after Casey did, spoke of their son with pride. Their story is told in the book "American Mourning: The Intimate Story of Two Families Joined by War, Torn by Beliefs." Their older son is currently serving in Afghanistan.
A surprise guest was Rep. Duncan Hunter (R-CA), who is also running for president. Hunter's son Duncan Jr. is a Marine who served in Iraq and is currently serving in Afghanistan. In addition to quoting Ronald Reagan's 1981 inaugural speech, Hunter said, "God still loves this country...for the next generation, we are fighting this war against terror."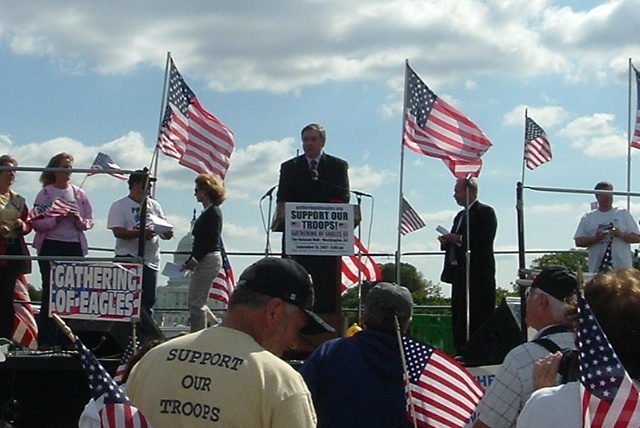 Among the final speakers was a Corp. Finelli (sp?). I missed his first name, but he received a great deal of cheering from the crowd. He lost one of his arms in Iraq, and his legs were injured as well, but they are healing and he can walk with the assistance of a cane. He said, "I don't just fight for America, I fight for the world."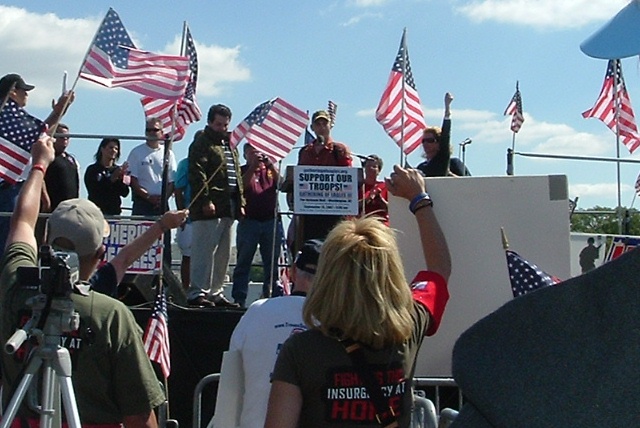 The rally wrapped up around noon with a musical tribute to our fallen troops. You couldn't hear a thing except the song playing, and tears were seen in many eyes (including my own). The Gold Star families who arrived with the caravan stood with Melanie Morgan and the other MoveAmericaForward.org people in unity, holding their hands.
The highlight of my day? Meeting Melanie Morgan, who I've had some e-mail communication with this past year (she's the better looking one):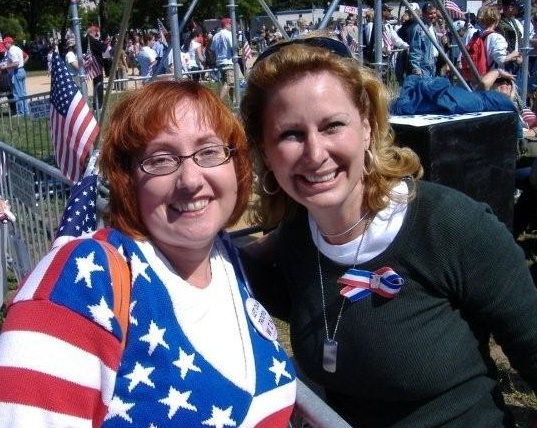 After the rally ended, we headed over to Pennsylvania Avenue to line the street for the big ol' anti-war march planned for 1:30. We stood around until 3:00 before the march began. We lined both sides of four avenue blocks. How many of us were there? Not sure. There were a lot of anti-war marchers, but as Aaron pointed out, many of them were probably local college students who didn't have much to do on a Saturday afternoon.
What struck me most about the anti-war people was their penchant for profanity. I heard lots of "F*** you a**holes" and there were plenty of middle fingers on display. One young girl, probably around the age of 15 or so, walked by shouting "Suck it" and giving us a visual f*** you with her arm and fist. Her mother was right there encouraging her.
Another thing that bothered me as I watched the marchers were the parents who dragged their young kids along. I'm talking YOUNG, under 10. One girl was in a line where the marchers were "tied" together, and she looked terrified. And who wouldn't be? With all the shouting and angry people left and right, I'd be frightened too. Below are some shots (courtesy of Aaron, as my camera was out of commission at this point) of the march itself: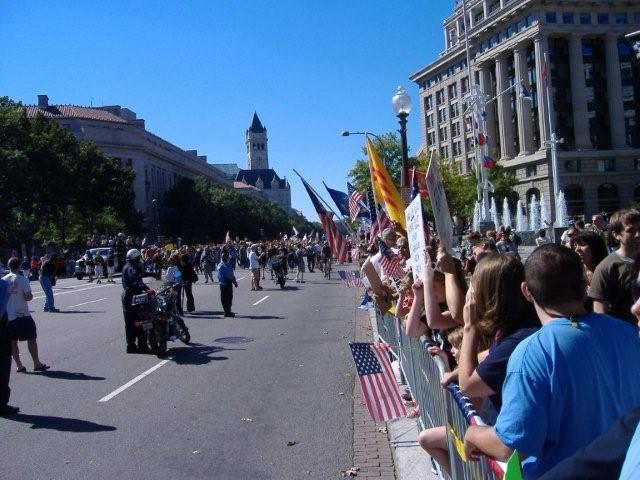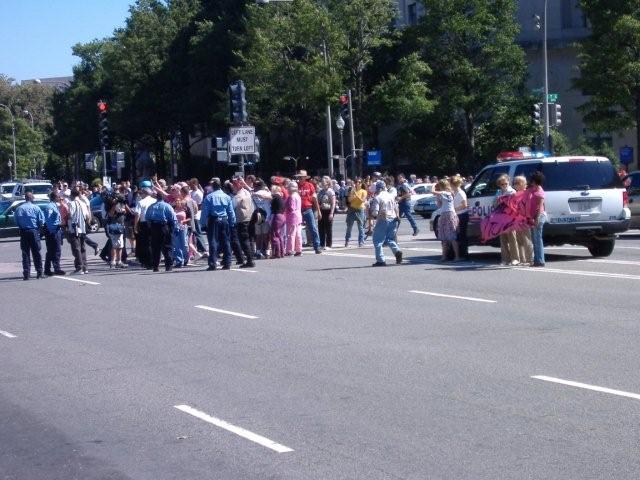 Above, Code Pink gets into a scrap with pro-troop ralliers and the cops are sorting it out. Below, check out the "press truck." The press was there in full force when the troop haters arrived, but fairly ignored those of us there supporting our military. Aaron shouted continually, "Biased media!" Biased indeed. Thanks a lot for nothing, guys.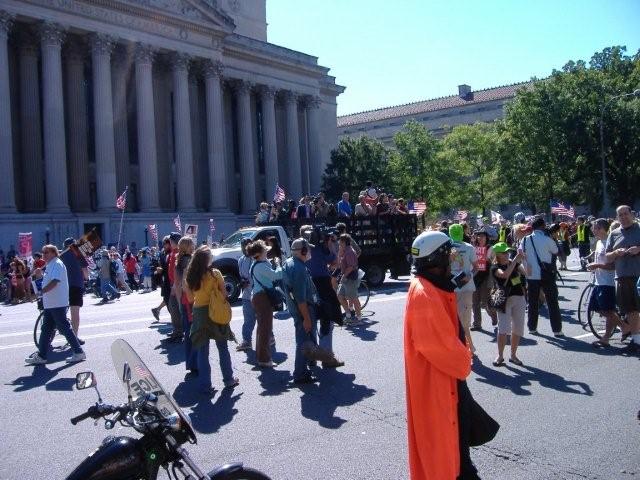 No need to post any more of the actual march; you'll see plenty of those in the mainstream media. Were there more troop haters than troop lovers? Maybe. But our hearts were in the right place. We stand for victory, they stand for defeat. They claim to support the troops, but what they are really doing is bringing down morale and encouraging our enemies.
Michelle Malkin was there...here's her account in progress.
UPDATE: MM has more.
OTHERS BLOGGING: This Ain't Hell, Gateway Pundit, PC Free Zone, Age of Hooper, Atlas Shrugs, Cao's Blog, Crawfish's Swamp
Show Comments »
September 14, 2007
Pro-Troop Rally TOMORROW!

So I'm now in Maryland...took a pleasant train ride and was met by Aaron at the station. He and I will be joining up with the Protest Warriors tomorrow morning at the Navy Memorial in Washington D.C. in order to do our part to counter the anti-war, anti-troop, anti-American rally being sponsored by International ANSWER. Across the street from us will be the Gathering of Eagles, along with the MoveAmericaForward.org folks (whose caravan arrived in Washington D.C. last night).
I'll post on tomorrow's happenings as soon as possible. Looking forward to it for sure!
Show Comments »
September 11, 2007
9/11...Six Years Out
And so it's 9/11. Six years ago today, hijacked airliners slammed into the World Trade Center, the Pentagon, and a farmer's field in Pennsylvania, with Islamic terrorists armed with box cutters inside shouting "Allahu Akbar!"
Six years ago today, our whole world seemed to come tumbling down with the World Trade Center buildings.
But today, where are we at?
* We have Democrat candidates for president who think that our fight against worldwide Islamic jihad is a bumper sticker slogan, and that jihad is really all our fault.
* There are anti-war groups who argue that America is the bad guy – always was, always will be – even though they have nothing to fear by voicing their displeasure with our government.
* We have a leftwing press that spins the news from Iraq and Afghanistan so that the worst possible side comes out, therefore encouraging an attention-span-challenged public to clamor for a precipitate pullout.
* We have so-called leaders in Congress taking it upon themselves to trash the reputation of the four-star general in charge of operations in Iraq.
* Some of those congressional leaders (who are elected to legislate) have also taken it upon themselves to visit with leaders of countries that our president (who is elected to take charge of foreign policy and diplomacy) has decreed off-limits.
* Our borders are far from secure…if the country was a boat, she'd sink faster than the Titanic. Desperate for votes, politicians from both parties are willing to turn a blind eye to those who violate our nation's immigration laws…and not all of them are simply here for a job washing dishes or mowing lawns. There are such violators who would use these lapses against us…the 9/11 hijackers did just that.
This is where we are at, six years later. Obviously we haven't learned much, other than many people are so desperate for a return to comfort and normalcy – or win elections – that they are willing to ignore these very serious issues.
But you shouldn't. You don't have to attend a memorial service – but you should never forget what happened on that day. Keep the lessons from 9/11 close at hand…for if we, as a nation, allow ourselves to forget, we'll have a new tragedy to deal with. Our enemy never rests, and neither should we.
(Over at Family Security Matters, there are other thoughts on the lessons of 9/11. Check them out.)
UPDATE: One of my best friends was working in midtown Manhattan on that day, and saw the events unfold from her office window. She still works there, and has posted her recollections of that day. Be sure to read it.

Show Comments »
September 07, 2007
I'm In: Pro-Troop Rally, Washington D.C., Sept. 15

Initially I didn't think I'd be able to swing it, but I've made the decision to make it happen. I'm taking the train down to Washington D.C. so that I can be a part of the pro-troop rallies that are taking place that day. International ANSWER will be there, so this is our way of telling them where they can go. (And it ain't Disneyland.)
I'll be joining Protest Warrior at the Navy memorial, located on Pennsylvania Avenue between 7th and 9th. Aaron will be there too (in fact, he'll be my host for the weekend again), and we plan to meet up with Gayle at some point during the day. There'll be blog postings galore afterward, and I plan to do a more formal writeup for submission to other sites (including Family Security Matters).
The Gathering of Eagles will be right across the street, which is where (I believe) the Move America Forward caravan will end up, so it should be a great joining of patriotic force.
If you can, please join us...the more the merrier. If you can't, please do what you can to give the event as much exposure as possible, either on your blog (if you have one) or by e-mailing friends and family about it.
Let's show those who would revel in America's defeat that the rest of us aren't eager to do the same! Victory is our only option. Let's do it!
Show Comments »
July 24, 2007
Melanie Morgan vs. Naomi Wolf on Hardball
Chris Matthews wasn't the host, and while it's amusing to see his fill-in unable to stop his guests from taking over, it's not amusing to watch Naomi Wolf's condescension, misrepresentation, and utter disregard for reality. Melanie Morgan, however, is more than a match for Naomi. Go Melanie! (I notice when Melanie is introduced, she's only identified as a radio talk show host. That's true, but she is also chairman of MoveAmericaForward.org, and co-author of American Mourning: The Intimate Story of Two Families Joined by War, Torn by Beliefs. Wolf's recent book, of course, is given due notice.)
h/t: Hot Air
Show Comments »
July 18, 2007
Operation Defend the Surge: Update!

A message from Buzz Patterson, vice chair of Move America Foward:
We are a nation at war with a threat from Islamic jihadists that will not go away if we surrender and withdraw from Iraq; no, that threat will only grow in intensity and brutality. Iraq will become "killing fields" rife with sectarian violence and Al Qaeda will have the opportunity to seize control of the country and its oil fields, greatly enhancing their ability to launch coordinated terror strikes against America and our allies, in pursuit of their "Grand Caliphate".
Victory is our only option. Our troops know that, you know that and I know that. The members of the United States Congress, however, stand poised to force surrender upon our troops, defeat for our nation and undermine the security of the people they were elected to represent.
Read the entire thing at DC Protest Warrior.
Also, there's a rumor that an anarchist group will try to deface the Vietnam memorial wall on September 15, the day Operation Defend the Surge plans to rally in counterprotest to ANSWER, Code Pink, etc. We stopped them in March. We can stop them again!
Aaron e-mailed me: "You HAVE to come!" And I want to. Unfortunately, I am starting a second job this weekend, and don't know if I will be able to get the time off. (Yeah, another rich Republican working a second job to make ends meet.) I'll do my best to get there. At the very least, I'll do what I can to get the word out.
Move America Forward has details, details, details on their cross-country caravan and the rally on September 15 in Washington DC.
Previous:
Operation Iraqi Freedom: Fight for Victory Tour
Operation Defend the Surge
Show Comments »
July 16, 2007
Operation Iraqi Freedom: Fight for Victory Tour
Melanie Morgan and Move America Forward are at it again! Back in March they formed a cross-country caravan that culminated in the Gathering of Eagles in Washington DC. Now they're planning another caravan. From the press release:
"We'll launch the cross-country caravan Monday, September 3rd with rallies outside the offices of Senate Majority Leader Harry Reid in Nevada and House Speaker Nancy Pelosi in California," said Melanie Morgan, Chairman of Move America Forward.
"The caravan will then continue across the nation until we reach Washington, D.C. for a giant pro-troop rally on September 15th – the day that General David Petraeus, the U.S. Commanding General in Iraq, delivers his report on 'The Surge' to Congress," Morgan said.

"During the cross-country caravan we will stop and conduct pro-troop rallies that will be attended by thousands upon thousands of patriotic Americans who believe that our leaders cannot be allowed to undercut our troops who are bravely serving on the frontlines of the war against Islamic jihadism," said Robert Dixon, Executive Director of Move America Forward.
Yep, they'll be hooking up with Operation Defend the Surge in our nation's capitol on September 15, which I posted about a couple of days ago. More information on the caravan and the September 15 rally can be found at Move America Forward's site.

Show Comments »
July 13, 2007
Operation Defend the Surge
Mark your calendars! Operation Defend the Surge takes place in Washington DC on September 15, which is a Saturday. Why? Code Pink, ANSWER, and other assorted dimwits will be rallying with their usual message: America sucks, America is always wrong, the only answer to all the world's problems is our defeat in the Middle East.
If you are thinking of going, keep in mind that that the Friday before, pro-troop demonstrators will be gathering at Walter Reed Hospital to keep the moonbats at bay -- another worthy cause.
Aaron asked me if I plan to attend, but I can't give a firm commitment at the moment. I'd love to...I just don't know if it's possible right now. But if you can make it, I recommend it...the Gathering of Eagles back in March was a great experience. (And it should be warmer!)
For further information, go to Protest Warrior. I'm don't think this posted there yet, but you can keep checking back. And I'll bring you further details as I receive them.
Show Comments »
June 16, 2007
Remember Me
I had heard about this video all week, but the first chance I had to view it was over at Reverse_Vampyr's blog today. It's a wonderful tribute to our soldiers by 15-year-old Lizzie Palmer. For those of you who haven't seen it yet, please take a few minutes out to watch. Be sure to have a tissue box nearby.
And then, as RV suggests, send a care package to our soldiers if you can.

Show Comments »
June 14, 2007
Today is Flag Day
Yes, the American Flag. We haven't been taken over by anyone else yet (although the Left keeps trying to let it happen).
Wave it proudly.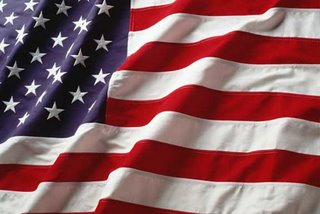 (Thanks to Wyatt for reminding me. I also stole his flag.)
Show Comments »
May 09, 2007
A Soldier In Need
Kyle from Lonestar Pundit sent out the following e-mail:
Chris Cooper Jr is currently stationed in Iraq. His father passed away from cancer last month, and the combination of loss of income, medical bills and funeral expenses has basically wiped out the family's financial resources. Cooper has had to take out a loan against his military pay to help his mother pay for the funeral and other bills.
How can you help? Kyle has details at his blog.

Show Comments »
April 17, 2007
eBay Auction to Benefit AnySoldier.com
eBay junkies rejoice: there's a "red white and blue" mystery box auction going on now through April 20th, with proceeds to benefit AnySoldier.com. Click here for auction details.
On a tip from Jeanette.
Show Comments »
March 17, 2007
Today's Gathering of Eagles: The Answer to ANSWER
SCROLL DOWN FOR UPDATES...
Aaron and I just got back from The Mall in Washington DC, where we joined the Gathering of Eagles at the Vietnam Memorial. It was a cold and bitter day. I brought no gloves, but bought a cheap pair from one of those carts that sells t-shirts and all sorts of other goodies to the tourists. Good thing...I definitely needed them. Here are my impressions and photos...be sure to go to Lifelike Pundits to get Aaron's reflections and the video he shot with his trusty little PDA. If nothing else, check it out to see yours truly on video...
(Note: I neglected to bring a notebook, so I can't give as much detail about names, etc., that I'd like to.)
We arrived around 9:30. The gathering began at 7, but both Aaron and I were tired, and couldn't manage to get our butts out of bed early enough to get there first thing. So by the time we had arrived, a nice group of people had already shown up.
Here's Aaron, ready to face whatever comes his way. (Note from Aaron: Now, Pam, you have to tell people that while I'm a brawny guy, that picture makes me look fatty fat. I was wearing t-shirt, dress shirt, a jacket, a coat with a side bag, sign and flag draped all over me. Gay men are only allowed to look that bad in drag.)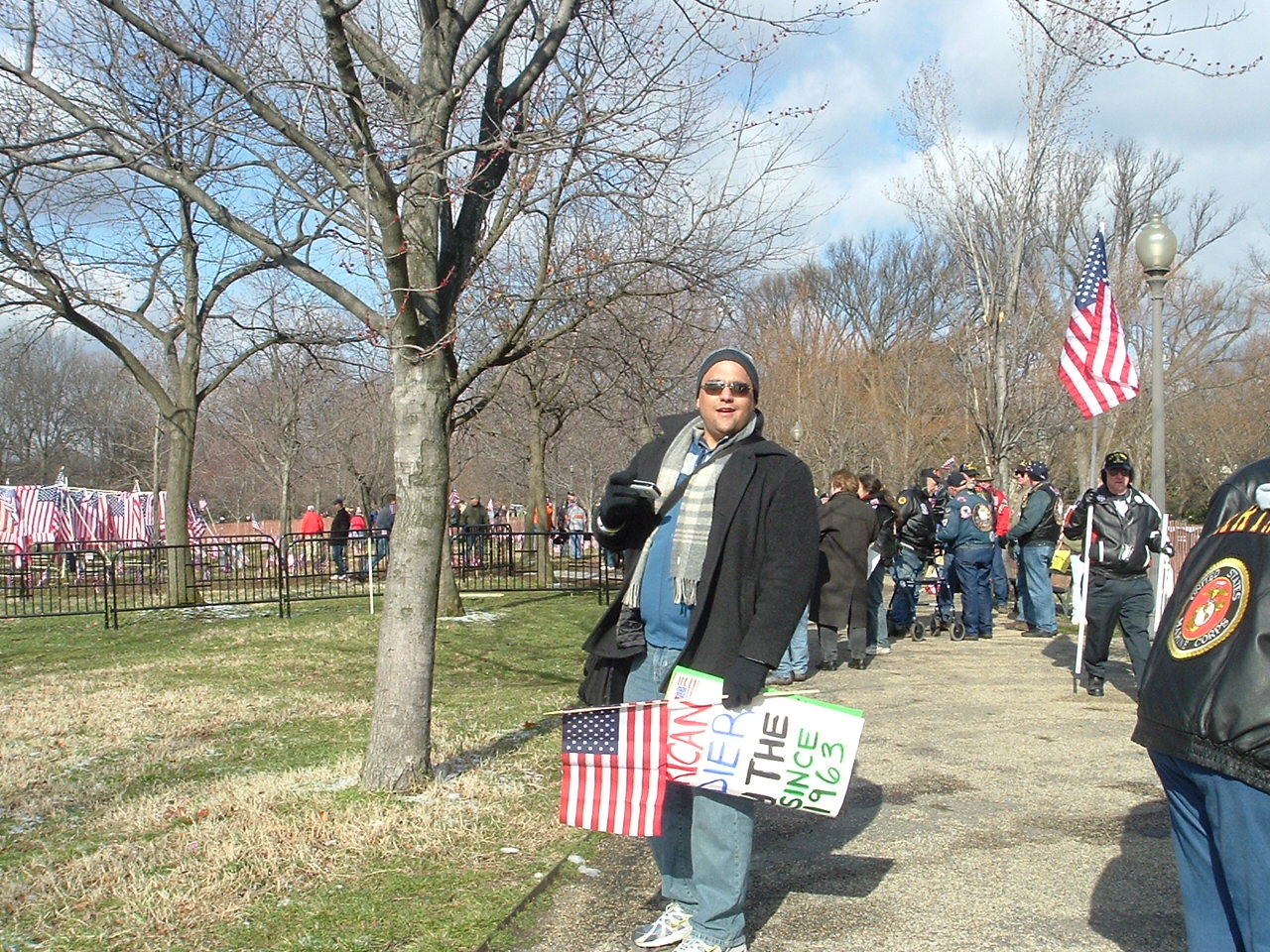 Here's a distance shot of the main gathering at that time.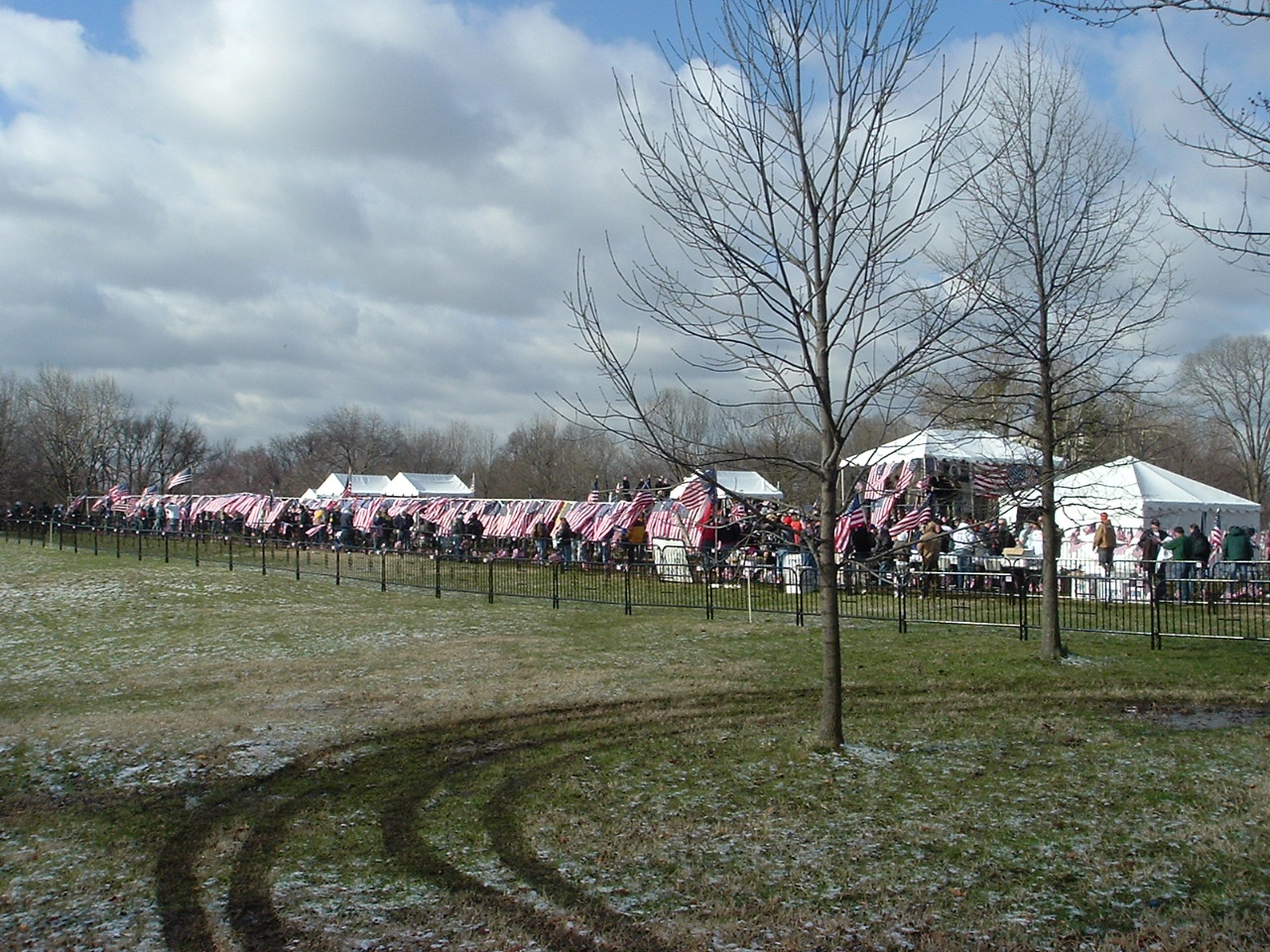 Another view of the crowd, close up.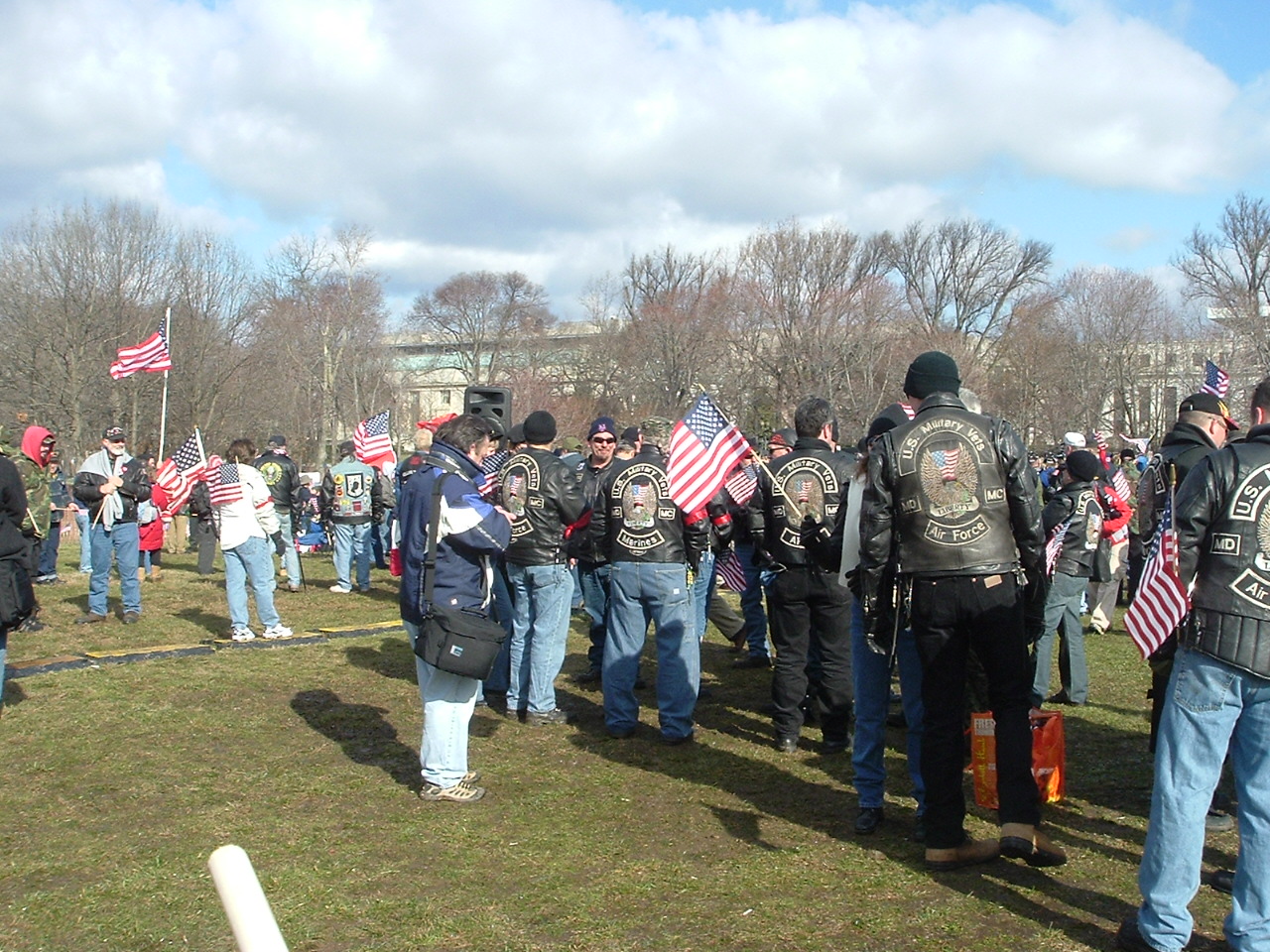 The grassy area where the Move America Forward folks had set up their platforms was nasty and muddy from yesterday's rain and sleet. The wet ground meant that the microphone from the main platform shorted out several times, but fortunately they had a bullhorn to take up some of the slack. Here's Melanie Morgan from Move America Forward. She served as co-MC, revving up the crowd and helping to introduce various speakers from the Move America Forward caravan. The "USA!" chant was encouraged in between speakers. (The man you see on the left corner of the platform is a sign interpreter.) Sorry about the angle; I didn't get a prime spot...but was glad to get as close to the platform as I did.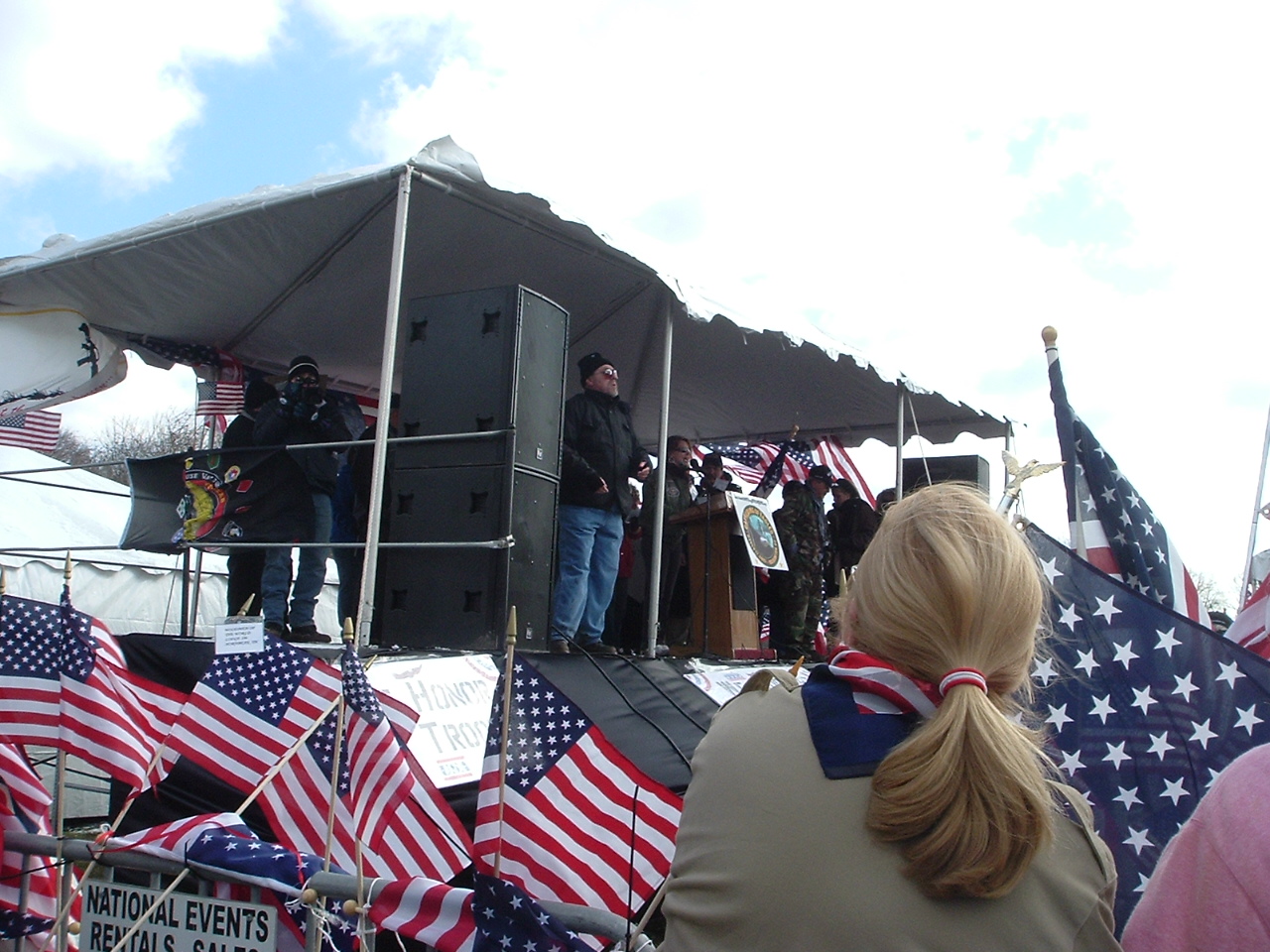 One thing that set us apart from the "Hate America First" crowd was that our program started off with the Pledge of Allegiance, a beautiful live rendition of the National Anthem, and a prayer by Rev. Ed Anthony, a Vietnam veteran. It was very moving. We also had Gold and Blue Star parents speaking to us about the service of their sons and daughters in Iraq, and how much they honored that service and how much they appreciated the support of the "silent majority."
This woman, whose son is currently serving in Iraq, sang a beautiful song that she had written in honor of those who lay their lives on the line in service to our country.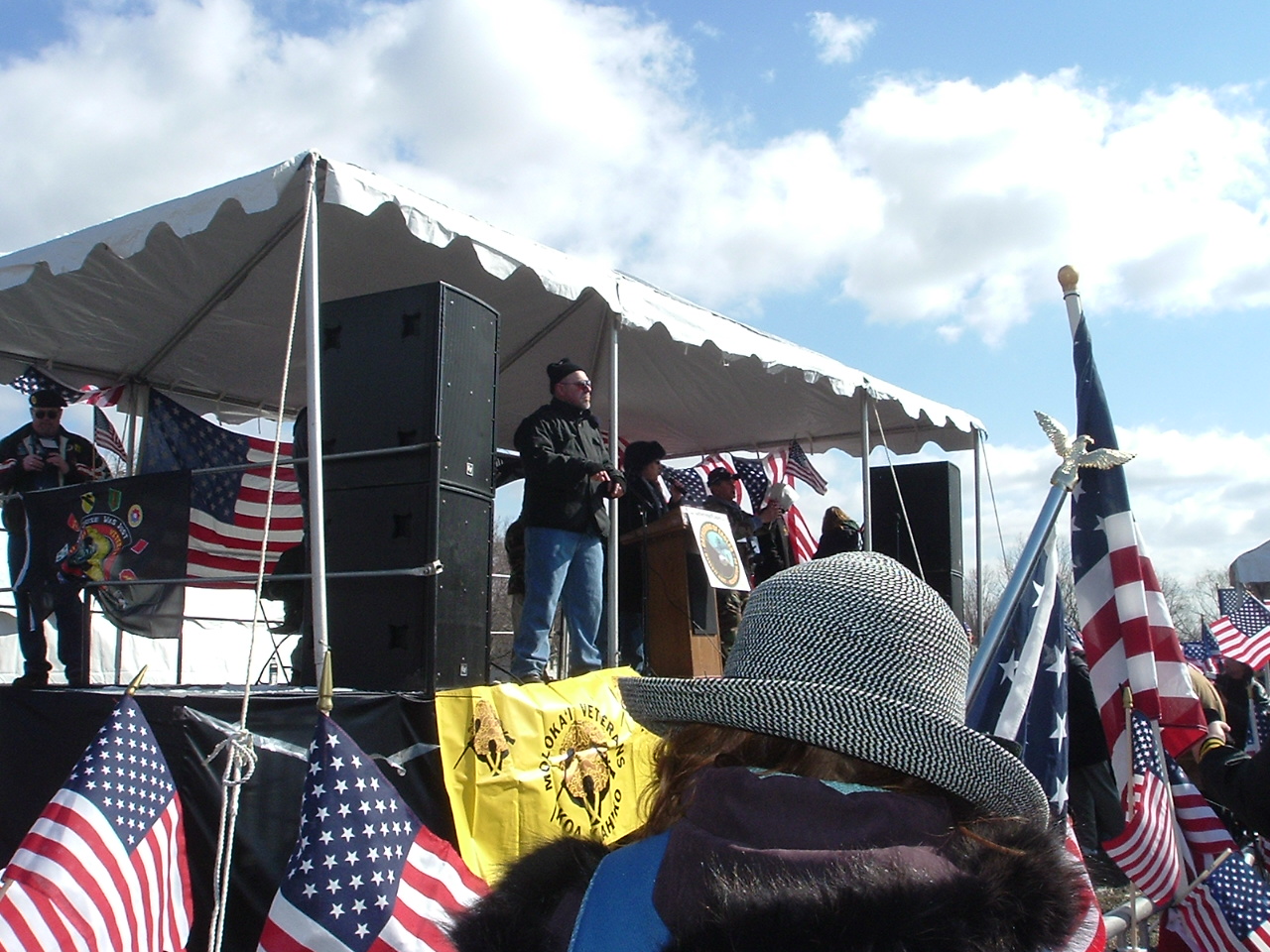 Interesting...as I write this, I find this early AP article that focuses on the anti-war rally sponsored by ANSWER, Code Pink, MoveOn.org and so on, giving short shrift to those of us who were there in support of our troops. Around 11:30, we heard an unofficial tally that said there were 3,000 pro-troop folks compared to 2,000 anti-troop folks. You won't hear that from AP!
I really liked the message that Marianne from Cincinnati had on her back and in her hands. She said she "came to support the troops."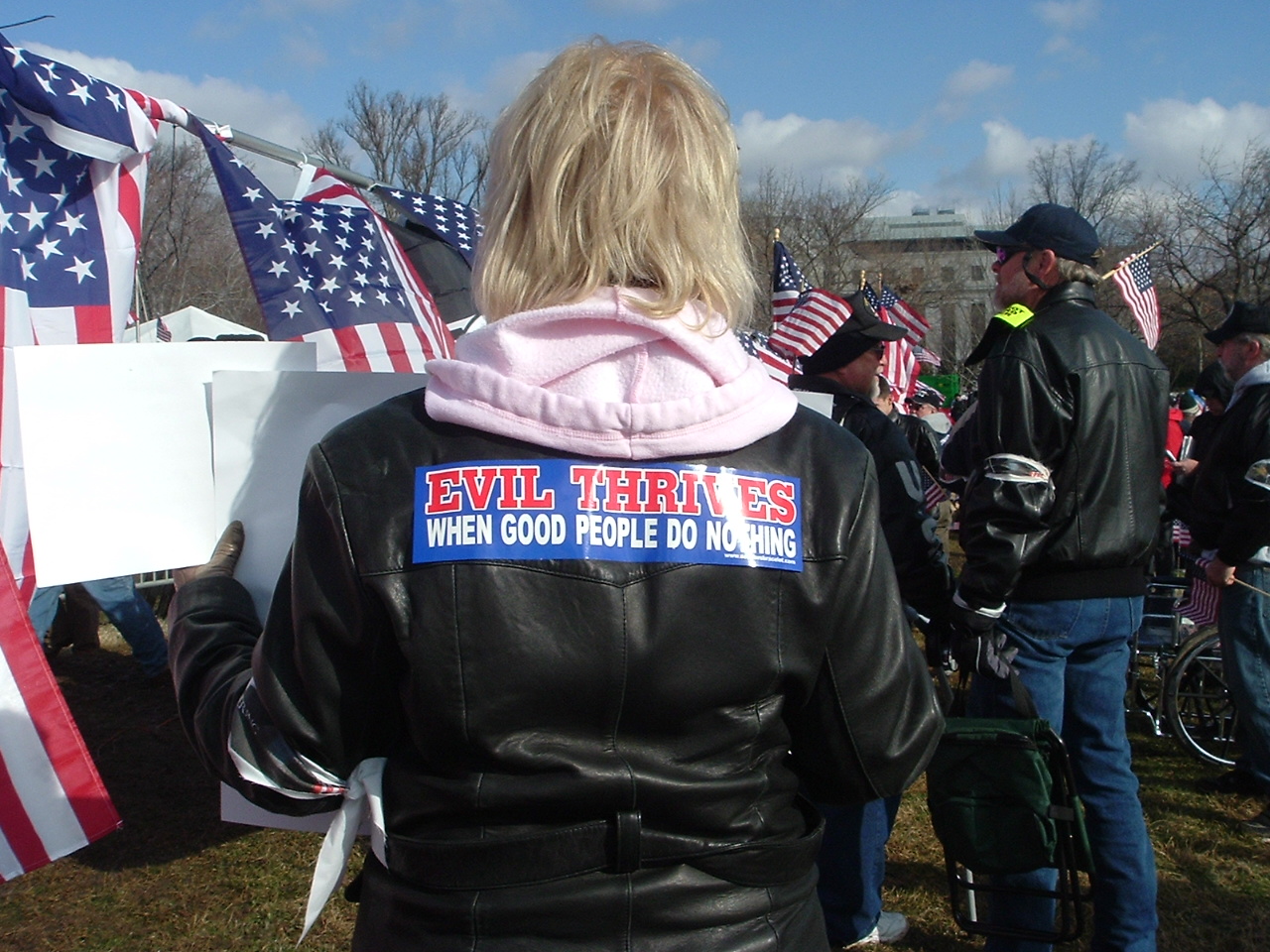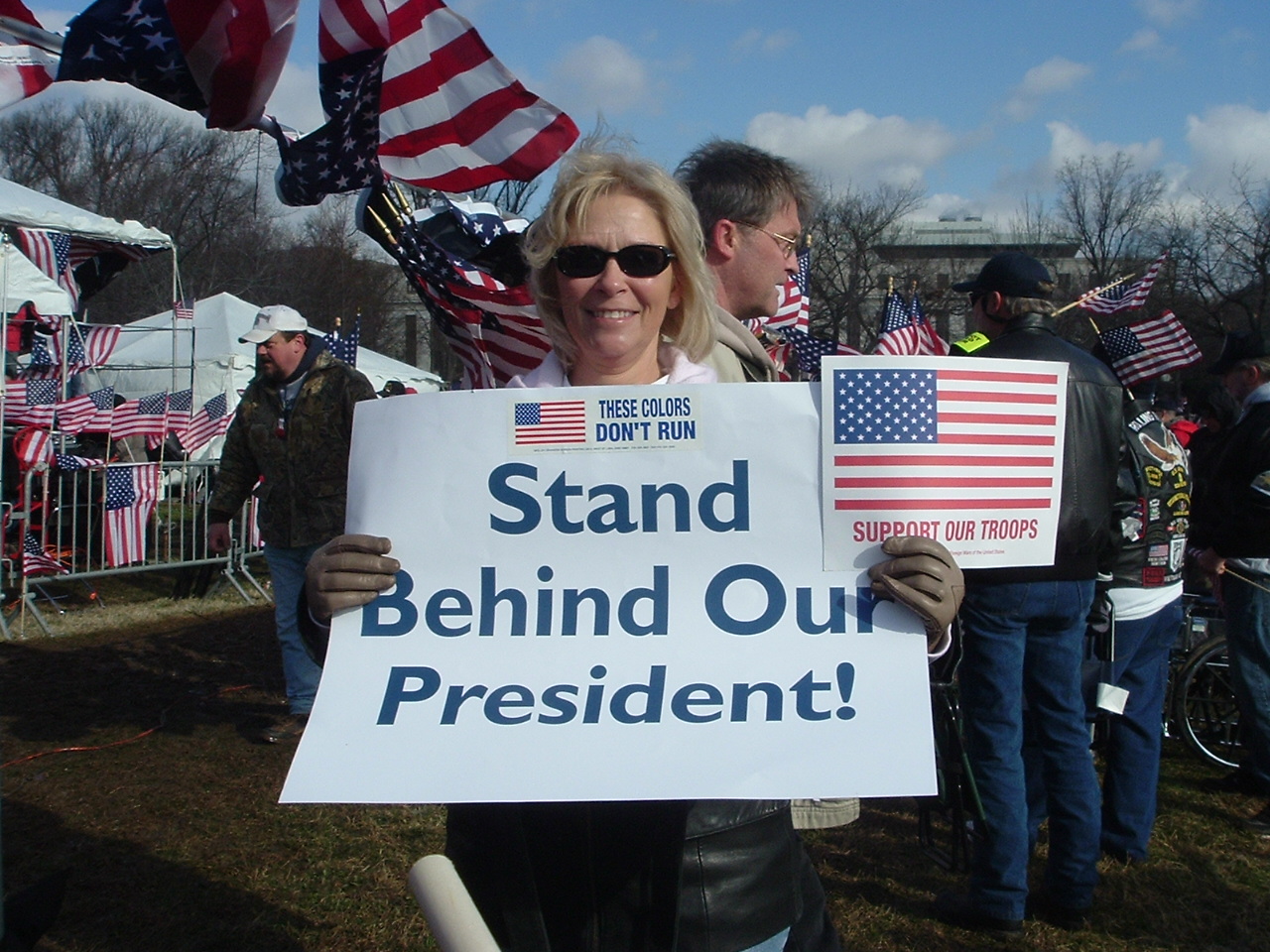 Another favorite sign: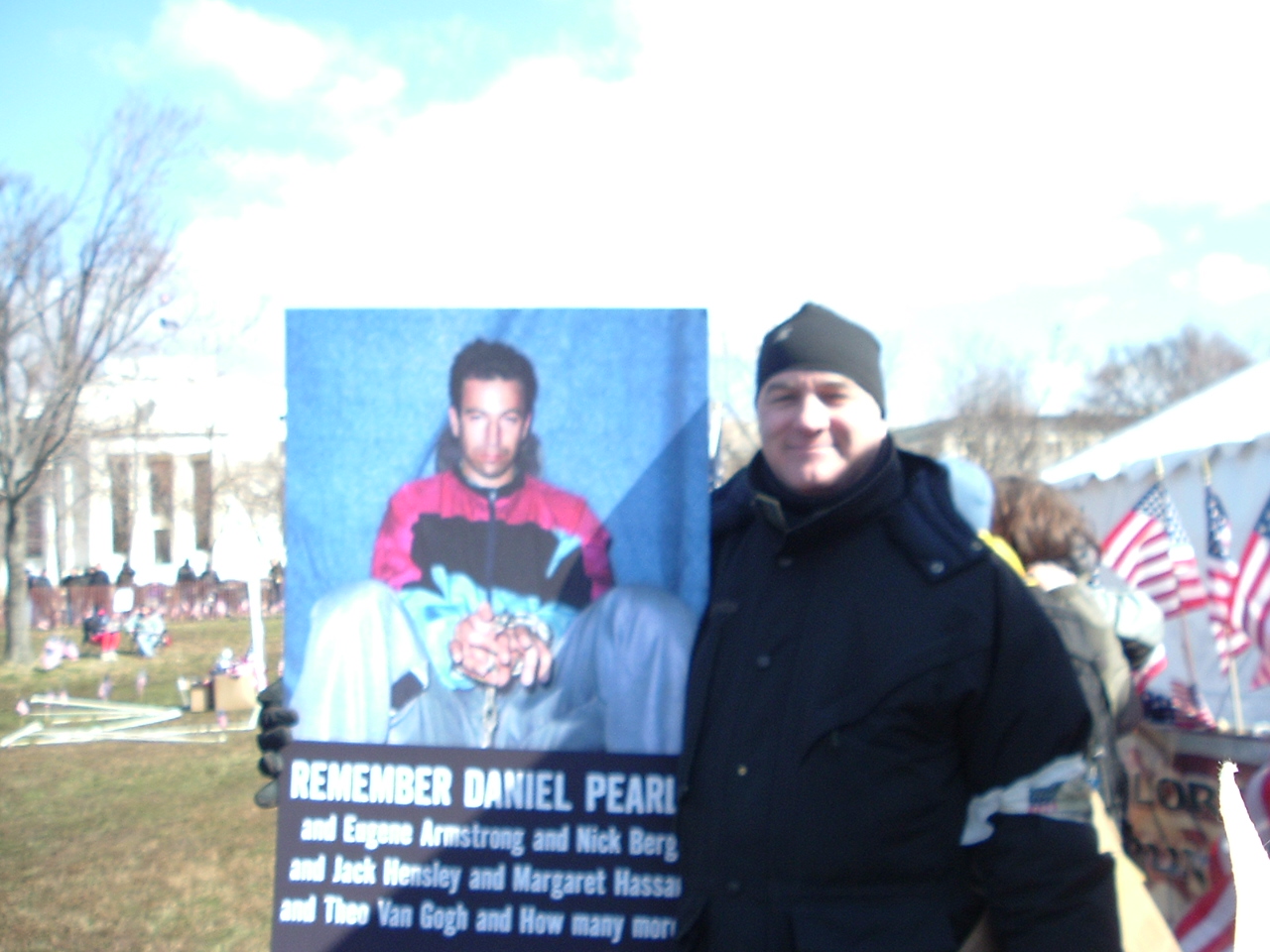 More shots of the crowd enjoying the program: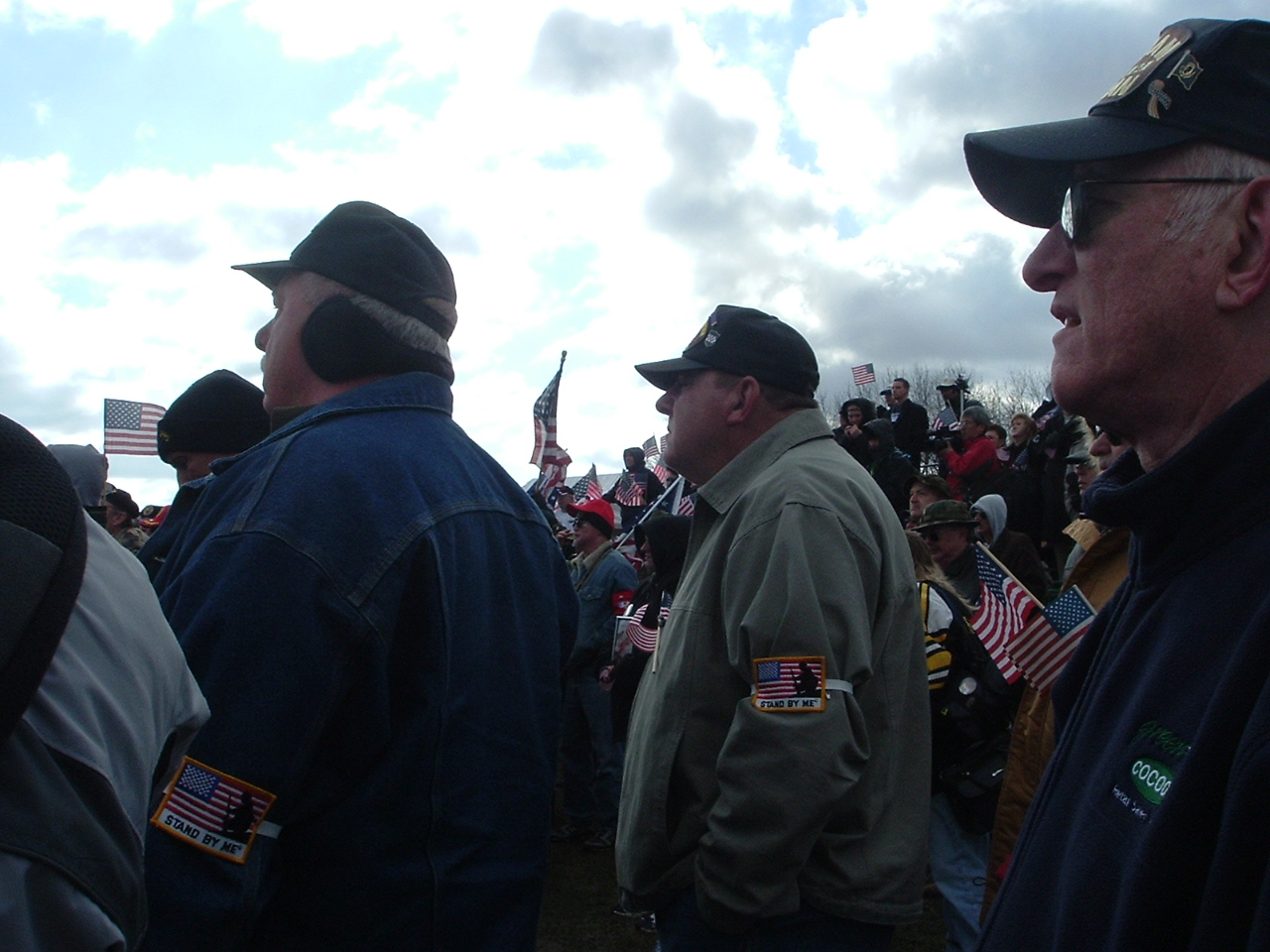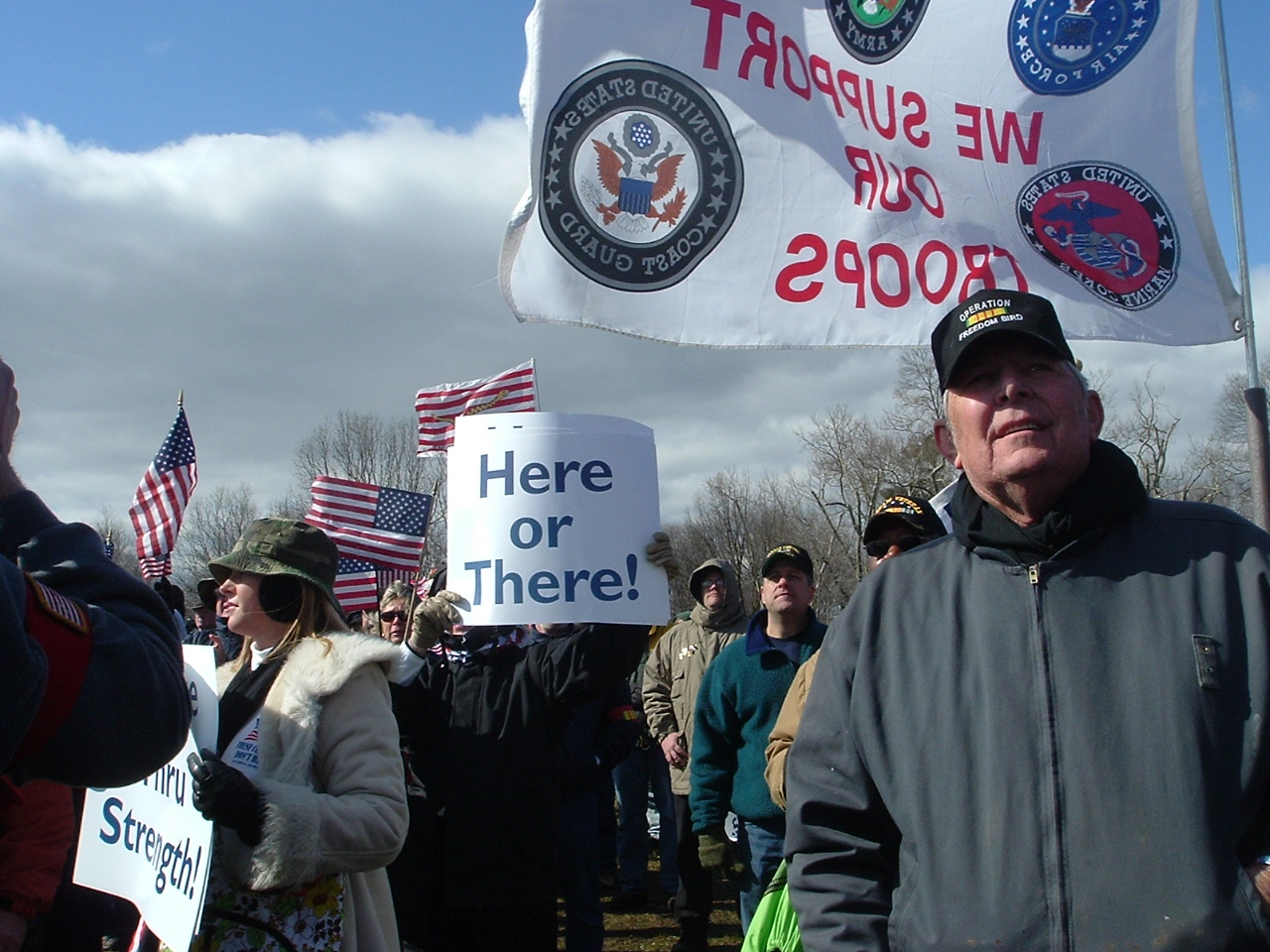 A wider shot: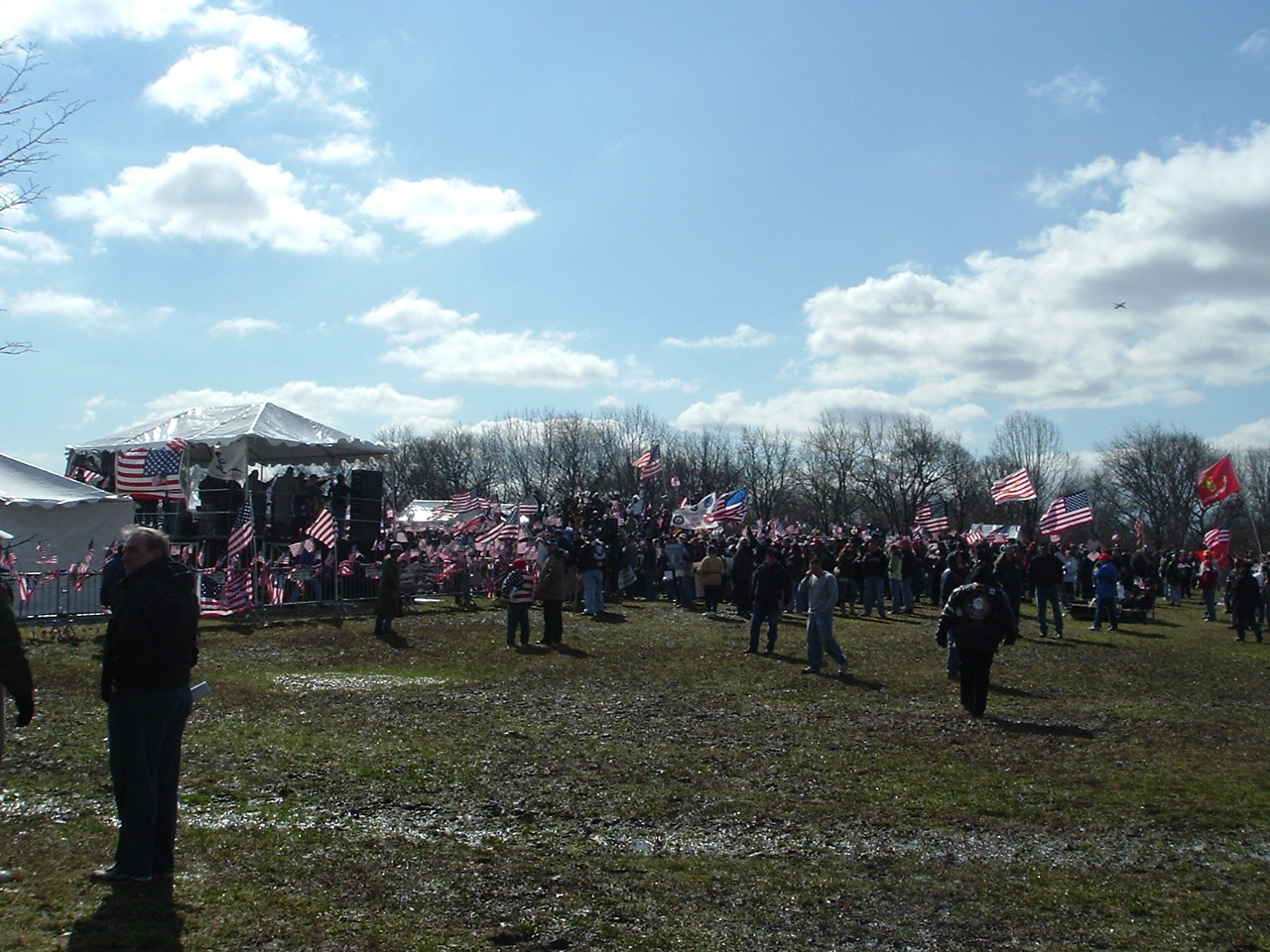 There were a lot of veterans at this gathering. Obviously, they're tired of having the military that they served in proudly having its name dragged in the mud by folks like Jane Fonda and Medea Benjamin.
After a while, Aaron and I wandered over to the area on Constitution Avenue where the Gathering of Eagles folks were also standing to "guard" the entrance to the Vietnam Memorial.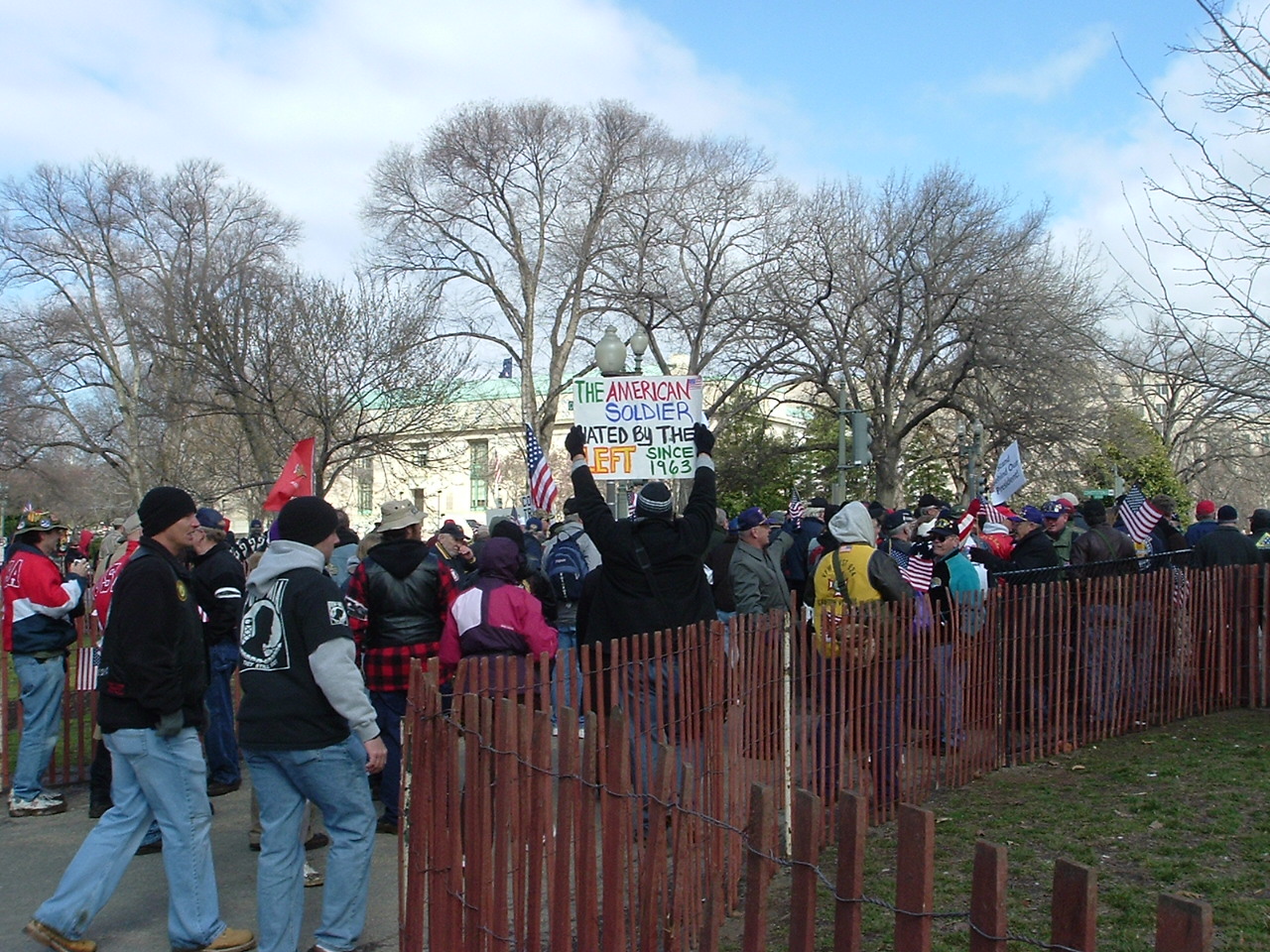 This was an area where many leftwingers had to pass to get to the anti-America group down the road. Many of them seemed a bit bewildered having to walk by proud Americans waving Old Glory in their faces, and quite a few simply walked by as quickly as they could to get it over with.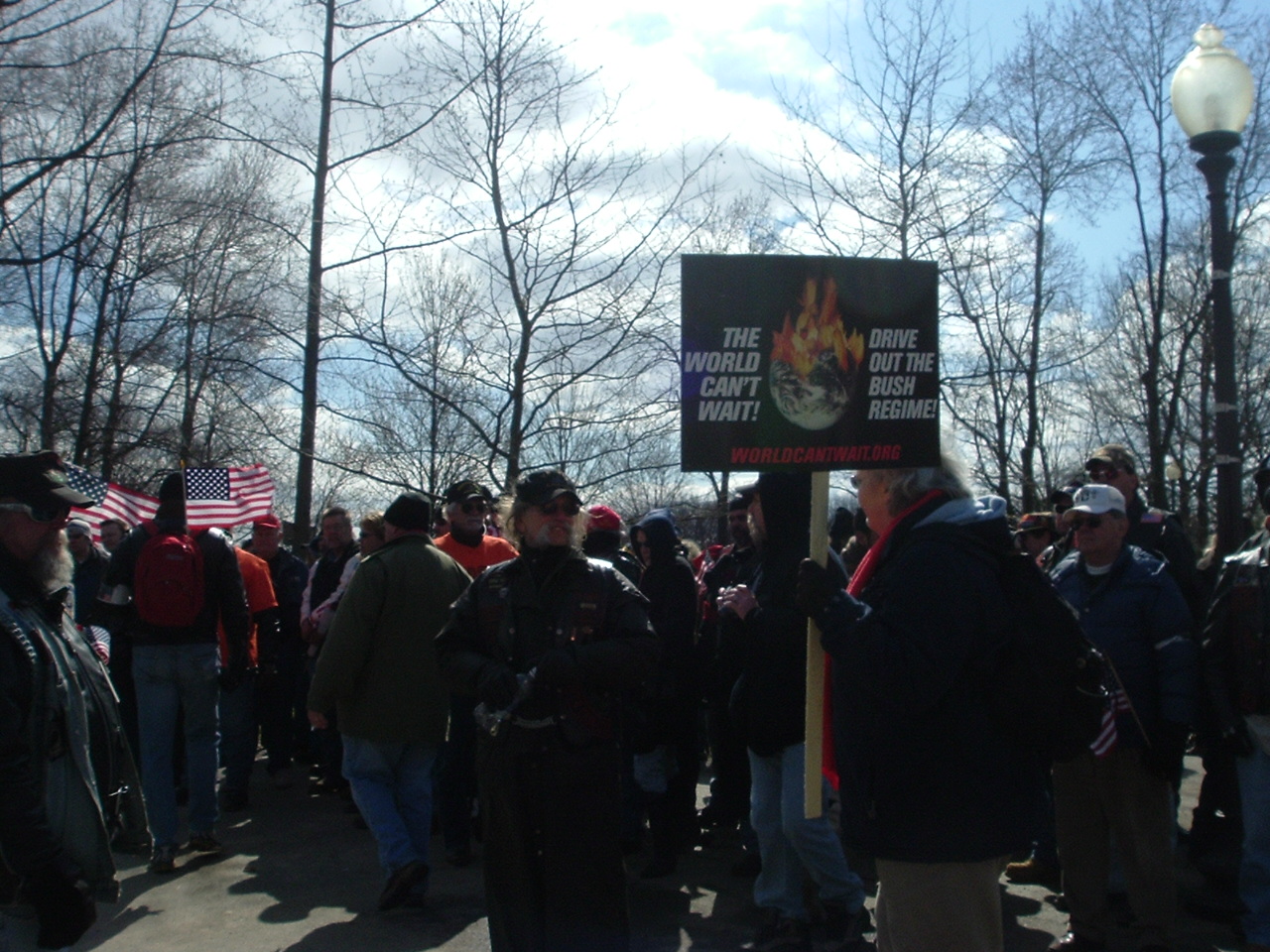 DC cops getting paid to stand in the cold to make sure the crowds didn't get out of control. Very competent and professional...thanks guys!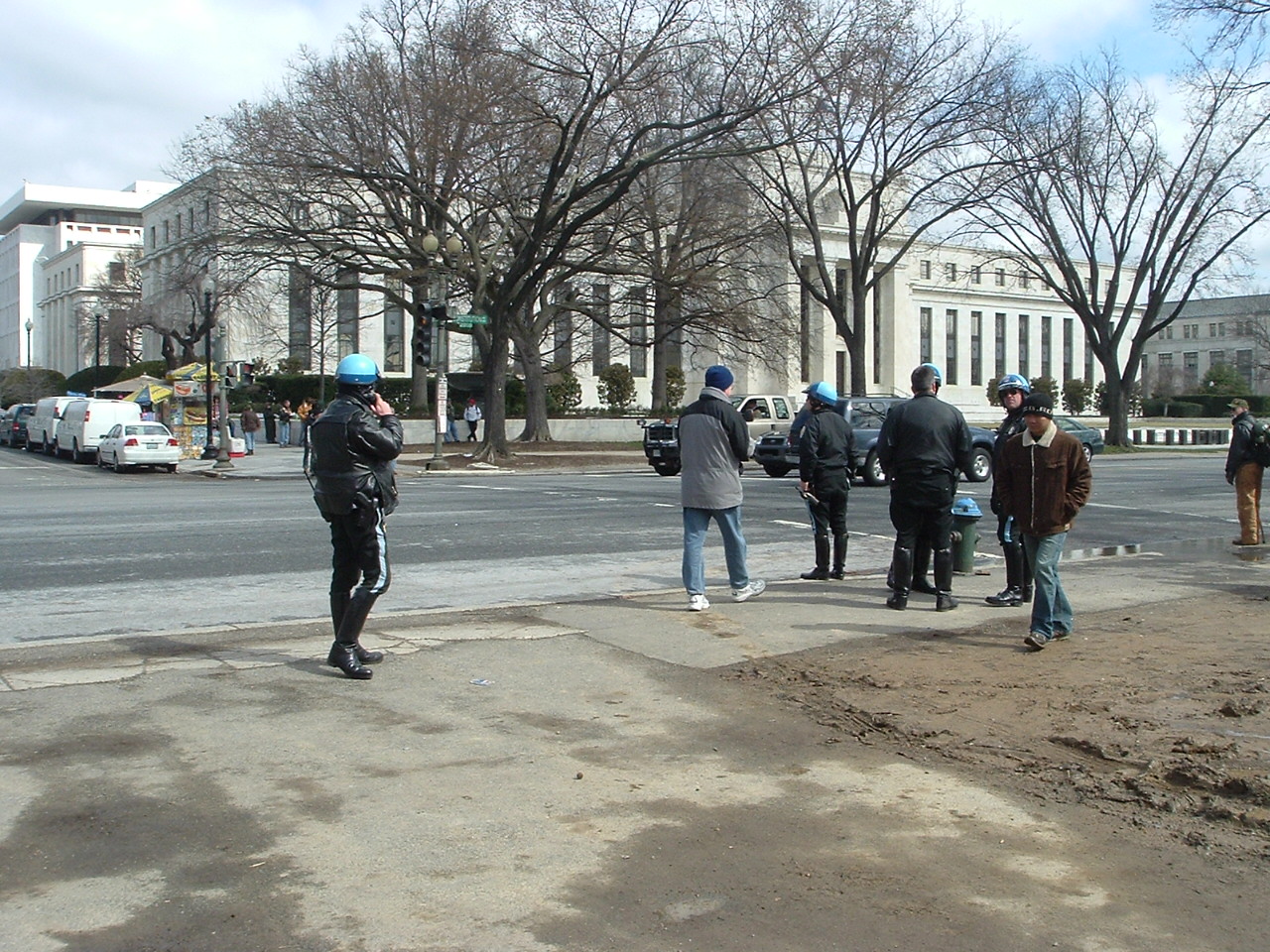 Here's an ANSWER sign in an appropriate spot. (No, I didn't put it there!)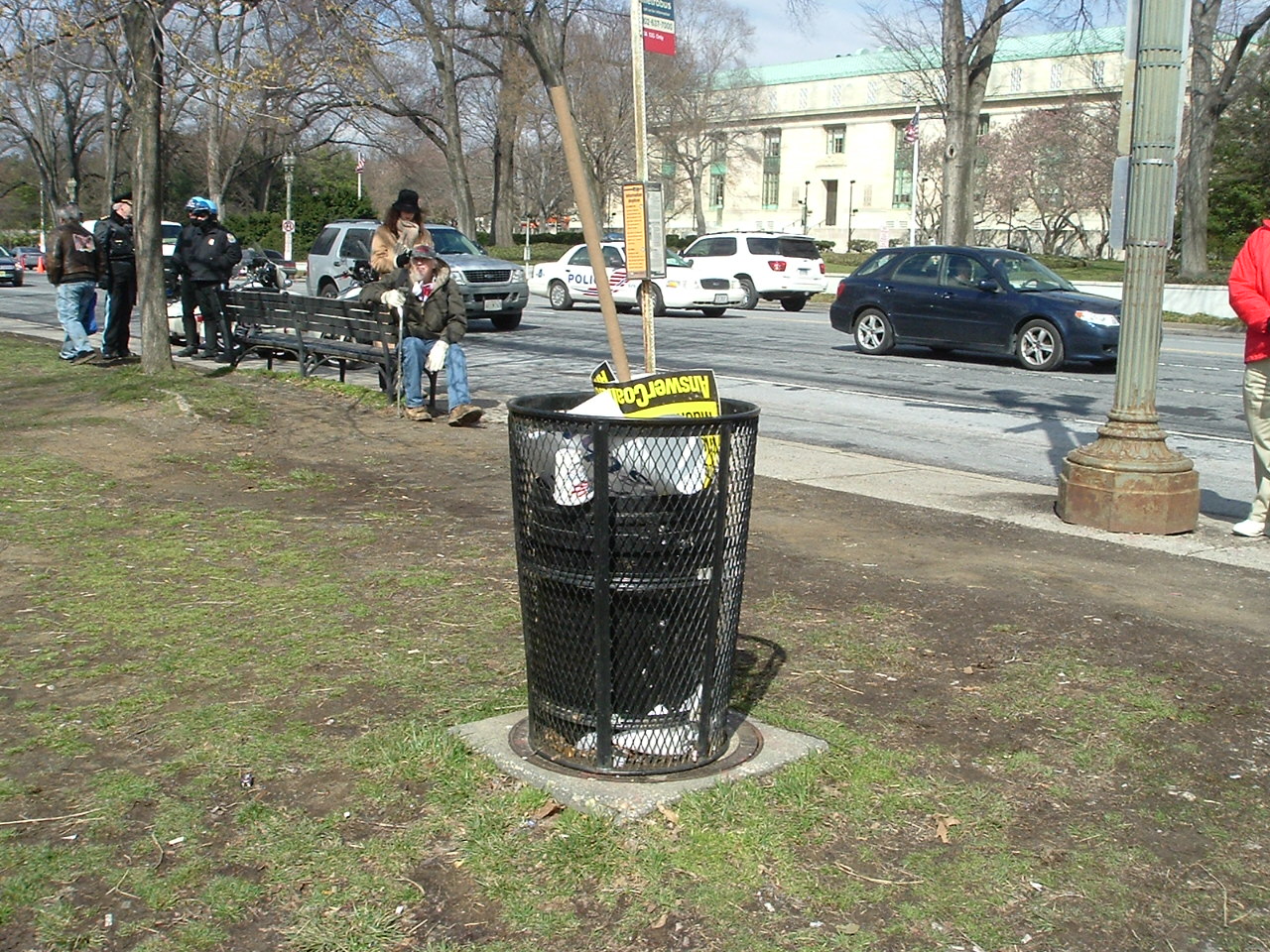 There were some harsh words exchanged between some of the Eagles and the lefties, but no physical altercations took place, at least not while we were there. But most of the comments included ones like, "Thank a veteran!" and "We support the troops!" Aaron enjoyed shouting slogans like, "Soap...shampoo" and "Drum circles were so '90s!" when silly folks walked by banging drums being dragged on wagons. I'm not the "in your face" type, so I just enjoyed standing there and alternating my signs for all to see.
More moonbats on their way. A few of them tried hanging around to counter our presence, but the loud chanting of "USA!" eventually drove them away. Patriotism: the most effective moonbat repellent.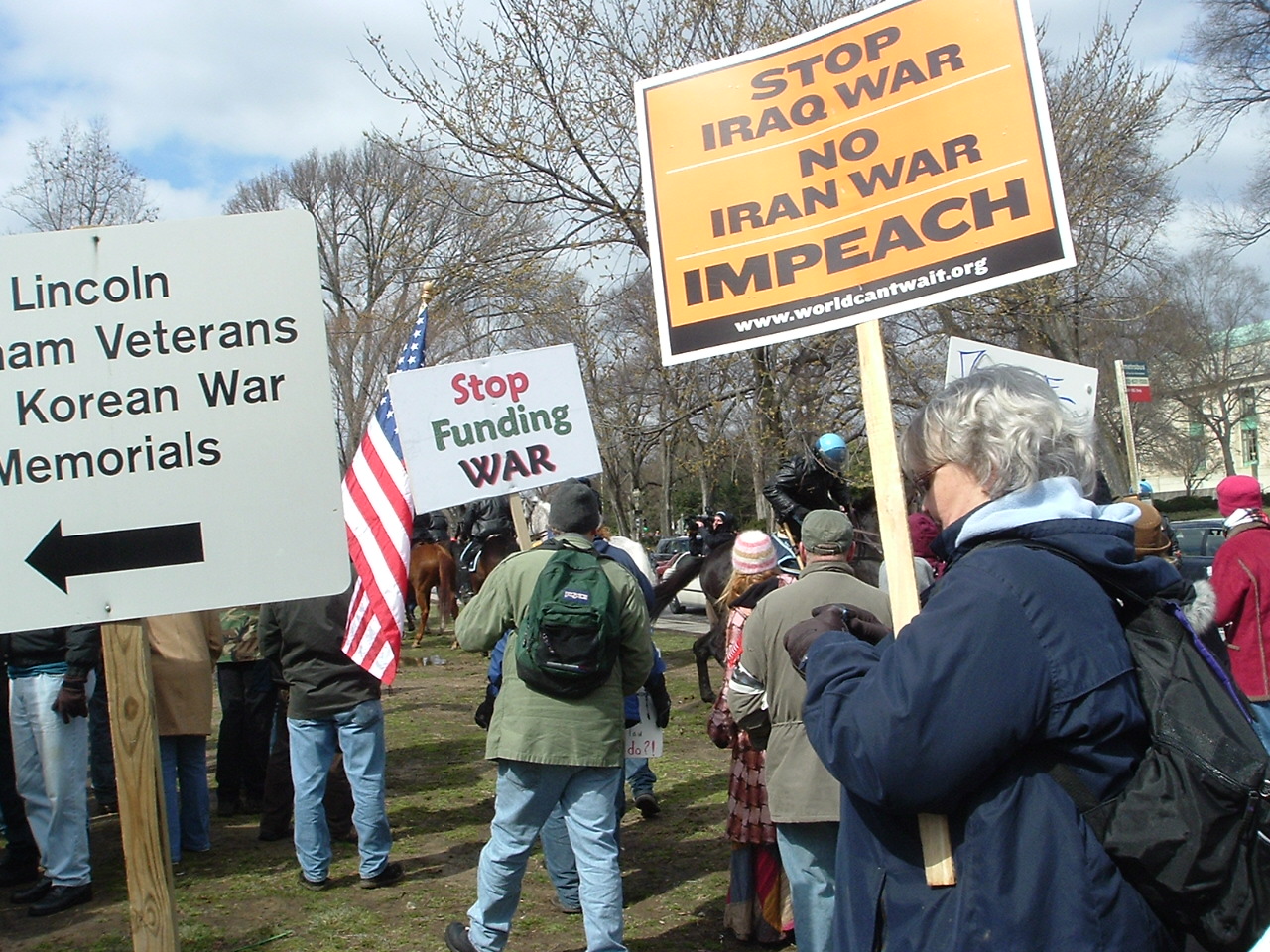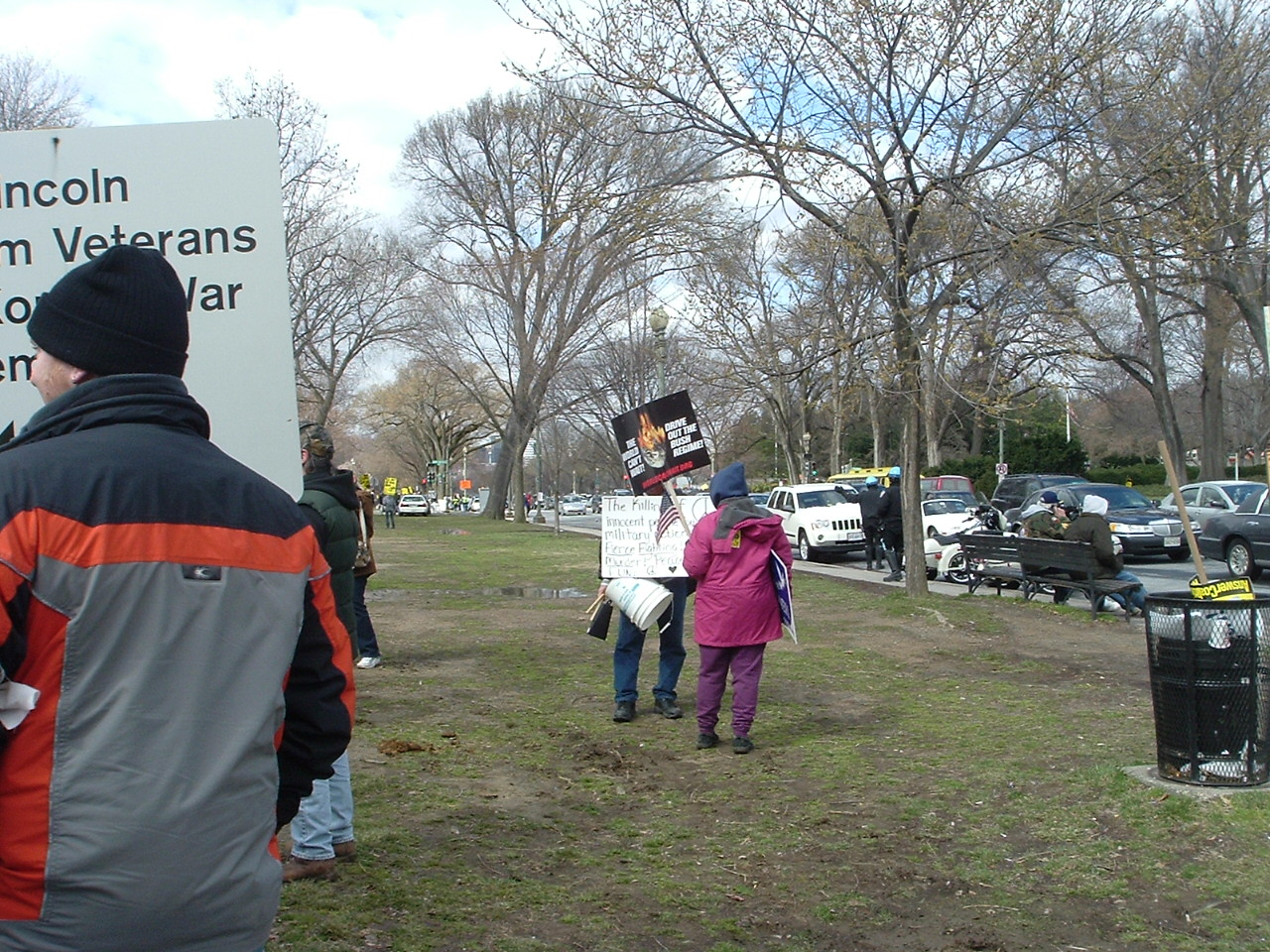 It's interesting to see the "two Americas" at work. There are the Americans who drove or flew into DC in order to support the troops and their mission, waving unadulterated flags and taking pride in their country. Then there are the Americans who rode in on buses (provided by who, I wonder?) who couldn't wait to condemn the very people they should be thanking for standing up for their right to protest, some sporting ghoulish, tasteless masks and signs. I wonder what John Edwards would have to say about that?
The Gathering of Eagles began breaking up around 2:00, as most of the lefties had passed by then. As Aaron and I drove away, we went by the ANSWER site. I snapped this picture from the car...how very nice of them to leave so much garbage behind.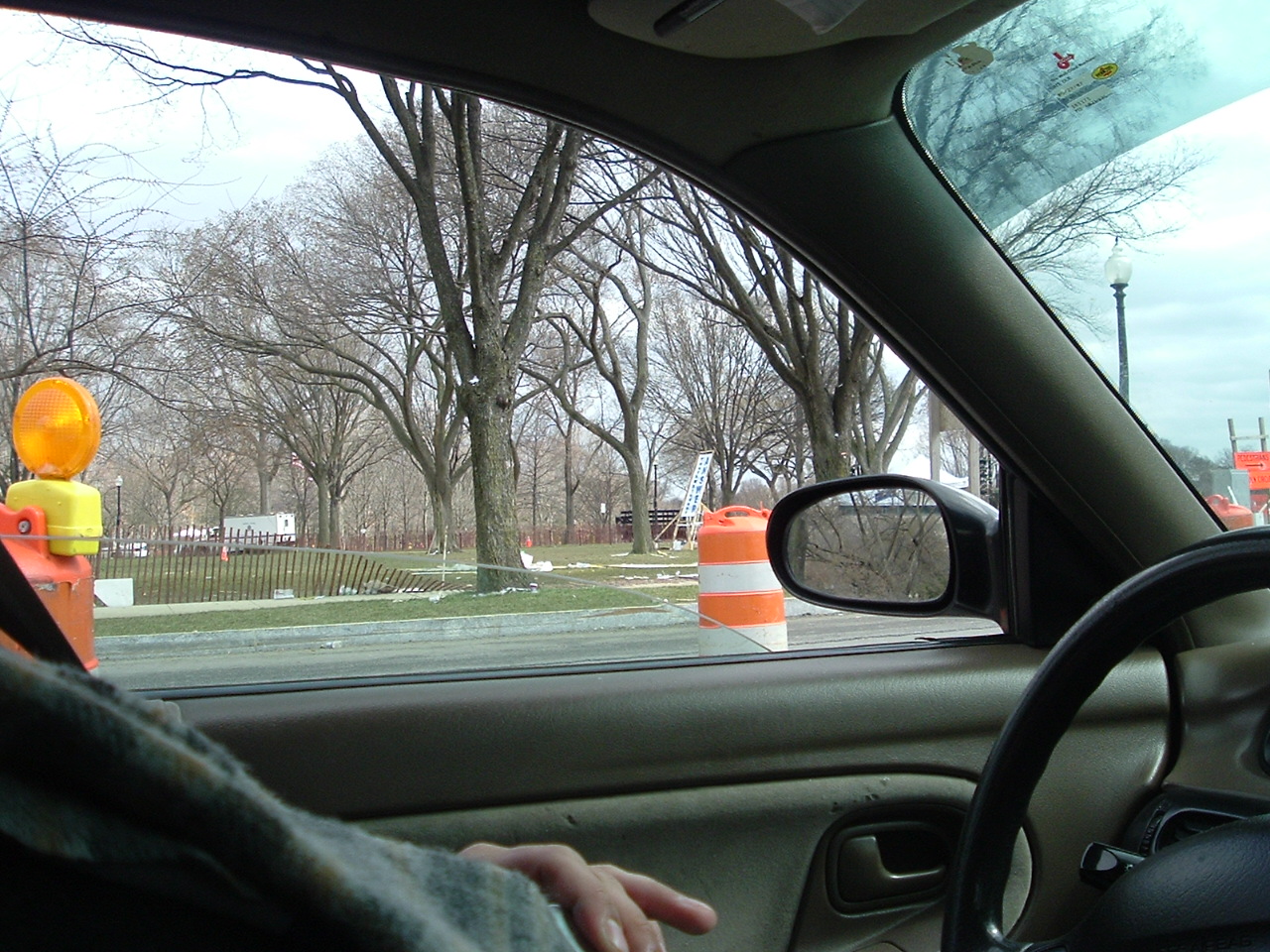 We had a great time, and were glad to do our part to show our troops how much we support them AND there mission. After all, it's the jihad, stupid! The left may have the MSM behind them, but the troops have the silent majority behind them...a majority that is beginning to speak out.
P.S. Thanks to Aaron for having me! Now it's time to put my slippers on and warm my feet up...
UPDATE: Michelle Malkin was there...I had hoped to be lucky enough to run into her, but no dice. Here's her post with her photos and commentary.
UPDATE 2: Apparently comments are not working...if you'd like to comment, please send me and e-mail and I'll be happy to post it.
UPDATE 3: Aaron was interviewed by WAVY-TV, and he was featured in their story. Click here for the online article, which also has a link to the video (click on the first video link embedded in the story entitled "Iraq war protestors march on Washington.") My sign makes a cameo appearance as well!
UPDATE 4: Park Service personnel estimate that there were 30,000 of us protesting the protesters. See Gathering of Eagles for details.

Show Comments »
March 06, 2007
A Gathering of Eagles...Countdown Mode

I'm planning on being in Washington D.C. on March 17th for The Gathering of Eagles, along with my friend Aaron (and possibly some of his friends and relatives) and a camera. If you're in the area, do try to be there. If you can't, rest assured that those of us who can will do our best to tell you what the MSM won't. Oh, they'll cover the anti-war folks, for sure. But The Gathering of Eagles? We'll see.
Michelle Malkin will be there too, of course.
Show Comments »
February 06, 2007
Mother of Soldier Told She Cannot Fly a Flag Outside Her Condo
Teresa Richard of East Windsor, Connecticut, is at odds with her condo association. She has both an American flag and a Blue Star flag on a pole in front of her condo, in honor of her son who is fighting in Afghanistan.
The condo association says the flags are in violation of "common areas" rules, and has given her until Labor Day to fly her flags without penalty. After Labor Day, she will be imposed with a $25/day fine if the flags remain.
In addition to contacting the East Windsor Veterans Association, who wrote a letter to the association on her behalf,
Richard is waiting for other heavy hitters to weigh in, hopefully on her side. Richard has contacted the offices of U.S. Rep. John Larson, D-1st District, U.S. Sen. Christopher Dodd, D-Conn., and state Rep. Ted Graziani, D-Ellington. They have yet to respond, she said.
"They said they'd get back to me, but I never heard from them," she said.
Another resident of the complex, Gene Doering, threatened to sue the association if it tried to make him take down his American flag, and he hasn't heard from them since.
Both Doering and Richard cited Public Law 109-243 as their legal right to display the American flag. The federal bill, passed in July 2006, prohibits a condominium association from adopting a policy that "would restrict or prevent a member of the association from displaying the flag of the United States on residential property within the association."
I understand that condominium complexes must have rules and standards about their common areas; otherwise, the complexes could become trashy and undesirable looking to both residents and prospective residents. But an American flag? A Blue Star flag? Can't the association make an exception?
What do you think?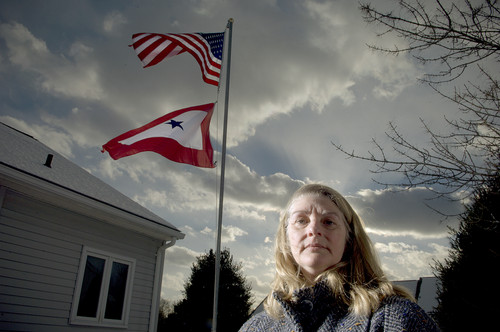 Photo: Hartford Courant

Show Comments »
December 11, 2006
Shop Sears...They Support the Troops
If you like to support businesses that support your values...and if you really DO support the troops...than you might want to consider shopping at Sears for some or all of your Christmas gifts this year. There's an e-mail making the rounds on the Internet making the claim that Sears does more than give lip service to its employees who are Reservists:
I assume you have all seen the reports about how Sears is treating its reservist employees who are called up? By law, they are required to hold their jobs open and available, but nothing more. Usually, people take a big pay cut and lose benefits as a result of being called up...Sears is voluntarily paying the difference in salaries and maintaining all benefits, including medical insurance and bonus programs, for all called up reservist employees for up to two years. I submit that Sears is an exemplary corporate citizen and should be recognized for its contribution.
Suggest we all shop at Sears, and be sure to find a manager to tell them why we are there so the company gets the positive reinforcement it well deserves.
According to Snopes.com, the official site for debunking Internet legends, it's true. Check out the story here.
By shopping at Sears, you make it possible for them to keep their promise to their employees who drop everything at a moment's notice in service to our country.
h/t: Jeanette
Show Comments »
December 10, 2006
Lynne Stewart's Party Crashed
Remember Lynne Stewart? The lawyer (who is a lovely grandmother, by the way) who was convicted of helping her radical Egyptian sheik client get illicit messages of violence to his followers (and sentenced to a measely 28 months in the clink) had a "celebration" party of sorts last night in New York's Washington Square.
It was called an "Ode to Joy and Struggle," a "thank you" party for her supporters.
Unfortunately for Lynne and her pals, a few people who don't cotton to American citizens colluding with known terrorists showed up as well. Urban Infidel was there. Click here for coverage of their peaceful protest and lots and lots of photos. As a special treat, everyone's favorite cigar store Indian, Ward Churchill, was there!
(Be warned...someone with a fat, hairy rear-end let it all hang out.)
Previous:
Lynne Stewart: 28 Months
Treason Has a Name
Show Comments »
June 14, 2006
It's Flag Day!
Wave it proudly.
In Dear Abby's column today, there is a poem that was written by a girl when she was in 8th grade. The poem won her one of the flags that flew over the Capitol building. Abby thought it was a great tribute to Flag Day, and so do I. Here it is...enjoy!
THE FLAG
(By Stacy Frank, Grade 8)
This flag of red and white and blue
May not mean very much to you.
But as for me this banner flies
And with its mighty voice it cries
Out to peoples far and near
To proclaim our freedom here.
A small beginning, I agree,
But like the acorn to the tree.
Thirteen states we had at first,
But as our country grew, our thirst
For land and freedom did not stop.
That land did well; produced a crop
For countries of the world to share
And then they knew our flag was fair.
And underneath this starry wing
Foreign peoples help to sing
The greatest story ever told,
The story of our country bold.
Of its birth into the world
And of its wondrous flag unfurled.
And over the world there ne'er will stand
The flag of any other land
That will mean as much to me
As this flag of liberty.
Show Comments »