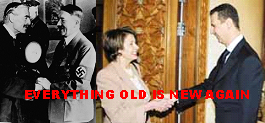 October 31, 2007
Sink LOST! (Not the TV Show)
John Hawkins is asking that you call your senators to voice your displeasure over LOST (Law of the Sea Treaty), also known as UNCLOS (United Nations Convention on the Law of the Sea) -- and I'm doing the same. If you haven't heard of it, you should. If the Senate ratifies the treaty and President Bush signs it, it will mean that the U.S. will have to answer to an "international committee" when it comes to what we can and can't do in international waters.
This is a treaty that is connected to the UN...and we all know how successful the UN is in not only managing its own affairs, but the affairs it sticks its nose into around the world. Don't forget how much the UN loves America, its host country and largest donor. With friends like the UN, who needs enemies?
Cliff Kincaid of Accuracy in Media has been following this story closely, and his articles also appear on Family Security Matters. You can find out all you need to know about the situation by clicking on the links below.
We must not allow our government to sign us up for a treaty that will certainly work against us not just in the long run, but now. Call your senators today!
Is It Too Late to Save America's Sovereignty? Not If You Act Now!
How Does the Law of the Sea Treaty Affect Our National Security?
Will a UN Navy Defend America?
Will Senator McConnell Take On the UN's Seasick Lawyers?
Walter Cronkite Promotes Law of the Sea Treaty
Senator Vitter Leads Assault on UN's Sea Treaty
Brainy Republicans Support UN Sea Treaty
Senator Calls Treaty "A Disaster" For America
Will UN Sea Treaty Sink Sen. Coleman?
Scandal Rocks UN Sea Treaty Organization
Blowing the Whistle on UN Corruption
Senate Republicans May Sink Bush's UN Sea Treaty
Could Media Bias Save UN Sea Treaty?
Show Comments »
January 30, 2007
Kofi Annan Wins Award
Via AP:
STOCKHOLM, Sweden -- Former U.N. Secretary-General Kofi Annan and Darfur human rights activist Mossaad Mohamed Ali won the Olof Palme Prize on Tuesday for their work to protect human rights, peace and security.
The award will be presented at a ceremony in Stockholm in May, and the two winners will share the $75,000.
The Palme memorial fund board, which selects the winners, cited Annan's courage and involvement during his U.N. leadership, saying he had "given proof of the utmost integrity" while also defending U.N. principles and international law when those were challenged.
"His fight for human rights, and his way of stressing that development is a necessary part of the work for security, has left indelible traces in the world organization."
Proof of the utmost integrity? Was the Palme memorial fund board not paying attention to the whole Oil-for-Food mess?
I guess you could say Annan was upholding U.N. principles, which seem to be bureaucratic corruption and avoiding accountability.
What a joke.
Show Comments »
January 08, 2007
UN Troops May Go to Darfur
Via Reuters:
KHARTOUM (Reuters) - Khartoum has softened its stance on U.N. troops being deployed to Darfur, leaving the door open for blue-helmeted international troops to protect civilians in its vast west, a presidential advisor said on Monday.
The situation in Darfur is indeed dire. But is sending UN troops really going to help matters? Consider this: UN troops have been accused of assault, molestation, and rape of women and children in many of the places they've been sent...and the UN is apparently powerless to punish those who particpate in these outrages. So why do they continue to be sent anywhere? It's hard to protect a populace when you're busy sexually assulting it.
The UN can't even keep its books clean. For us to expect it to maintain order in a ravaged land is foolhardy. If anyone's going to be sent over, it should not be under the auspices of the scandal-ridden, bureaucratic nightmare that is the UN.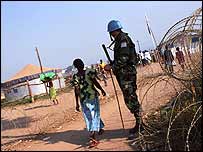 Sending the blue helmets to Darfur would
be like having the fox guard the henhouse.
Show Comments »
December 18, 2006
Annan's Bye-Bye Bash May Be a Dud
I'm a couple of days late on this (I wasn't on the Internet at all over the weekend), but thought it too good to pass up, especially since not all of you may have seen it. I'm including the whole thing:
December 16, 2006 -- NEXT week's farewell bash for United Nations Secretary General Kofi Annan may be more like a wake than a party.
Sources tell Page Six the outgoing Ghana-born leader has infuriated so many people during his reign that his Tuesday farewell gala at the U.N. could be noticeably under-attended. "He's so detested it will be interesting to see who doesn't show," a source says.
Among those bitter at Annan are 7,000 members of the U.N. Staff Union in New York. He has refused to schedule an official goodbye meeting with them to discuss their concerns, offering to hold only an "informal encounter in the U.N. cafeteria," union vice president Emad Hassanin told NewsMax.com. Issues include early retirements, budget cuts and charges of sexual harassment by senior U.N. officials.
Also not expected to show is outgoing U.N. Ambassador John Bolton, who's also said to be skipping the swearing-in ceremony of new U.N. Secretary General Ban Ki-moon.
Earlier this year, Bolton showed his solidarity with the union by meeting with leaders to discuss reforming the U.N. bureaucracy. Later, NewsMax reports, Bolton said he had "more in common with the staff union than he had with the 38th floor," where Annan's office is located.
The U.N.'s human resources department contemplated firing the staffers who met Bolton, but later backed down.
Others are mad that Annan reportedly plans to exit his position 11 days early so he can get a jump start on his Christmas holiday - a decision that may impact the fate of two Israeli soldiers captured by Hezbollah last July. Under terms of a U.N. Security Council brokered cease-fire, Annan was directed to secure the release of the two Israeli soldiers, NewsMax reports.
When Annan does leave, he'll have a comfy financial cushion to lean on, collecting a $14,000-a-month pension from his secretary general stint. He'll also get an additional $8,000 a month accrued from his early days at the U.N. when he ran human resources, served as controller and was head of peacekeeping operations.
I knew I liked John Bolton. And how like Annan to say "screw you" to Israel even as he leaves office.
And, to thank him for his incompetence and complete buffoonery, we the people get to help finance his retirement to the tune of $264,000 per year. At least we finally know where some of the U.N. monies are going to.
Good riddance.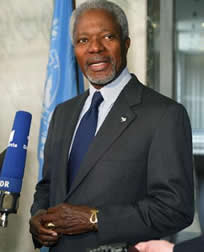 He definitely will not be missed
h/t: Kitty
Show Comments »
December 14, 2006
Probe To Occur Regarding U.N. Corruption
Kofi Annan is calling for an investigation into charges of "fraud, favoritism and intimidation inside the U.N. Department of Economic and Social Affairs."
Funny how this is coming now, when Annan is about to leave his post. I guess he has some scruples after all.

Show Comments »
September 13, 2006
George Clooney To Address UN Security Council
From Nikki Finke:
...Thursday...Oscar winner George Clooney is scheduled to address the United Nations Security Council on the crisis in Darfur.
[...]
According to the Oscar-winning actor, the US, the UN and the world's policies on Sudan is failing. "If we turn our heads and look away and hope that it will disappear then they will-all of them, an entire generation of people. And we will only have history left to judge us," Clooney has said about the tragedy.
I agree that the situation in Darfur been ignored for far too long. But for the UN to invite him to speak to their Security Council is an indicator as to how much of a joke this institution has become. Clooney does not represent the US in any way; he does not create any kind of policy. He is an actor who has picked a fashionable cause so that he'll be considered a serious person, not just someone who entertains people for lots of money.
The sad thing is, it's likely the UN will listen more closely to Clooney than President Bush or his chosen representative to the UN, John Bolton, have to say about anything.
Show Comments »
June 07, 2006
Dear U.N.: Cry Me a River
Get out the Kleenex! Michelle Malkin points out this story:
Secretary General Kofi Annan's deputy assailed the United States on Tuesday for withholding support from the United Nations, encouraging its harshest detractors and undermining an institution that he said Washington needed more than it would admit.
"The prevailing practice of seeking to use the U.N. almost by stealth as a diplomatic tool while failing to stand up for it against its domestic critics is simply not sustainable," said the deputy, Mark Malloch Brown. "You will lose the U.N. one way or another."
In a highly unusual instance of a United Nations official singling out an individual country for criticism, Mr. Malloch Brown said that although the United States was constructively engaged with the United Nations in many areas, the American public was shielded from knowledge of that by Washington's tolerance of what he called "too much unchecked U.N.-bashing and stereotyping."
"Much of the public discourse that reaches the U.S. heartland has been largely abandoned to its loudest detractors such as Rush Limbaugh and Fox News," he said.
Richard A. Grenell, the spokesman for John R. Bolton, the United States ambassador, said Mr. Bolton had not had time to read the speech to react to it fully on Tuesday evening. "Mr. Malloch Brown did not extend to us the courtesy of a copy of the speech," Mr. Grenell said. "We need to read it and will certainly have to respond."
Mr. Malloch Brown is a Briton who became deputy secretary general in March and will leave office when Mr. Annan's term ends on Dec. 31. He made his remarks in a lunch speech at a Midtown hotel to a conference on global leadership co-sponsored by the Center for American Progress and the Century Foundation.
The speech reflected frustration in Mr. Annan's office with a looming crisis over the United Nations budget, which, under a six-month gap agreed to under pressure from Washington in December, will pay the bills only until the end of June.
The deal was struck to link budget approval with achievement of significant management reforms, and Mr. Bolton made frequent mention of Congressional impatience with the United Nations and legislation that would authorize Washington to start withholding its dues. The United States is the largest contributor to the United Nations, paying 22 percent of its budget.
"In recent years the enormously divisive issue of Iraq and the big stick of financial withholding have come to define an unhappy marriage," Mr. Malloch Brown said.
He noted that the United Nations was fielding 18 peacekeeping operations abroad at lower cost and higher effectiveness than "comparable U.S. operations." Yet, he said, that fact has been ignored or underplayed by policy makers and opinion shapers in Washington.
"To acknowledge an America reliant on international institutions is not perceived to be good politics at home," he said.
Mr. Malloch Brown did not mention Mr. Bolton by name, but he criticized the working strategy that many diplomats have associated with Mr. Bolton since his arrival last August. "Exacerbating matters is the widely held perception, even among many U.S. allies, that the U.S. tends to hold on to maximalist positions when it could be finding middle ground," Mr. Malloch Brown said.
Funny, I thought America's opinions didn't matter in today's world. Still, as we are usually labeled the bad guy no matter what the situation, I am not surprised. (Hey, can I complain about the U.N.'s U.S. bashing?)
If the U.N. were to achieve its greatest dream -- a unified socialist world with the U.N. as sole government, then "too much unchecked U.N.-bashing and stereotyping" would certainly be outlawed. Such as it is, freedom of speech and freedom of the press are still the order of the day here in America, and if we don't approve of what the U.N. is doing, we have every right to say so as often as we wish. Especially since we pay most of its dues.
One might almost think that the bashing and stereotyping is undeserved...until one remembers the Oil-for- Food and "peacekeeper" sex scandals involving children that the U.N. is embroiled in (as well as Kofi Annan's embarrassment over his son's involvement in Oil-for-Food).
Blind adulation from all but one member country obviously isn't good enough for some people.
Show Comments »
March 21, 2006
Racism: The Gospel According to the UN
Today is the International Day for the Elimination of Discrimination. Here's how the UN chooses to represent it: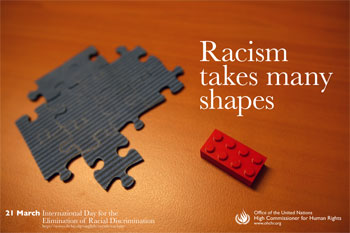 No word on what the UN thinks of this reaction to the cartoons printed: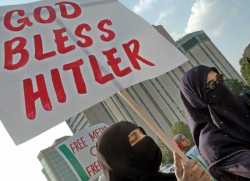 Hat tip: Michelle Malkin
Show Comments »
February 14, 2006
UN's International Code of Unacceptable Speech
This article by Joseph Klein on Canada Free Press is a must-read.
Last week, I reported on the move by China and its authoritarian-minded cohorts in the General Assembly to stop UN staffers from talking to the press without their approval about matters under investigation that might impact the "reputation" of the United Nations. While that is certainly bad enough if you believe in freedom of the press, it is nothing compared to what the Islamic fanatics are trying to ban--and using the United Nations to do it.
Don't believe me? Read it and judge for yourself. Our UN dollars at work.
h/t: GD
Show Comments »
October 27, 2005
Oil-for-Food Mess
If anyone had any doubts as to how valuable the U.N. really is, they should be reassured by the final Oil for Food report by Paul Volcker's committee.
The 623-page document exposed the global scope of a scam that allegedly involved such name-brand companies as DaimlerChrysler and Siemens AG (SI), as well as a former French U.N. ambassador, a firebrand British politician and the president of Italy's Lombardi region.
It meticulously detailed how the $64 billion program became a cash cow for Saddam and more than half the companies participating in oil-for-food - at the expense of Iraqis suffering under U.N. sanctions. It blamed shoddy U.N. management and the world's most powerful nations for allowing the corruption to go on for years.
Think about it: the world body that was supposedly reining in Saddam by its sanctions was really just a giant piggy bank (ooh, offensive term!) for corrupt companies and individuals to dip their dirty little hands into. It's amazing how many different nationalities were represented!
Sadly, there were some Americans involved (and they should be prosecuted just like anyone else), but what really cracks me up is that Russia and France pretty much lead the pack as far as who was involved. Remember who was outspoken about our going into Iraq? Gee...
And good old George Galloway, who lambasted our Senate last spring for daring to accuse him of receiving kickbacks from Saddam, is in for a hearty helping of crow. HP sauce, anyone?
The U.N. was in charge of all of this. And look what happened. This is the organization that John Kerry said should be consulted first and foremost when it comes to our national security. The organization that wants to stick its sticky fingers into the Internet regulation pie. The sex abuse by peacekeepers in the Congo, etcetera ad nauseum.
Kofi Annan has refused to step down. Where's the outrage from the rah rah crowd on the left? A group that blames George W. Bush personally for the aftermath of Katrina should certainly expect Annan to take the heat for a badly run program that affected millions of Iraqis it was supposed to help.
Those pesky double standards just don't want to go away.
Show Comments »
March 14, 2005
More UN Follies, Featuring Russia As Star Performer
It seems Yevgeny Primakov, who was handpicked by United Nations Secretary-General Kofi Annan, is a close buddy of said UN head. So far, he has no official connection to the Oil for Food scandal, but there could be a link through his sister.
And we are surprised why? The mess that calls itself the UN is getting messier by the minute, and yet people like John Kerry continue to hail it as the savior of the world. Oh, wait a minute, I guess I shouldn't be surprised that someone of Kerry's ilk would be touting the UN. When the heck are American politicians going to wake up, smell the stink that's worse than the East River next door, and get the US out the UN and the UN out of the US
Show Comments »