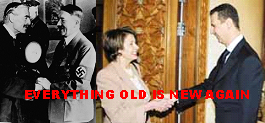 August 10, 2010
Happy Birthday
Happy 18th birthday to Rifka Barry.
She's an adult.
Show Comments »
September 24, 2008
Tancredo Introduces UN Eviction Act
This is something I can get behind:
[Rep. Tom] Tancredo's bill, dubbed the U.N. Eviction Act, would direct Attorney General Michael Mukasey to initiate condemnation proceedings against all United Nations properties within the United States, and sell the property to the highest bidder on the open market. The proceeds will be given to the Treasury Department to pay down the national debt. The bill would also bar the future purchase of property in the United States or U.S. territories by the U.N. or any of its agencies, and revokes the diplomatic privileges and immunities that U.N. officials and representatives currently enjoy.
"I refuse to sit idly by while Americans are forced to host Islamofascist dictators, like Mahmoud Ahmadinejad, so they can spew anti-American rhetoric just blocks from Ground Zero," Tancredo continued.
More:
"If the U.N. is so keen to accommodate the foreign policy demands of rogue nations and dictatorships, perhaps the world body might be more comfortable relocating to one," concluded Tancredo. "I'm sure Ban Ki-Moon will have no trouble securing a new location in downtown Pyongyang or Tehran."
Heck, there's nothing I can add. Unfortunately, I doubt it will go anywhere, but kudos to Rep. Tancredo for this bill. I've had enough of the UN's nonsense.
I'd also like for us to leave the UN. Seeing as we pay the largest share of its dues, it would be interesting to see if they could survive long without our support.
Show Comments »
March 12, 2008
David Mamet Sees the Light
For those of you not familiar with playwright David Mamet, two of his more well-known plays are Glengarry Glen Ross and Speed-the-Plow. He also, until recently, was a flaming brain-dead liberal, but he's apparently had a change of heart. He writes about it in the Village Voice. I don't usually read the Voice, but a friend sent me the link.
Here's a sample; but be sure to read the entire piece:
I took the liberal view for many decades, but I believe I have changed my mind.
As a child of the '60s, I accepted as an article of faith that government is corrupt, that business is exploitative, and that people are generally good at heart.
These cherished precepts had, over the years, become ingrained as increasingly impracticable prejudices. Why do I say impracticable? Because although I still held these beliefs, I no longer applied them in my life. How do I know? My wife informed me. We were riding along and listening to NPR. I felt my facial muscles tightening, and the words beginning to form in my mind: Shut the fuck up. "?" she prompted. And her terse, elegant summation, as always, awakened me to a deeper truth: I had been listening to NPR and reading various organs of national opinion for years, wonder and rage contending for pride of place. Further: I found I had been—rather charmingly, I thought—referring to myself for years as "a brain-dead liberal," and to NPR as "National Palestinian Radio."
This is, to me, the synthesis of this worldview with which I now found myself disenchanted: that everything is always wrong.
But in my life, a brief review revealed, everything was not always wrong, and neither was nor is always wrong in the community in which I live, or in my country. Further, it was not always wrong in previous communities in which I lived, and among the various and mobile classes of which I was at various times a part.
And, I wondered, how could I have spent decades thinking that I thought everything was always wrong at the same time that I thought I thought that people were basically good at heart? Which was it? I began to question what I actually thought and found that I do not think that people are basically good at heart; indeed, that view of human nature has both prompted and informed my writing for the last 40 years. I think that people, in circumstances of stress, can behave like swine, and that this, indeed, is not only a fit subject, but the only subject, of drama.
As a former liberal who also saw the light, I applaud Mamet for putting his thoughts into print -- and so enchantingly. (He is, after all, a man who makes his living with his pen.)
To emphasize one of the points he touches on: People are not inherently good, but most of us all strive daily to do the right thing. Sometimes we fail, but we pick ourselves up and keep going as best we can. And I think most of us can agree that some people are not good at all -- they are evil. Sorry, but someone like Hitler simply does not deserve sympathy in the vein of, "Poor guy, he must have had a difficult childhood." I know a lot of people whose childhoods were less than golden, but they didn't become wannabe world dictators who began one of the biggest wars of modern history and killed millions because they didn't fit into a particular idea of a "perfect society."
Liberals believe that if we all just get in line with their ideals, we will have that utopia, that perfect society where everyone is happy and no one wants for anything. But that will never happen for one reason: we are humans, not robots. Everyone has different wants, needs, desires, and abilities. No matter how "fair" you try to make things, there is always going to be someone who wants more than his "fair share." That someone can either be someone who works his butt off to get it, or someone who sits back and waits for someone to hand it to him at the expense of others.
I know who I'd rather be.
Think of the Soviets. They were all supposed to be equals with an equal share in everything, but some were more equal than others. Party elites had access to the finest food, accommodations, cars and other luxury items while the everyday "comrade" had to stand in line for hours to buy a stale loaf of bread or a rough roll of toilet paper.
Some of the things Mamet said in comparing President Bush to JFK were way off the mark (he said Bush outed a CIA agent, lied about his military service, stole the 2000 election, etc.), but as one commenter said, perhaps he's "just spouting the former party line for effect." Considering the general tone of his piece, I'll give him the beneift of the doubt.
Mamet said he has read books by conservatives including Thomas Sowell, a man I consider to be an American treasure. If you haven't read him, you should. Start with Basic Economics: A Citizen's Guide to the Economy. It's written for the layman, and I believe should be required reading for every American.
David Mamet may have just gotten himself blackballed by many of the liberal elites with whom he socializes, but obviously that is less important to him than being true to his newfound ideals. Welcome to the club, Mr. Mamet.
Show Comments »
December 14, 2007
CNN To Air New Youssif Documentary Christmas Eve
I am not always kind to CNN, but I like to give credit where it's due. As you know, the network brought public attention to little Youssif, an Iraqi boy who became horribly disfigured earlier this year when thugs doused him in gasoline and set him afire when he was playing outside his Baghdahd home.
Since then, Youssif and his family were flown to the United States so he could receive all-expenses paid medical treatment from the Children's Burn Foundation in Sherman Oaks, California. (My previous Youssif posts can be found here and here.)
Now, CNN is planning to air a documentary on Christmas Eve called "Impacting Your World -- Rescuing Youssif." From the press release I received today:
Born in Baghdad only seven months before the start of the war in Iraq, Youssif knew only a world of unpredictable violence. And yet, his family described him as happy and energetic with dreams of becoming a doctor. All that changed in January when three masked assailants doused Youssif in gasoline, set him on fire and left a scarred and traumatized boy.
Rescuing Youssif, the first television special related to CNN's ongoing "Impact Your World" initiative, not only documents Youssif's recovery but reveals how the network's global audience embraced the story and offered money and support to speed his treatment. "Impact Your World – Rescuing Youssif" will premiere on Monday, Dec. 24, at 10 p.m., with replays on Tuesday, Dec. 25, at 1a.m. and 4 a.m. All times Eastern.
CNN's Baghdad correspondent Arwa Damon first brought the story of Youssif's plight to the world in August, reporting that treatment at a local hospital was second-rate and painful for Youssif. Youssif's mother, Zaineb, movingly described how the dynamic personality of her son took a disheartening turn. CNN chief medical correspondent Dr. Sanjay Gupta reports on Youssif's medical progress and provides insight into his emotional and physical recovery.
Response from CNN's global audience was immediate and overwhelming. Online, the story became the single most-visited non-breaking news story in CNN.com's 12-year history, with nearly 4 million page views within two days.
News of Youssif's plight surfaced two months after CNN developed its Impact Your World initiative, a multi-platform effort to empower its global audience to make a difference in response to the stories they see online and on air. Through Impact Your World, more than 13,000 people from around the world contributed more than $300,000 to the Children's Burn Foundation, allowing Youssif and his family to fly to the United States for treatment.
In addition, plastic surgeon Peter Grossman donated his services for the half dozen or more surgeries Youssif required for recovery. For Rescuing Youssif, Damon and Gupta remained in close contact with Youssif's family in order to monitor the boy's medical progress at the Grossman Burn Center in Los Angeles.
The documentary follows Youssif's family as they experience a series of 'firsts' as they traveled and arrived in the United States, from learning how to use a toaster to seeing the ocean for the first time. It shows a Youssif breaking out of his shell and becoming, once again, a happy and energetic boy. And it reveals the generosity and concern of thousands of CNN viewers and online users.
The media using its force for good is something I am always happy to promote.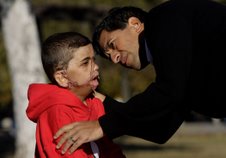 On the road to recovery...
Show Comments »
November 12, 2007
Good News Today
First, the Dems tried to cobble a pork-laden appropriations bill with a defense bill with money for veterans so that the president couldn't, in good conscience, veto them. What happened instead is that Republicans were able to split the veterans spending portion away from the rest due to a rule made by Democrats earlier this year. Robert Novak has details.
The second piece of good news is that Sunni tribesmen were engaged in an hours-long armed conflict with al Qaeda and beat the stuffing out of them!
But don't expect to hear much about this from the old guard media.
On a tip from Tim B.
Show Comments »
September 13, 2007
Update on Youssif!
Today I received an e-mail from Leela V., who works at the Children's Burn Foundation in Sherman Oaks, California. She was writing not only to thank me for highlighting Youssif's situation on my blog, but to update me on his situation:
Youssif and his family have arrived in the US and are settling into their new surroundings and adjusting to life in Los Angeles. Youssif had his first consultation with Dr. Grossman today and afterwards was treated to lunch at every kids favorite place.... McDonald's! where he was greeted by the owner of that location who kindly picked up the tab for lunch.
For those of you unaware of who Youssif is, he is a 5-year-old boy from Baghdad who, back in January, was attacked by masked men outside of his home who doused him with gasoline and set him on fire. After CNN ran a story about his plight in August, the Children's Burn Center stepped up to help him -- free of charge. My original post, which includes a link to the Center for donations, is here.
Bless the Children's Burn Center and all they do for children like Youssif. It warms the heart.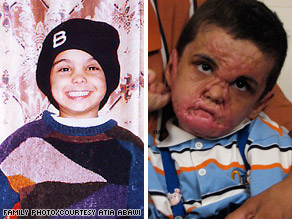 Getting the help he needs!
Show Comments »
August 28, 2007
To the EU From Texas, With Love
Heh...this was posted about a week ago, but if you haven't seen it, you should. It's a statement from Governor Rick Perry of Texas, regarding the EU's appeal that Texas put a stop to the death penalty:
"230 years ago, our forefathers fought a war to throw off the yoke of a European monarch and gain the freedom of self-determination. Texans long ago decided that the death penalty is a just and appropriate punishment for the most horrible crimes committed against our citizens. While we respect our friends in Europe, welcome their investment in our state and appreciate their interest in our laws, Texans are doing just fine governing Texas."
Just awesome. It's times like this I wish I lived in Texas!
h/t: Moonbattery
Show Comments »
August 24, 2007
Help for Youssif
Earlier this week, a CNN story appeared about 5-year-old Youssif, who lives in central Baghdad with his family. Youssif was brutally attacked in January while playing outside of his home. Masked men grabbed him, doused him with gasoline, and lit him on fire. The unidentified men, whose motive is unknown, remain at large.
Youssif went from being a happy, smiling child to a sullen one whose face is unrecongnizable and who has trouble performing even basic tasks like feeding himself.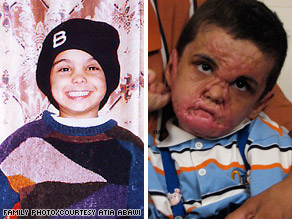 Such cruelty is unfathomable when it happens to anyone, but moreso when it happens to a child who has no way of defending himself. I was in tears when reading it.
My friend Jeanette now passes on the good news that this MSM story has a happy ending. (As she says, it's "a shame they do not use their power for good more often!") There was an outpouring of support for Youssif from CNN viewers/readers. Plus, an offer was made by the non-profit Children's Burn Foundation (click here to make a donation to the foundation) to fly Youssif and his family to the U.S., perform all necessary surgeries and provide aftercare, as well as provide any counseling he will need. All expenses for the trip, medical care, and the family's stay stateside will be covered by the foundation.
His family is thrilled by the news.
It's heartwarming indeed when some of life's tragedies can turn into power for good.
Show Comments »