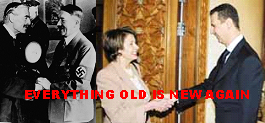 August 10, 2008
American Men Whoop Some French Ass in the Pool; Smash French in 4x100 Freestyle Relay
Silly Fwenchies...gold medals are for Americans!

So exciting...just finished watching the men's 4x100 freestyle swim relay and the French, who were going to "smash" the Americans (per Alain Bernard) ended up being smashed by Michael Phelps, Cullen Jones, Jason Lezak and Garret Weber-Gale. (Hope I got all the names right.)
Sweet, sweet victory. My family and I were jumping up and down screaming at the television, watching it all unfold live.
The Fwench were unavailable for comment...just as it should be.
Will update with a link and photos in the morning...this happened just over half an hour ago, so nothing's up online yet.
UPDATE (Monday 8 am): Here's a link to story about this incredible relay race. What makes this even better is that Jason Lezak, who swam the final leg of the relay, is the oldest male American swimmer on the team (age 32)...and Alain Bernard, the blowhard who wanted to "smash" the Americans, is the one who lost it for his team. Had he not been such an ass before the event, likely this post would not have been written...
Below are photos of our men savoring their well-earned victory. Go USA!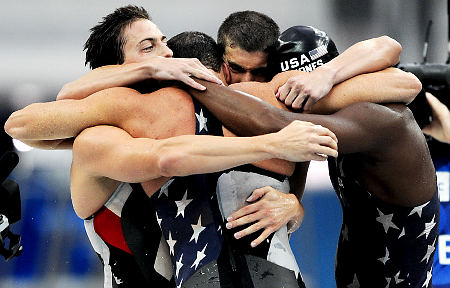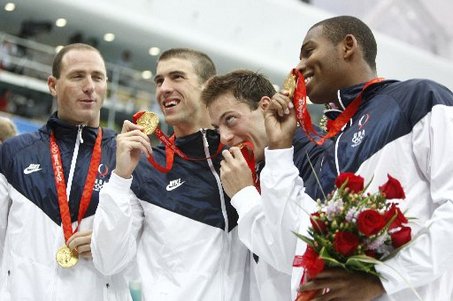 UPDATE TWO: Oh, one of the French swimmers, Amaury Leveaux, said, "A fingertip did the victory. It was nothing." I doubt it would be "nothing" had the French won by a fingertip. Call the wahmbulance.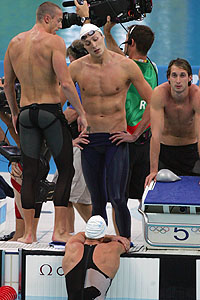 "A fingertip did the victory. It was nothing." Waaah!
Show Comments »
August 14, 2007
Holy Cow!
New York Yankees fans the world over are mourning the loss of a legend:
NEW YORK (AP) -- His speed and spunk made him a Hall of Famer.
"Holy cow!" made Phil Rizzuto famous.
Popular as a player and beloved as a broadcaster, the New York Yankees shortstop during their dynasty years of the 1940s and 1950s died Monday night. "The Scooter" was 89.
Although born and bred in Philadelphia, I have always been a Yankees fan. And, as such, I was a fan of Phil Rizzuto. The Hall of Fame shortstop was a terrific player - no, I'm not old enough to have seen him play in person - an interesting, likable announcer, and an all-around nice guy. Hell, the voice of The Money Store was also a plot line in a Seinfeld episode! (Remember when George lost his talking Rizzuto key chain in the pothole?)
Friends and fans alike are mourning his passing today. Godspeed, Phil!
Wyatt Earp
Show Comments »
August 11, 2007
Eye Of The Tiger
This may be the first-ever post here about golf. Pam is going to kill me. Oh well, at least I'll die with a smile on my face. Why? Because Tiger Woods is making history again.
And, unlike Barry Bonds, Tiger's achievement won't have an asterisk beside it.
TULSA, Okla. (AP) -- Tiger Woods matched the major championship record with a 63 in the PGA Championship on Friday, turning away in disbelief when a 15-foot birdie putt on the final hole spun 270 degrees around the cup but didn't drop to give him the record alone.
Of greater interest is adding to his collection of majors, and Woods took a big step on a steamy afternoon with eight birdies and one key par save that carried him to a two-shot lead over Scott Verplank.
Because Tiger is such a gentleman, he would never do this, but just once I would like to see him turn to the camera, and pull a White Goodman: "We're better than you, and we know it!"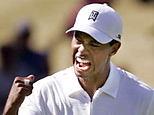 Wyatt Earp
Show Comments »
July 06, 2006
World Cup Final
France vs. Italy. Of course, I want France to bite it...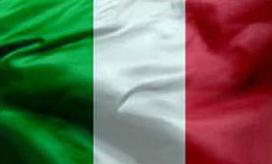 Go Italy!
Show Comments »
May 31, 2006
Lance Cleared of Doping
Sorry, Pierre:
AMSTERDAM, Netherlands — Independent Dutch investigators cleared Lance Armstrong of doping in the 1999 Tour de France on Wednesday, and blamed anti-doping authorities for misconduct in dealing with the American cyclist.
A 132-page report recommended convening a tribunal to discuss possible legal and ethical violations by the World Anti-Doping Agency and to consider "appropriate sanctions to remedy the violations."
Lance Armstrong is an American sports legend. This latest finding is good news indeed.
And hey, anything that gets under the skin of the French is a bonus in my book.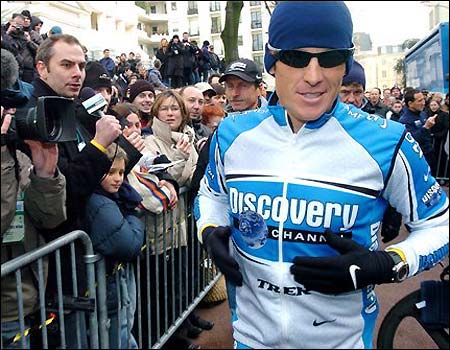 Go on, stick it to Frenchie!

Show Comments »