October 06, 2008
Movie Review Ė ĎAn American Carolí
I saw An American Carol over the weekend and my review is up over at FSM:
"Why should I celebrate a country that's caused oppression and terror all over the world?"
These are the words of Michael Malone, the fictitious director lampooned in An American Carol, which opened up this past weekend, coming in (as of this writing) seventh overall at the box office for the weekend. With a number of big-name stars and some surprising cameo appearances, it's an enjoyable afternoon or evening out at the movies geared toward pride in country harbored by more Americans than one would think based on the usual cinematic offerings from Tinseltown.
If you've seen Airplane! and the Naked Gun series, you know what kind of film you're in for - full of the slapstick, corny jokes and foul-mouthed kids that comic film veteran director David Zucker is well-known for. And if that kind of humor isn't your cup of tea, you may want to pass this up. But bear in mind, there's a lot more to An American Carol than first meets the eye. The movie borrows heavily from the Charles Dickens classic A Christmas Carol, but brings to it not only the patriotic flavor that has largely been missing from Hollywood fare since the 1960s, but also straight talk about the dangers posed by radical Islam that many Americans either don't wish to face or believe are blown out of proportion by those trying to sound the alarm - as if 9/11 wasn't alarm enough.
Read the whole thing here.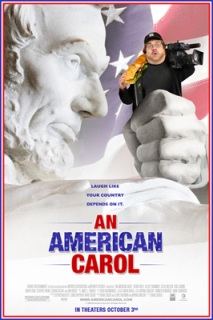 Show Comments Ľ