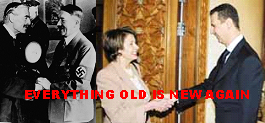 April 30, 2007
Christopher Hitchens Slices and Dices George Tenet's Book
As for his bawling and sobbing claim that faced with crisis in Iraq, "the administration's message was: Don't blame us. George Tenet and the CIA got us into this mess," I can say, as one who has attended about a thousand postmortems on Iraq in Washington, that I have never, ever, not once heard a single partisan of the administration say anything of the kind. The White House may have thought that it could count on the CIA to present some sort of solidity in a crisis but, as Sept. 11 had already proved, more fool the White House.
I know I wouldn't want to be on the other end of Hitchens' poisonous pen.
More on Tenet over at the The Strata-Sphere.
h/t: Larwyn
Show Comments »
November 03, 2005
What I'm Reading Now!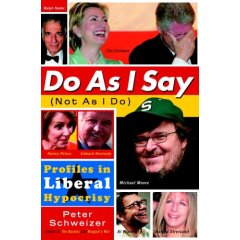 I just picked up Peter Schweizer's new book Do As I Say, Not As I Do: Profiles in Liberal Hypocrisy. I could have bought it on Amazon, but I'm a "get it now" kind of gal, and wanted a copy to read on the train. And, as I got to Grand Central a few minutes earlier than usual, I stopped by Posman Books in the terminal to buy it.
According to Newsmax, the book is currently #6 on Amazon, but you wouldn't know it to walk into Posman's. Upon walking in, one sees a wall display of new fiction and non-fiction. Al Franken's new book is prominently displayed, but Schweizer's is nowhere to be seen. With only a few minutes to spare (I wanted to actually get a seat on the train) I cruised the stacks, looking for the book. Finally, I found it. And I mean it. The lone copy was tucked into the Current Events section near the rear of the store. I guess it's not bound to be a hot seller in liberal-laden New York City.
The book itself is an easy but entertaining read. What sets this book apart from a book by say, Al Franken, is that Schweizer isn't out to humiliate those he profiles in a personal way and take mean-spirited swipes at them. Rather, his goal is to see if prominent liberals who espouse public policies such as affirmative action, no school vouchers, and high taxes for the rich abide by such principles in their private lives. What you read in the book is illuminating.
Leading liberals who are profiled include Nancy Pelosi, Ted Kennedy, Ralph Nader, Noam Chomsky, Hilary Clinton and Gloria Steinem. I'm about halfway through and am thoroughly enjoying it.
If you get a chance, read it...and let the howling begin!
Show Comments »
November 01, 2005
Malkin's New Book Takes On Liberal Crackpots
Michelle Malkin puts her writing skills (and her sanity) to the test in a new book entitled Unhinged: Exposing Liberals Gone Wild. The theme?
I'll probably have to say this a million times, and those predisposed to attack the book (without reading it, natch) will ignore it, but I do not argue that we on the Right have never gone overboard in political word or deed. The book is about turning MSM conventional wisdom on its head and showing that the standard caricature of conservatives as angry/racist/bigoted/violence-prone crackpots is a much better description of today's unhinged liberals than of us.
You can say that again.
If you click here you can see some hilarious mug shots (that didn't make it into the book) of nutty libs who threw food at conservative speakers, harrassed drivers with Bush bumper stickers, and so on.
I'm definitely looking forward to reading this one.

Show Comments »
March 15, 2005
Political Cynicism
One of my favorite commentators, Thomas Sowell, has a great column on Town Hall today about cynicism in politics, especially when it comes to exposing liberal agendas and its failures. The column is actually a review for Mona Charen's new book, Do-Gooders.
Examples [from Charen's book] range from cynical lies about judicial
nominees to the biggest big lie of our time, the claim that black voters were
"disenfranchised" by Republicans in Florida during the 2000 elections.

Check it out for yourself!
Show Comments »