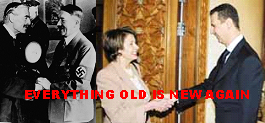 January 10, 2008
I'm Off to CPAC
I'll be going to the CPAC convention in Washington D.C. February 7-9. Confirmed speakers include Dr. Mike Adams, John Bolton, Newt Gingrich, Gov. Rick Perry, Ben Shapiro and others. There'll be booksignings, exhibits, and more. I'm as giddy as a schoolgirl!
For more info on CPAC, click here. I hear last year was fantastic...here's hoping this year will be just as good, if not better!
Show Comments »
August 16, 2007
More Problems At The Utah Mine
I'm afraid the mine tragedy is getting worse:
HUNTINGTON, Utah - A disastrous cave-in Thursday night killed a rescue worker and injured at least eight others who were trying to tunnel through rubble to reach six trapped miners, authorities said.
"All rescue workers have been evacuated from the mine. Nine rescue workers were injured in the accident. One of those suffered fatal injuries," said Dirk Fillpot, a spokesman for the federal Mine Safety and Health Administration.
I am about to make a lot of you folks angry, but this has to be said: the six trapped miners are probably dead. Is it really worth sacrificing more lives for people who have been buried for 11 days?
Wyatt Earp
Show Comments »
August 10, 2007
Hello World
Good morning, everyone! My name is Wyatt Earp from Support Your Local Gunfighter, and it is truly an honor to be filling in for Pam while she embarks on a much-needed vacation. Please bear with me, since the totality of my blogging experience has been with Blogger. They're idiot-proof over there, and well, to be honest, I am an idiot.
Blog.mu.nu is a different kind of sexy beast. Actually, it is downright intimidating - especially after Pam sent me no less than three e-mails explaining how to post here. Apparently, you must work for NASA to understand this system, but since I have never been sloppy drunk at work, and have never driven cross-country in a diaper to murder a romantic rival, I think I'm screwed. We'll see.
Also, it may help to inform you that Pam couldn't (or wouldn't) just add me to her contributors list, so I reckon I should sign every post for clarity. The last thing she needs is to see a post about the delicious Angie Everhart - complete with a photo - and a caption of "Yummy!" which states "Posted by Pam Meister." Not that there's anything wrong with that . . .
Although Pam put zero pressure on me, I still feel a tinge of the butterflies writing for a much larger audience. I will post at least once a day, and I promise to not pimp out my own blog after today. Well, unless it is absolutely necessary. I hope that I can live up to her (and your) expectations.
Wyatt Earp
Show Comments »
June 18, 2007
Monday Quick Takes
Just a few blatherings on today's headlines...
The latest Gallup/USA Today poll ties Fred Thompson with John McCain for the Republican nomination, with Rudy Giuliani still on top. Awesome!
One of the publicly humiliated Duke lacrosse players is planning on filing a civil suit against recently disbarred, former Durham district attorney Mike Nifong. Nifong's statements during his hearing last week that he still feels "something happened in that bathroom" at that infamous party made it "difficult" for Reade Seligmann to feel any kind of sympathy for him. Good. The big question is, however, will Seligmann be able to collect if he wins? With his profession stripped from him, Nifong will be hard pressed to make a living, let alone pay a civil settlement. Ah well, if you play with fire, prepare to get burned. (I hear McDonald's may be hiring.)
Al Gore is upset that Paris Hilton is getting more press than global warming fears. "The planet is in distress and all of the attention is on Paris Hilton. We have to ask ourselves what is going on here?" Translation: "Paris Hilton is getting more attention than me. What is going on here?" Look, I find all Paris, all the time news cycles annoying as well, and lament that more people know about what's going on with her than in Gaza, for example. However, I will make the exception in that anything which takes away some of the ill-deserved spotlight from hypocrite Al Gore's proclamations that we must all make sacrifices (except him and his celebrity friends) to "save" the earth is a good thing. Go Paris!
CNN is reporting that conservative bloggers are in "full revolt" over the "comprehensive immigration reform" bill that is being brought back from the dead like Frankenstein's monster. (h/t Tim B.) Well, duh! The nutshell version of our complaint is secure the border and get a handle on the visa system first; we can worry about who's here afterward. But I have to wonder if it's such a good thing that the left-leaning MSM is now on to the fact that we're unhappy with President Bush and Republican leadership in general...
Finally, in case you're suffering for the latest news on Paris Hilton, she gave her father a homemade Father's Day card, crafted with love behind bars. Poor Rick Hilton, unable to hug Paris because she's behind glass during his visits. Geraldo Rivera was all over it like sauce on pasta yesterday. Neil Boortz put it best:
Yes .. yesterday was Father's day. Just how many sons and daughters had to spend the day thinking about their fathers serving in harm's way in Iraq and Afghanistan. Some of these children will never see their fathers again ... and Craig Rivera is worried about how tough it is on the Hilton family to have their twit child in jail on Father's Day.

Show Comments »
April 23, 2007
Thank You, Mike Gallagher
Syndicated talk show host Mike Gallagher has once more stepped into the breach to keep a sick, hateful religious group from trespassing upon grief-stricken families in order to get their disgusting message across.
As he did when the Amish schoolchildren were murdered last year, Gallagher is giving one hour of airtime on his show (tomorrow) to the Westboro Baptist Church, led by Fred Phelps. In return, the group will not descend upon the funerals of the VTech victims with signs like "God Hates Fags" and "Your Son is Rotting in Hell." They believe random acts of violence and murder, including the deaths of soldiers in Iraq, stem from God's intolerance of our tolerance of homosexuality.
Nice group, eh?
Last time Gallagher did this, he says he was criticized by many. However, I think he's doing a valuable service to the friends and families of those being buried. The rest of us have the option of not listening to tomorrow's show, while the mourners would have difficulty in ignoring these cretinous slugs.
Thanks, Mike.
Show Comments »
April 05, 2007
Women of Hope
If you haven't heard about this wonderful program that helps women in Afghanistan directly, then now is your opportunity. My friend Andrea Shea-King has details.
Show Comments »
March 24, 2007
U of Florida Says "No" to Jeb Bush Honorary Degree
This is interesting:
University of Florida President Bernie Machen says he was "tremendously disappointed" with the school's Faculty Senate vote to deny former Gov. Jeb Bush an honorary degree.

The Senate voted 38-28 Thursday against giving the honorary degree to Bush, who left office in January.
Some say the reason is because Bush was not really a "friend" to the university. His "One Florida" initiative also comes up. "One Florida" would end race-based admissions to Florida state universities.
I think that last bit is key. It would be interesting to see how many U of Florida faculty are Democrats and how many are Republicans, especially when you consider this:
University officials said they could not recall any precedent for the Senate rejecting the nominees put forth by the Faculty Senate's Honorary Degrees, Distinguished Alumnus Awards and Memorials Committee. The committee determines whether nominees deserve consideration according to standards that include "eminent distinction in scholarship or high distinction in public service."
"The committee endorsed him," Machen said. "It is unheard of that a faculty committee would look at candidates, make recommendations and then (those candidates) be overturned by the Senate."
Show Comments »
February 16, 2007
WaPo Focuses on Michelle Malkin
Howard Kurtz of the Washington Post has written a piece about Michelle Malkin today.
"She's charming one moment and pugnacious the next." Makes you think of Jekyll and Hyde (surprise!). Interesting too, how he wraps up with the whole Photoshop picture at Wonkette episode, quoting someone from Wonkette as saying Malkin acts like a "psychotic," then quotes Malkin herself as saying her existence as a political blogger is "lonely."
Read it for yourself and see what you think. At least the photo is flattering!
UPDATE: Hot Air and Newsbusters weighs in, as does The Political Pit Bull.
Show Comments »
February 13, 2007
Cuban Memorial, February 16-18
For those of you in the Miami area, I pass along the following information I received via e-mail:
The fifth Cuban Memorial will be held February 16-18 at Tamiami Park, Miami.
During three days, this symbolic cemetery will give testament to the world of the thousands of victims of the Castro dictatorship. Each documented victim will have a cross with his/her name together with the date and location of death. Almost 10,000 crosses will be planted under a larger cross symbolizing the many more victims who remain unaccounted for.

People of all ages and different nationalities -executed, assassinated, disappeared, killed in prison, lost as sea, or who gave their lives fighting for freedom in Cuba- will be honored with this sober memorial. Victims' loved ones will, as in prior years, come bearing flowers to place by their cross. For many, what has become an annual ritual offers the only opportunity they have had to honor their dead. Many more visitors from the community come to pay their homage and witness this moving sight.
The field of crosses will be open to the public on Friday, 2/16, from noon to 6PM, Saturday 2/17 from 9AM to 8PM, and Sunday 2/18 from 9AM to 5PM. On Saturday and Sunday, the Cuba Archive project (www.CubaArchive.org), which provides its lists of victims for this event, will be collecting testimony from witnesses and survivors to continue its work documenting the cost in lives of the Cuban Revolution.
Tamiami Park is located at 11201 S.W. 24th St. (Coral Way and 107th Ave. / entry through 112th Ave.).
***
More information is available at Memorial Cubano.
Show Comments »
February 02, 2007
Rush Limbaugh Nominated for Nobel Peace Prize
Looks like Al Gore has himself some competition. He was nominated by Mark Levin:
Limbaugh, whose daily radio show is heard by more than 20 million people on more than 600 radio stations in the United States and around the world, was nominated for the prestigious award for his "nearly two decades of tireless efforts to promote liberty, equality and opportunity for all humankind, regardless of race, creed, economic stratum or national origin. These are the only real cornerstones of just and lasting peace throughout the world," said Landmark President Mark R. Levin.
"Rush Limbaugh is the foremost advocate for freedom and democracy in the world today," explained Levin. "Everyday he gives voice to the values of democratic governance, individual opportunity and the just, equal application of the rule of law -- and it is fitting that the Nobel Committee recognize the power of these ideals to build a truly peaceful world for future generations."
Mark Levin has his own nightly talk show, and is the author of Men in Black: How the Supreme Court is Destroying America.
It's unlikely Limbaugh will win, but it should make for some good entertainment as leftwingers huff and puff about the nomination.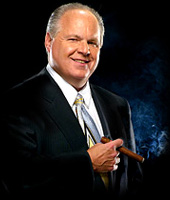 Side by side with Al Gore in saving the world...
Related:
Gore Nominated for Nobel Peace Prize
Show Comments »
January 08, 2007
Something Smells Funny in Manhattan
Regular readers of this blog know that, until last October, I worked in midtown Manhattan. And a very good friend of mine who still works for my former company told me that something smells funny:
The odor of natural gas was reported across Midtown Manhattan, prompting hundreds of calls to emergency workers.
Eyewitness News is told the smell was first reported in the vicinity of Fifth Avenue and 34th Street around 9:00 a.m.
Hundreds of calls poured into city emergency officials. Apparently the calls were coming from Chelsea, Battery Park west, Madison Square Park, and there are also reports of the gas smell outside of our studio on 66th Street and Columbus Avenue on the Upper West Side. A very similar smell was also reported in Downtown Jersey City.
My former office building is not far from 5th and 34th.
So far, nothing hazardous has been discovered, and emergency vehicles have been buzzing around all morning. My friend says that the smell inside the office improved after the air conditioning (!) was turned off, but now they're all getting a tad warm.
Needless to say, I will be watching this story closely.
Show Comments »
October 05, 2006
Lost in the Flotsam...
Lost in the flotsam of the Mark Foley debacle are some newsworthy items at home and across the globe we need to take note of:
The Bush administration can continue its warrantless surveillance program while it appeals a judge's ruling that the program is unconstitutional, a federal appeals court ruled yesterday.
The president has said the program is needed in the war on terrorism; opponents argue that it oversteps constitutional boundaries on free speech, privacy and executive powers.
***
Radical Muslims in France's housing estates are waging an undeclared "intifada" against the police, with violent clashes injuring an average of 14 officers each day.

Interior minister Nicolas Sarkozy was warned of an 'intifada'
As the interior ministry said that nearly 2,500 officers had been wounded this year, a police union declared that its members were "in a state of civil war" with Muslims in the most depressed "banlieue" estates which are heavily populated by unemployed youths of north African origin.
It said the situation was so grave that it had asked the government to provide police with armoured cars to protect officers in the estates, which are becoming no-go zones.
***
Swiss authorities have informed the United Nations of a "possible terrorist attack" against its European headquarters in Geneva, its biggest premises outside of New York, the world body said in a letter to staff on Thursday.
The attack could take place between October 5 and October 10., the letter said, without giving further details.
Finally,
Shoppers, encouraged by cooler temperatures and falling gasoline prices, went on a shopping spree in September, giving many retailers better-than-expected gains and lifting the industry's spirits two months before the holiday season. A notable exception was Wal-Mart Stores Inc. (WMT)
As retailers reported their results Thursday, the winners crossed many categories, with department stores and teen merchants including Bebe Stores Inc. (BEBE), J.C. Penney Co. (JCP) Inc. and Federated Department Stores (FD) Inc. among the leaders.

Show Comments »
March 16, 2006
Who Is This Man?
Who can forget this photo from 9/11 (although some wish it would go away)? It was taken by Richard Drew of the AP.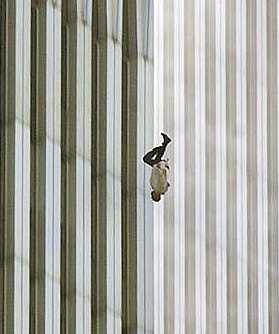 For years, many have wondered who he was. Tom Junod, writing for Esquire, speculated that it might be Jonathan Briley, an employee of Windows on the World.
Michelle Malkin has more on this incredible story. Some think this kind of speculation is ghoulish. It's not. It's important to put names and faces to the people who died on that day -- lest we forget what they suffered and we forget what we continue to face.

Show Comments »
December 21, 2005
Transit Strike: Day 2
Day two of the transit strike and it still sucks. While it doesn't affect my travel directly, it affects me in other ways. Here are just a few:
--My workload has tripled because half of my department is unable to make it in. Thanks, TWU!
--I was unable to stay home with my youngest daughter, who wasn't feeling well, because I knew I would be in hot water with my boss under the circumstances. I ended up having my oldest miss school too so my youngest could rest at home. Thanks, TWU!
--I had an appointment at the podiatrist uptown that I had to cancel because while walking there from Grand Central wasn't a problem, getting to my office afterward was. Thanks, TWU!
--Our group luncheon was postponed from today to sometime in January because we were booked at a restaurant 20 blocks uptown. Not only do we miss out on free grub, but the restaurant misses out on a big check. Thanks, TWU!
Any other New Yorkers (commuters, etc.) out there? How is this affecting you?
Show Comments »
December 20, 2005
More of My Opinion on the Strike...
For those of you who don't know, I also post at a group blog, Lifelike Pundits. Click here to see my LLP commentary on the NYC transit strike.
Show Comments »
Transit Strike!
SCROLL DOWN FOR UPDATES
It happened...subway and bus employees employed by the MTA in the city of New York have gone on a transit strike.
Today should be very interesting.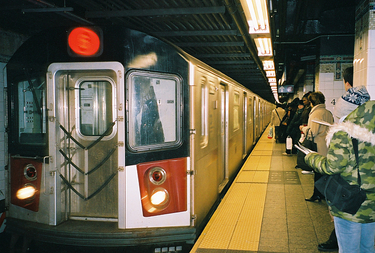 While the strike doesn't affect me (I ride Metro North trains in from Connecticut and usually walk the 20-minute walk to my office), I know it affects several people in my department--and goodness knows how many other people in my building. I know my company was trying to set up as many people as possible to work from home, but there is only so much one can do from home.
I did hear a Metro North worker yesterday saying there have been grumblings in his union...I hope he was just spreading a baseless rumor.
Unions, I'm sorry to say, suck. This union in particular will not only be screwing over its employer, but paralyzing an entire city. Think of the money that will be lost by businesses--from the most humble newsstand to large corporations, everyone will be affected. Tourists' vacations will be ruined. The only ones profiting from this strike will be the media, as they are already having a field day with it.
Once upon a time, unions served a vital purpose. I believe that they have now become just as bad, or worse, than the employers they once actually protected employees from. The transit workers' union president was screaming at a rally last week that the MTA just wanted to keep them poor. Poor? The lowest paid workers (booth attendants and cleaning crew) earn between $47K and $55K before overtime. That's not to mention their generous pension plans and their healthcare that they don't have to pay a dime into. Heck, they make more than I do. My college degree obviously wasn't a guarantee of big bucks...
Every day this union is on strike, a New York law says employees will lose two days pay, and the union itself will owe millions in fines. Do you remember when Ronald Reagan fired air traffic controllers when they went on strike back int the 1980s? I think that's a great idea.
8:50 am: There are as many people on the sidewalks as usual, but there is a different feel...people are not happy. Also, my floor is like a morgue. Half of my own department was unable to come in, and the rest of the floor seems to be in the same boat. The one plus was that I was able to walk across both Madison Avenue and 5th Avenue against the light because traffic is much lighter today.
The Man over at GOP and the City has more strike info here and here. He says, "Let the bums strike!" I have another question regarding this strike. If the union gets what it wants, will service improve? I seriously doubt it.
11:55 am: The guy from the mailroom just called the strike a "blackout on wheels." I thought that was really funny! Be sure to check out this site opened up by the TWU (Transit Workers Union) that is allowing open comments (h/t GOP and the City). Many of them are quite nasty! More strike griping can be found at Suitably Flip.
Show Comments »
October 17, 2005
Still working...
Thanks for your patience!
Show Comments »
October 13, 2005
Hooray...I'm in Munuviana!
I'm still working on setting up shop. Until the grand opening, check out my soon-to-be former address at Blogspot.
Show Comments »