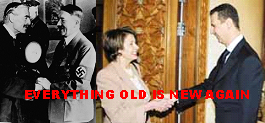 April 23, 2007
Dem Candidates Vie to Snag Crow for Toilet Paper Czar
The top Democrat candidates for president were in a frenzy offering singer/global warming expert Sheryl Crow a place in their hypothetical administrations as toilet paper czar.
Following Crow's stunning suggestion that a "one sheet per visit" limit be set on citizens in the bathroom in order to save trees and help stop global warming, Barack Obama, Mrs. Bill Clinton and John Edwards were quick to lay claim to this incredible asset to their campaigns.
Barack Obama, the most clean and articulate candidate in the campaign thus far, stated his case the most eloquently:
Now, I could stand up here and give you all plenty of reasons why it's a good idea for this country to use less toilet paper. I could cite studies from scientists and experts and even our own State Department detailing the dangers of global warming - how it can destroy our coastal areas and generate more deadly storms. And I could talk forever about the economic consequences of toilet paper dependence - how it's decimating our septic tanks and costing us big bucks per flush.
But all we really need to know about the danger of our toilet paper addiction comes directly from the mouth of one woman: Sheryl Crow.
Mrs. Bill Clinton hoped her references to her own parenting experiences would strike a chord with Crow:
You know, I started caring about the environment, including the bathroom environment, before my daughter was born, but after the immaculate conception, I began to take it very personally and in our own ways, Bill and I tried to implement some wiping strategies, some roll rules, some potty regulations but it wasn't quite as difficult 25 years ago as it is today. And although I confess, I still wonder how my daughter's wiping as an adult, you know, those days of being involved in a direct and personal way are certainly over in my parenting experience. But I know with Sheryl on board, it will be more than a conversation. It will be a directive.
John "Two Americas" Edwards had this to say:
Our generation must be the one that says, "we must halt global warming." If we don't act now, it will be too late. Our generation must be the one that says "yes" to responsible wiping habits. Our generation must be the one that accepts responsibility for conserving natural resources and demands that everyone "use a hand" (or perhaps two). And our generation must be the one that supports "one square" per flush. It won't be easy, but it is time to ask the American people to be patriotic about something that depends upon a sacrifice from everyone. Sheryl Crow could be just the person to bring us all together.
Edwards declined to admit how many squares he used per bathroom visit, citing his right to privacy. After his speech, he was overheard asking who Ms. Crow's hairstylist was.
Crow, fresh off her Global Warming Awareness tour with fellow environmental expert Laurie David, was honored by all of the attention.
While the whole toilet paper thing was a joke, my commitment to the environment certainly isn't. In fact, maybe a toilet paper czar isn't such a bad idea. Seeing that at the age of 45, my career as a sexy singer is in a precarious position, I'd be foolish not to remain open to any and all options. Please contact my agent if you have any serious offers for me to consider.
As her private jet was waiting, Crow was unable to answer any questions.
Show Comments »
March 05, 2007
Bill Maher Given Honorary al-Qaeda Membership
Well-known American commentator Bill Maher, who has his own weekly show on HBO, has been made an honorary member of al Qaeda. Al Qaeda's number two man, Ayman al Zawahiri, made the announcement on respected news channel al Jazeera over the weekend.
"On behalf of Osama bin Laden, who couldn't be here tonight, I am pleased to welcome Bill Maher into the al Qaeda family as an honorary member. Maher has done much to forward the cause of al Qaeda and its partner, the Taliban, against the evil Bush administration and the Great Satan that is known as America. I send him this keffiyeh, worn by the late, great, Abu Musab al Zarqawi (peace be upon him) as a symbol of our brotherhood. In the name of Allah and those who serve him faithfully, Maher is hereby exempt from the scourge of dhimmitude on the day that Islam conquers the world."
Asked what prompted this generous gesture, al Zawahiri answered promptly that it was Maher's comments on his show Real Time with Bill Maher regarding his disappointment that Vice President Dick Cheney was not killed when a Taliban suicide bomber attacked a military base in Afghanistan:
"But I have zero doubt that if Dick Cheney was not in power, people would not be dying needlessly tomorrow...I'm just saying if he did die, other people, more people, would live. That's a fact."
Maher's publicist declined to comment, other than to say that Maher was "deeply touched" by al Zawahiri's gesture, and that he would consider with great care an offer by al Qaeda to travel to an undisclosed location to meet with al Zawahiri to further discuss their association.
HBO president Chris Albrecht declared the announcement to be a "victory" for free speech. "It just goes to show that al Qaeda isn't as archaic as its critics claim it to be. Heck, if they're watching HBO, home of provacative programming like Real Time with Bill Maher, The Sopranos and Rome, as well as lots of comedy specials, how bad can they be? We're proud to be the premium cable channel of choice for this influential worldwide organization."
When asked for comment, Dick Cheney responded with a question: "Bill who?"
Show Comments »
January 24, 2006
Bush is a Homophobe!
Yes, you heard it here first...George W. Bush is a homophobe. How else would a progressive individual explain the fact that he has not seen the shoo-in for Best Picture, Brokeback Mountain? From Drudge:
President Bush has so far skipped BROKEBACK MOUNTAIN -- the Hollywood hit about two homosexual cowboys.
During a Q&A session at Kansas State University today, a student asked Bush: "I was just wanting to get your opinion on BROKEBACK MOUNTAIN if you'd seen it yet."
The crowd laughed softly before the student said loudly: "You would love it! You should check it out."
"I haven't seen it," Bush said flatly. "I'd be glad to talk about ranching, but I haven't seen the movie," he said to laughter. "I've heard about it."
The president waited a second or two, then said, according to a transcript: "I hope you go -- (laughter) -- you know -- (laughter) -- I hope you go back to the ranch and the farm, is what I was about to say. I haven't seen it. (Laughter, applause.)"
If he hasn't been impeached over spying on us, this should do it for sure.
Be sure to head on over to Mean Ol' Meany for his take on the film (Two Dogs actually saw it).

Show Comments »
December 22, 2005
Fish Named After Hillary
A new fish has been discovered and named after Hillary Clinton.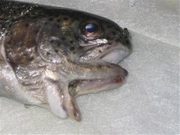 The fish, now known as the Hillary Fish, has a unique feature--two mouths. As Clinton is for talking out of both sides of her mouth in an effort to appeal to supporters and non-supporters alike, scientists agree that naming it after the New York senator and former First Lady was a no-brainer.
Clinton was honored to have a fish named after her. "I think it reflects my commitment to the environment, diversity, and individuality."
Show Comments »
October 28, 2005
DiCaprio on the Global Warming Threat
Leonardo DiCaprio is the latest actor/celebrity to graduate with honors from the Hollywood University of Scientific Hogwash (HUSH). DiCaprio, with his extensive knowledge of weather patterns, geologic history and Starbucks Frappucinos, was on the Oprah Winfrey show yesterday:
The actor stated, "Global warming is not only the number one environmental issue that we're facing today, but one of the most important issues facing all of humanity.
"We're in a situation right now where we're basically emitting too much of this carbon pollution from our cars and our electric power plants that burn coal into the atmosphere, and it's causing our planet to heat up."
Winfrey then fawned over DiCaprio, likening him to Noah warning of the upcoming flood. Perhaps comparing him to Chicken Little would be more appropriate.
See, the whole global warming theory is one that is surrounded in a great deal of controversy. Some believe that the theory of global warming is a result of junk science. In fact, my pal Joe over at Geosciblog has written about the global warming phenomenon from a geologist's perspective.
Let's face it: we really don't know enough about the warming and cooling trends of the Earth to know if our consumption of fossil fuels is really causing major problems. I'm not suggesting that we shouldn't try to curb our use of fossil fuels and that we shouldn't be looking for other fuel alternatives. I do think that panicking over a trend we don't really know enough about is foolish.
And having know-nothings like Leonardo DiCaprio lecture us on the state of the world at large because he's taken up a "cause" like all other dutiful Hollywooders is obnoxious in the extreme. (From an "unofficial" biography: Leo was educated at the Center for Enriched Studies and John Marshall High School, both in LA. He often cheated in school (especially in math), and seemed more interested in entertaining his classmates than in doing his homework. "School, I never truly got the knack of. I could never focus on things I didn't want to learn. I used to, like, take half of the school and do break-dancing skits with my friend in front of them at lunchtime.")
Stick to entertaining, Leo, and leave the science to the big boys.
Show Comments »