In the coming weeks and months this website we'll take a look at the man who is Connecticut's Senior Senator and his career. Not a pleasant task.
Let's start with the broadest and the most important argument in favor of showing Chris Dodd the door -- because it applies not only to him, but to every politician who has overstayed his welcome. And there are far too many in Washington who need to be shown the way out.
The man has been in office too long.
He was elected a United States Senator in 1980. Chris Cross and Kool and the Gang were were topping the charts. Bill Gates was selling DOS to IBM for the earth-shaking price of 50K. Ford was still making the Pinto. Cellphones, the Internet, Global Warming and the Simpsons weren't even remotely on anyone's horizons.
A senatorial term is six years. There's no limit on terms, so Chris Dodd keeps running and running - and we should note - keeps winning. The Senior Senator is the very definition of a careerist clocking in at 30 years as of 2010.
For all our sakes, the man needs to do something else.
UPDATE (1/6/10): Okay, so the news is out that Dodd is "retiring" and now we hear Atty. Gen. Richard Blumenthal plans to run for the seat. Trading one anti-business career Democrat for another is just as nauseating. The Republicans had better get the lead out if they hope to beat the guy who never met a corporation he didn't want to sue.

Rob Simmons is Connecticut's other challenger for the Senate in 2010.
* Rob is a strong fiscal conservative who voted against the Connecticut state income tax, supported the 2001 and 2003 federal tax cuts, and opposed the "stimulus" package and failed bailouts.
* Rob has been a loyal and tireless workhorse for our local and state GOP committees and candidates for many years.
* Rob will bring honor and integrity to the U.S. Senate. In 1998, Rob received the Knowlton Award for "Integrity, Moral Character, Professional Competence and Selflessness" in recognition of his contributions to the Military Intelligence Corps.
* Rob was appointed by Governor Rell as Connecticut's first Business Advocate. For two years he worked to support our state's small businesses and to make Connecticut friendlier for job creation.
When he announced his candidacy the Washington Post immediately implied he would be unpopular with the voters due to having held a seat in Congress during the last years of Republican rule. Considering that since 2006 the Democrats have made a hash of the economy and are running record deficits and record unemployment among other things, his past record is something to be proud of.
It is not enough on our part to keep pointing out the follies of the current "regime." We need to start advancing positive agendas, illustrate the ideas that will move us forward from the foetid atmosphere currently surrounding us, and promote the people who need promoting.
Linda McMahon is one of the challengers to Chris Dodd for the Senate in 2010. This is not an endorsement at this time - but her initial message is worth putting out there:
He's lost our trust. It's time for him to go - Linda
First quarter campaign donation reports are in, and while Connecticut's other senator, Chris Dodd, has nearly $1.4 million cash on hand, only $4,250 of that came from Connecticut donors - a whopping five (5!) people.
While incumbents often turn to special interests for early campaign fundraising, Dodd's out-of-state total seems unusually high and comes at a time when he has been plagued by poor approval ratings among state voters.
"Historically, there is no shortage of campaign money that comes out of Connecticut," he said. "In 2008, Connecticut ranked 14th, contributing $53 million to all federal candidates and parties." Ritsch also noted during his last re-election campaign Dodd, a Democrat, raised 30 percent from within Connecticut's borders.
The meager state fundraising effort also seems antithetical to a campaign strategy to rebuild confidence among Connecticut voters that he is on their side.
Now it's early days in the race for campaign cash, so there's always the possibility for the self-described former "dark horse" presidential candidate to come out from behind amongst his own constituents. But when a huge amount of your campaign dollars is coming from non-state residents, it's time to either rethink your strategy or rethink your candidacy. After all, a senator from Connecticut is supposed to represent Connecticut - not special interest groups and residents from other states who might be more interested in keeping a particular party in charge than keeping ethics and integrity intact.
Vote for me - better yet, send me your money. Pretty please? With sugar on top?


Show Comments »
April 02, 2009
Dodd Continues Freefall in the Polls
So confident was he that he could win the Democrat nomination for president in 2008, he moved his family to Iowa before that state's caucus to suck up to the locals. Looks like he should have stayed at home to suck up to us:
Connecticut Sen. Christopher Dodd trails former U.S. Rep. Rob Simmons, a possible Republican challenger, 50 - 34 percent in the 2010 Senate race, according to a Quinnipiac University poll released today, as voters disapprove 58 - 33 percent of the job the Democratic incumbent is doing, his lowest approval rating ever.
Matched against two other possible Republican challengers, Sen. Dodd trails both State Sen. Sam Caligiuri 41 - 37 percent and former ambassador Tom Foley 43 - 35 percent, the independent Quinnipiac (KWIN-uh-pe-ack) University poll finds.
In the Dodd-Simmons matchup, Democrats back Dodd by only 58 - 27 percent while Simmons leads 87 - 6 percent among Republicans and 56 - 25 percent among independent voters.
The incumbent's approval is down from 49 - 44 percent March 10.
[...]
A total of 35 percent of voters say they definitely or probably will vote for Dodd for reelection next year, while 59 percent say they probably won't or definitely won't vote for him.
The number of indpendents who would vote for "the other guy" is significant, because Connecticut has more independent voters than either Democrats or Republicans (the following statistics are from November 2008):
The total number of registered voters in Connecticut is 2,097,635. The largest group of registered voters in Connecticut is unaffiliated, accounting for 883,274 voters. There are 779,784 registered Democrats and 427,020 registered Republicans.
Sure, it's possible that Dodd could rebound, but it's also possible that he won't. Rob Simmons has a chance to get more than just a foot in the door, and if he's savvy, he'll take his chance.
From what I hear, Simmons leans to the left socially - which doesn't thrill me - but if he can oust Chris "Special Interest" Dodd, then more power to him.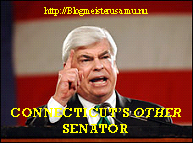 Who's in the doghouse?
Show Comments »
October 21, 2008
My Message to My Senator, Chris Dodd
Just sent this off to Sen. Dodd:
Why haven't you released your mortgage papers? Even the NYT wants to know, which in itself is surprising (see link).
Receiving favors from an institution you were charged with regulating, even if not illegal, is a gross breach of ethics and a troubling breach of the trust of your constituents.
Your hemming and hawing is not fooling anyone. Nor is the fact that Congress is not planning on investigating the whole Fannie/Freddie mess until AFTER the election. Nice way to serve your own interests over those of the people you purport to serve.

If you really want to be honorable, resign your seat. You are a disgrace to the state and a disgrace to the Senate.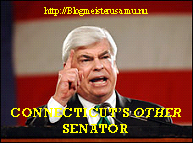 Time to come clean, Chris!
Show Comments »
June 21, 2008
Dodd: Knew of 'VIP' Status at Countrywide
Via Roll Call:

"There was no red flag to me [that] we were getting special treatment," Dodd told reporters at a news conference.
The Connecticut Senator said he never asked what VIP status meant, but said he assumed it was bestowed on him because he held an existing mortgage with Countrywide.
From Merriam Webster:

VIP: a person of great influence or prestige; especially : a high official with special privileges
Get a clue, Mr. Dodd. I can't wait until 2010.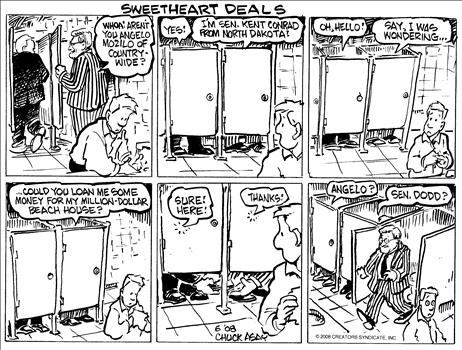 Cartoon via Townhall.com
Previous: Did Chris Dodd Receive Special Mortgage Treatment?
Show Comments »
June 17, 2008
Did Chris Dodd Receive Special Mortgage Treatment?
It's been an embarrassing couple of weeks in Connecticut. First we had the ignoring the hit-and-run victim debacle in Hartford. Now it's being said that Chris Dodd, one of our US Senators, received a preferential mortgage from Countrywide, one of the mortgage firms under federal investigations in the subprime mortgage brouhaha.
Dodd denies getting any special deals:
"As a United States senator, I would never ask or expect to be treated differently than anyone else refinancing their home. This suggestion is outrageous and contrary to my entire career in public service," Dodd said in a statement.
"When my wife and I refinanced our loans in 2003, we did not seek or expect any favorable treatment. Just like millions of other Americans, we shopped around and received competitive rates."
What exactly is being implied? That Dodd is a "FOA," friend of Angelo Mozilo, Countrywide's chief executive, and that Dodd received mortgages for two homes through some sort of "VIP" program that waived a half percent and eliminated hundreds of dollars in processing fees - ulitmately saving Dodd $75,000 over the life of the loans.
Dodd may not have sought special favor but as the chairman of the powerful Senate Banking Committee and one of the key players in an upcoming vote on housing rescue legislation, all of his own financial dealings should be above reproach. Did he receive a deal without realizing it? If he did that doesn't speak well for him either, as it shows a lack of attention to detail that we should expect from our representative in the Senate.
Jim Johnson, who was head of Barack Obama's VP search team, resigned from that post because of questions raised over his mortgages from Countrywide. (The questions apparently were a "distraction" to Obama's campaign. There sure are a lot of "distractions" in that camp of late.)
If Dodd wants to take the high road, I suggest he cut the bluff and bluster and remove himself from the debate surrounding the mortgage legislation. And next time, he might be a little more vigilant in his personal dealings.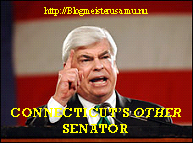 Show Comments »
March 21, 2008
Connecticut Legislature to Exonerate 16th Century Witches
From the "I can't believe my tax dollars are paying for this" department:
Eleven Connecticut witches executed in the 17th century would finally be exonerated under legislation pending in the Judiciary Committee.
While records are incomplete, an estimated nine women and two men were hanged after being convicted of witchcraft between 1647 and 1663, in an age of superstition and religious intolerance.
The pending resolution would not pardon the executed colonists for the imagined crimes of 350 years ago, but would express the state's shock and distress at the state's witch trials. Committee leaders said Thursday they're likely to approve a resolution on Monday, the day of its legislative deadline.
Well, no wonder nothing ever gets done in this state...the shock and distress has been paralyzing the legislature for going on 400 years. I'm so relieved that something will finally be done about it!
Apparently some modern-day Connecticut residents will no longer have to hide their heads every time they walk down the street because their ancestors were executed for witchcraft. 14-year-old Addie Avery, whose grandmother (nine times removed) was hanged for dancing round a fire with a bottle of sack (imported Spanish white wine), will apparently no longer be a laughingstock at her school in New Preston. And Laurie B. Cayer of Mansfield can now go to the grocery store without people whispering and pointing because her ancestor, Lydia Gilbert, was convicted of being supernaturally involved in a militia accident that caused another man's death.
And I didn't realize this, but apparently the fact that Connecticut has waited this long to deal with the issue is "a huge black mark on the state of Connecticut." That's according to Bridgeport Mayor Bill Finch. He added that, "The state should apologize and, if nothing else, exonerate them." Apparently he received his perosnal epiphany when he ran into a couple of wiccans while out walking his dog and they reminded him of this distressing state of affairs.
The outcome of Kelo vs. New London and having one of the biggest wastes of space in the US Senate are not reason for Connecticut to take pause, but having hanged nine people in the name of witchcraft 350 years ago -- when nearly everyone in the Western world at the time believed in the evil of witchcraft -- is a enough to place a "big black mark" on the state's nationwide reputation.
When's the next election?
Show Comments »
January 04, 2008
Iowa Voters Say "Neigh" to the Dark Horse Candidate: Chris Dodd Returns to Work
It's the end of an era.
Chris Dodd entered the presidential race with a fizzle and left with a whimper. After physically moving to Iowa for several months to woo caucus goers there, he's decided it ain't so bad being our senator after all, and returns to his duties with his head held high and his tail tucked between his legs.
During his speech to supporters last night, Dodd said, "This evening Democrats sent a clear message that this party is united in our belief that our nation needs change to restore our security, our middle class and all that makes this country great."
They also sent a clear message that they didn't want him. Heh.
He spent the last year campaigning, as he announced his candidacy on January 12, 2007. During that time there have been 442 Senate votes. Out of those votes, Dodd missed a total of 166. That's 37%, more than one third. (I know because I counted!) What the heck are we paying him for, anyway?
Sure, you say, he was busy campaigning for president. But can you imagine your boss being happy if you missed out on one third of your scheduled workdays because you were busy interviewing for another job? Can you say "canned" boys and girls? When we, members of the lower orders, look for new employment, we do it on our own time. I think the same should apply for elected officials who decide they want to run for a more prestigious office: they should resign from their current office (or not run for re-election) before jumping into another race.
But don't expect them to pass that resolution any time soon.
As for "dark horse" Chris Dodd, he's doing what I said he would way back when: heading back to his cushy job as Connecticut's other senator. He and his trophy wife will come back with their two kids and it'll be life as usual.
Don't worry, I'm sure he'll be back up for election in 2010. I can see his slogan now: "Connecticut's good enough for me!"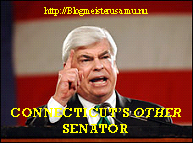 Back in the saddle
Show Comments »
June 27, 2007
Gov. Rell Vetos Illegal Alien Tuition Bill
I knew there was a reason I voted for Gov. Rell:
A bill that would have allowed the children of illegal immigrants living in Connecticut to pay the same in-state tuition fees as residents may have died with Gov. M. Jodi Rell's veto Tuesday.
"This bill does not address the underlying problem that these students face — that they are not legal residents of the United States," the governor said. "The requirement that students file an application to legalize their status would, in essence, be notification to the government that they are here illegally and it would greatly increase the likelihood of their deportation."
[...]
"I understand that these students are not responsible for their undocumented status, having come to the United States with their parents," the governor said. "The fact remains that these students and their parents are here illegally and neither sympathy nor good intentions can ameliorate that fact."
Rell said the most prudent step is to "wait for resolution at the federal level" as to issues involving illegal immigration.
Rell does have some liberal social tendencies, hence her worry that applying for a tuition break would cause the students to be deported. But she did the right thing regardless, and I'm very pleased.
There is a chance the veto could be overridden. A two-thirds majority vote is needed. But this won't go away even if the veto holds, as Rep. Felipe Reinoso, D-Bridgeport, said he will reintroduce it in that case.
Reinoso is a naturalized citizen from Peru. I'm rather surprised that someone who followed the rules would be looking for breaks for those who didn't...
Background:
Connecticut House Approves Illegal Alien Tuition Bill
Connecticut Legislature Mulls In-State Tuition for Illegals
Show Comments »
May 18, 2007
Connecticut House Approves Illegal Alien Tuition Bill
The Connecticut Post headline actually reads:
House OK's immigrant tuition bill
Bill approved giving in-state tuition to the undocumented
"Undocumented" is PC-speak for illegal aliens. I like my headline better.
Apparently this got through the House when a Republican attempt to make English the official state language failed. Why am I not suprised? The bill passed 76-67, and would affect in the neighborhood of 200-250 students per year. (Guess who the majority party is in Connecticut?)
Rep. John Harkins, R-Stratford, said that children of illegal aliens can't register to vote, yet if they're offered in-state tuition rates, they may gain an advantage over the children of other Connecticut residents.
"My concern about this amendment is it's not providing a level playing field," Harkins said. "The legal taxpayers in the state of Connecticut, the people who voted us into office, also have rights."
Harkins said that while the bill was well-intended, it's flawed. "I just, quite frankly, think it's wrong," Harkins said.
"At the end the day, you're either legal or you're not."
Let me clarify what Harkins said: It's the legal taxpayers of Connecticut who have rights, period. Why should we be paying for uninvited, illegal aliens to receive an inexpensive college education...when not even all of our own citizens who would like to go to college can afford it, even at the reduced rate?
Rep. Felipe Reinoso (D-Bridgeport), responsible for the bill's House success, compared the illegals seeking help with tuition to Gen. Lafayette during the days of the American Revolution:
"He fought for this country, shoulder-to-shoulder with General Washington," Reinoso said. "So the history of immigrants is not recent, it's not five years or 10 years. This is a nation of immigrants."
That is one of the most ridiculous things I have ever heard. Lafayette made a decision to come with his men (though he was officially told not to by King Louis XVI), fought with Washington's Continental Army for no remuneration, and left once the job was done. He was not an immigrant of any kind. (He was also a titled aristocrat with a large fortune. I doubt he would have needed tuition assistance if he had decided to stick around and apply to Yale or Harvard.)
This may be a nation of immigrants, but it is also a nation that is supposed to uphold the law of the land. By granting rights to those who do not deserve them, Connecticut will basically thumbing its nose to federal immigration law. Not that the feds are doing a great job at upholding it either. But it's the latest in a long line of insults to taxpaying citizens, who are the ones left holding the bag at the end of the day.
Rep. Andres Ayala (D-Bridgeport) sums up the liberal stance:
"These kids are not looking for a handout," Ayala said. "What they're asking for is what they deserve, based on merit. It tugs at your heart. It's mind-boggling. I don't understand it."
He said that while undocumented children can apply for scholarships, they can't get financial aid because of their illegal status.
"I don't think that anyone is legal or illegal," Ayala said. "People are here without documents. They're undocumented."
They're asking for what they deserve based on merit? Their parents break the law by bringing them here, we subsidize their primary education and other things like healthcare, and now they need more? Cry me a river. I'm sorry if their parents put them in the middle of a bad situation, but I shouldn't have to pay for it.
If you're a Connecticut resident, contact your state senator and let him/her know how you feel about this.

Show Comments »
February 13, 2007
CT Legislature Mulls In-State Tuition for Illegals
It really pays to come to this country illegally. Now my home state is considering a bill that will allow illegals like Isaac Montiel who live here to receive in-state rates for our state college system:
A bill before the state legislature would allow students like Montiel, who lives in West Haven and attends Eli Whitney Regional Vocational Technical School in Hamden, to pay in-state tuition. The proposal is the focus of a hearing before the Higher Education and Employment Advancement Committee at 10:30 a.m. today.
A similar bill the legislature considered in 2005 came close to becoming law, making it through three legislative committees easily before being defeated in the House of Representatives by a 12-vote margin.
More:
The Connecticut bill requires students to have attended two years of high school in state and to have graduated from an in-state school. To get in-state tuition, those students must file an affidavit with the school they will attend stating they have applied for legal immigration status or will apply if they become eligible.
The article gives us a sob story about illegal Isaac Montiel, an 18-year-old who followed his mother here three years ago, and who gets decent grades in school. According to Courant writer Mark Spencer, he's a "typical teenager" who likes BMX biking, skateboarding and wearing baseball hats. We also get quotes from members of a group called Democracy Works about how "every child deserves the chance to go to college" and how we shouldn't penalize "the children for the decisions of the parents."
Let me be the first to inform the members of Democracy Works that Montiel and his mother are not even a part of our democracy. They, among thousands, perhaps hundreds of thousands of others, decided that our immigration laws didn't apply to them and decided to jump to the front of the line. I realize that Mexico is not exactly a paradise, but does that mean we should be opening our arms to everyone from Mexico who wants to come here? It's our country. We, by our laws, decide who gets to come here. It's not up to them.
And now people like Montiel are about to be rewarded by getting cheap college tuition. Like I said, it really pays to come here illegally.
Show Comments »
September 28, 2006
Lamont Trails Lieberman by 10
In a Quinnipiac University poll released today, Joe Lieberman is 10 points ahead of Democrat-annointed Ned Lamont.
Lieberman, a three-term Democrat running as an independent after losing the party nomination in a primary, is favored by 49 percent to 39 percent over Lamont in the three-way race. Republican Alan Schlesinger trails with 5 percent.
[...]
The Quinnipiac poll showed that Lieberman has higher favorability ratings among likely voters, 51 percent to Lamont's 31 percent. While Lamont has slightly higher favorability numbers among Democrats (47 percent to 43 percent), Lieberman far outdistances his challenger among likely Republican and unaffiliated voters. Seventy percent of Republicans view Lieberman favorably compared to 12 percent for Lamont, and 48 percent of independent voters view Lieberman favorably compared to 30 percent for Lamont.
Unaffiliated voters outnumber Democrats and Republicans in the state.
Back on Labor Day, I said that Lieberman had more popular support than Lamont. My opinion was based on the fact that while Ned Lamont had a large contingent of supporters marching with him in a local parade, Joe Lieberman received far more cheers from parade goers when he came around the bend.
Yes, there is more than a month left before election day, and things can change drastically in politics in that amount of time. But with unaffiliated voters outnumbering both Democrats and Republicans in Connecticut, the primary victory that hard left Democrats were celebrating earlier this month may be all they have to keep them warm come the chilly month of November.
Show Comments »
August 29, 2006
CT Gov Candidate DeStefano Stands By Lamont
Well here's a surprise...not.
HARTFORD — Democratic gubernatorial candidate John DeStefano Jr. took advantage of a union endorsement rally Monday to make it absolutely clear that he's no longer an ally of Joe Lieberman in the U.S. Senate race.
"I don't stand here by accident with Ned Lamont," said DeStefano, who had endorsed Lieberman before the three-term incumbent lost the Aug. 8 Democratic primary to Lamont.
"I am proud to be standing here today and supporting Ned Lamont clearly, wholeheartedly, completely as our next United States senator," DeStefano told members of the Service Employees International Union, which endorsed both Democrats Monday.
After all, if DeStefano expects to get funding from Democrats and the unions, he absolutely has to stand beside Lamont, whether he thinks he'd do a good job or not. It's the name of the game in politics.
His support of Lamont, however, has yet to yield any big dividends.
DeStefano continues to trail Republican Gov. M. Jodi Rell by a wide margin in the polls, particularly among GOP and unaffiliated voters. Those are the same groups that have given Lieberman his double-digit advantage over Lamont, according to the latest Quinnipiac University Poll.
Perhaps after the election, DeStefano could get a job at a fruit stand...he seems to be an old hand at polishing apples.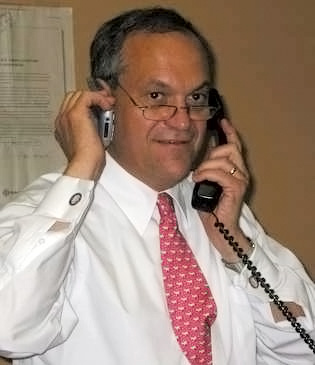 "Yes sir, Mr. Lamont...right away, Mr. Lamont!"
Show Comments »
August 28, 2006
Connecticut Senate Seat a Four-Way Race
The two best-known names in the race for one of Connecticut's Senate seats this year are Ned Lamont and Joe Lieberman. Lamont, of course, ousted Lieberman in this month's Democratic primary, and Dems are now crying foul because Lieberman is running as an independent.
The two lesser-known names are Republican Alan Schlesinger (whose much-improved website is here), and Green Party candidate Ralph Ferrucci (website here).
If you thought Lamont leaned further to the left than Lieberman, wait until you meet Ferrucci.
Ferrucci, a 34-year-old independent delivery truck driver who qualified last week to appear on the November ballot, said United Nations peacekeepers should immediately replace U.S. troops in Iraq.
Lamont, he said, only wants to pull front-line troops to the periphery.
"He supports a one-year leave date, send troops to Kuwait," Ferrucci said in a recent interview with The Associated Press. "Basically his plan is more redeployment and then bring them home."
Here's more on his platform:
Ferrucci said he believes voters will relate to his proposal for a single-payer, universal health care system. Since he is an independent driver for Pepperidge Farms, he has to buy his own health insurance. He currently has none.
Asked how much it will cost, he said, "I don't even know. I don't want to know."
Ferrucci's proposal calls for setting up a nonprofit agency to run a universal health system instead of the federal government. The program would be funded mostly by business taxes.
Ferrucci also wants a per-gallon cap on the profits oil companies receive from gasoline and home-heating oil sales. He said voters he has spoken with are very concerned about the economy and issues like fuel prices that make it difficult to make ends meet.
Frankly, I'm surprised Kos and his pals supported Lamont. Ferrucci sounds more like their cup of tea. But then, for all the nonsense you hear from the left about being against individuals with lots of money, it seems that only pols with wads of cash in their pockets are the ones who get the attention.
In my opinion, the few votes Ferrucci gets will siphon off those that might vote for Lamont, leaving the field more open for a win by Lieberman. I don't think Schlesinger has much of a chance...while Connecticut has a few Republican representatives in the House and a Republican governor, there has not been a Republican senator in years. I don't foresee that changing during this election; especially since the Connecticut Republicans can't seem to find a red-hot candidate.
Crossposted to Ex-Donkey Blog
Show Comments »
August 04, 2006
Joe Lieberman and the Demise of Moderate Democrats
We're creeping up to the Connecticut Democratic primary on August 8. As a registered Republican, I obviously cannot vote on Tuesday, but I will be watching with great interest.
Challenger and newbie Ned Lamont has an edge over Lieberman in the polls. However, as we all know, polls don't mean squat when it comes down to nuts and bolts. It's election results that matter, and so it ain't over until the last vote has been counted.
Lieberman has said he will run as an independent if he loses the primary, something that may give Republican Chris Schlesinger a fighting chance in November. To me, though, this scenario isn't so much about whether a Republican or a Democrat will win the seat (although I want a Republican to win). It's more about a case study of the splintering of the Democratic party.
Joe Lieberman has been a model Democrat for most of his 18 years in office. What has proven to be his downfall is his support for our presence in the Middle East, specifically Iraq. He has not waffled like John Kerry and others, and is unashamed of his support of our president's policies on national defense.
Will social liberal Lieberman be ousted in favor of Lamont, whose main appeal is his anti-war stance? Does his hard work in favor of so many Democratic causes mean nothing because of one issue?
A liberal friend of mine said to someone we know who went to work for Lieberman's campaign, "Tell Joe that he won't have my vote unless he changes his stance on Iraq." The rest of his policies be damned, I guess.
So many politicians bend with the winds of the latest polls. Joe Lieberman is a man of principle, and he should be admired as such. Unfortunately, in today's Democratic party, it seems that men like Lieberman are few and far between. And if the hard liners have their way, they'll become nonexistent. So will the chance for bipartisan support on critical issues such as national defense.
Moderate Democrats are going the way of the dinosaur. And that doesn't make for healthy political dialogue. If Lamont wins the primary, it's a loss for Democrats.
Show Comments »
February 24, 2006
Student Activism for a Good Cause
Students in Danbury, Connecticut created a video that convinced the state to stop investing its pension money in companies that have ties to the Sudan, a country whose government has been accused of genocide in its Darfur region.
What makes it even nicer is that they did it on their own time for no school credit.
Read the article here. It's nice to see students take an interest in something that has real meaning.
Show Comments »
February 10, 2006
Rowland a Freebird
Former Connecticut governor John Rowland has been released from jail after serving more than 10 months on corruption charges. His lieutenant governor, Jodi Rell, took over when he was ousted in 2004 and is running for re-election this year.
He now gets fitted with an electronic bracelet for four months (a la Martha Stewart), and has to perform 300 hours of community service.
How the mighty have fallen. I thought Rowland was a good governor and had a bright future. He spoiled it by getting greedy and having people do him favors. It's too bad.
I often wonder what people like him do after they are in prison for high-profile cases. It's not like Martha Stewart, who had a media and retail empire to return to. Politics were his life. What's next?
Still, he has served his time and I wish him the best.
Show Comments »