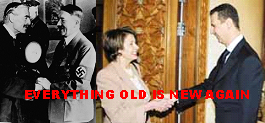 May 23, 2008
Conservatism Dead? Fred Says NO!
Fred Thompson, writing for the Wall Street Journal today, says that the death of conservativism is greatly exaggerated:
These were the principles relied upon by our Founding Fathers, and which paved the way for a Constitution that delineated the powers of the central government, established checks and balances among its branches, and further diffused its power through a system of federalism. These principles led to a market economy, the primacy of the rule of law and the abolition of slavery. They also helped to establish liberal trade policies and to meld idealism and realism in our foreign and military policies.
The power of conservative principles is borne out in the most strong, prosperous and free country in the history of the world. In the U.S., basic constitutional government has been preserved, foreign tyrannies have been defeated, our failed welfare system was reformed, and the confiscatory income tax rates of a few decades ago have been substantially reduced. This may be why the party where most conservatives reside, the Republican Party, has won seven of the last 10 presidential elections.
He goes on to remind conservatives of several key points regarding economics, education and the free market. Be sure to read the whole thing.
John McCain might want to think about snapping him up for a cabinet position...the man really knows where it's at.
Show Comments »
January 17, 2008
Fred Thompson's Latest South Carolina Ad
With two days to go until the South Carolina primary, he's laying it all out for you right here. Those of you who complain that there are no conservatives left in the Republican party need to take a second look at Fred Thompson.
Here, Fred comments on President Bush's recent appeal to the Saudis to increase production in order to give oil prices some slack:
"It's not in the United States' long-term interest to go hat in hand begging people to do things that in the end we know they're not going to do," Thompson said.
"What we need to concentrate on is diversifying our own energy sources here in this country and opening up what oil reserves that we have here ... using nuclear more, using clean coal technology more and all the other things that we can do," Thompson said.
Self-reliance? Isn't that what our Founding Fathers and the others who settled this country were famous for? We need to get that back, and Fred can help lead the way. (Notice I said lead, not that he'd do it all for us. That's what nannies do.)
Show Comments »
January 15, 2008
Glenn Beck Interviews Fred Thompson
An excellent interview, in which Fred expands upon the points he made during the recent South Carolina debate and throws a few well-aimed jabs at his competitors for the Republican nomination:
SENATOR THOMPSON: I think the basis of it is national security, national defense. John [McCain] was right, I think, with regard to Iraq and he stood tough during tough times and I think he turned out to be right. And I was the same place the whole time and have been. We agree on that. But John is wrong on some other important things and he was wrong when he voted against the Bush tax cuts.
GLENN: But wait a minute. I mean --
SENATOR THOMPSON: He says he's changed his mind about that now and, you know, sobeit. But, you know, I was there during part of that time and I voted the other way. I believed the other way then, I believe the other way now. He's certainly wrong with regard to the immigration bill that they tried to get the American people sign off on last year and they gave a resounding no and now everybody's getting tough on the border. But on taxes and immigration, especially, you know, I think he's wrong. But so is Huckabee as far as that's concerned.
Read it all here.
Show Comments »
January 14, 2008
A Message from Fred Thompson
Fred's latest message, this time to South Carolina voters:
Show Comments »
January 11, 2008
Human Events Endorses Fred Thompson
Here's editor Jed Babbin on why this prestigious publication backs Fred's candidacy.
By the way, I've decided to throw my OFFICIAL support to Fred as well. I've been excited about him for a while, and last night's debate performance clinched it for me.
Not that my "official support" means diddly squat in the real world...
Do I call myself a "Fredhead?" Er, no. I am one of his supporters, and will do all I can to help him win the Republican nomination. But if he doesn't win it? Yes, I'll be disappointed. But when it's all said and done, the sun will continue to rise in the east and I'll still be heading to my boring job every day. And I will support whomever ends up as the nominee.
I just really hope it's Fred. He's the best man for the job.
UPDATE: More on Fred from Rick Moran over at Rightwing Nuthouse.
Show Comments »
December 31, 2007
Fred's Message to Iowa
Fred Thompson created a 17-minute video that details his conservative principles in general, his specific proposed policies, and his experience that he believes qualifies him for the office of president. If you are among those complaining that you don't know what Fred stands for, take a few minutes and watch this video.
A few quotes:
"The bigger the government gets, the less competent it is to run our lives."
"I know who I am, I know what I believe, and I'm ready to lead."
Regarding all the Democrat presidential candidates: "They're all NEA, MoveOn.org, ACLU, Michael Moore Democrats. they've allowed these radicals to take control of their party and dictate their course."
Show Comments »
December 22, 2007
Fred Thompson's Holiday Message
No phony "gifts," no "vote for me, I'm the most religious," no nothin' like that. It's classy AND it's a tearjerker: have your tissues ready.
Show Comments »
December 13, 2007
Fred Thompson Rocks at Des Moines Debate
Seeing as it was on during the day, I couldn't watch the Des Moines Register Republican debate yesterday, but I've seen the highlight clips and read the reviews, and from what I can see, Fred Thompson absolutely kicked butt. Will it be enough to give him a much-needed surge? I don't know, but I'm thrilled that he gave such a great performance. He was funny, engaging and specific about his stance on the issues.
His "no hand shows" quip about the global warming question has been compared to Ronald Reagan's "I'm paying for this micophone" comment during a debate in New Hampshire during the 1980 campaign. Reagan recollected: "I may have won the debate, the primary - and the nomination -- right there." True for Fred? Again, time will tell.
FRedStates.com created a video with audio clips and photo stills from yesterday, combined with commentary from such conservative luminaries as Rich Lowry, Dean Barnett and Mark Hemingway. Enjoy!
Show Comments »
November 06, 2007
Fred's New Campaign Ad
I like it:
Will it give his campaign the extra oomph it needs? That remains to be seen.
Show Comments »
September 06, 2007
Fred Thompson is Finally In
After four months of testing the waters, Fred Thompson has finally made his intention to run for president official. You can check out his video at Fred '08. He was on Leno last night, but as I've started a new early work schedule, I did not stay up to watch. (Hot Air has video highlights that I will check out later.)
Now that he is officially a candidate, you can expect his rivals to turn up the heat. And look for more hit jobs from the mainstream media about his wife, his former lobbying career, and the fact that he's also an actor. Gee, I thought the Left loved actors! Oh, right, just not conservative ones.
As for his undistinguished record as a senator, whose senatorial record is distinguished out of the current crop of candidates? Out of the frontrunners, neither Hillary Clinton, Barack Obama or John Edwards have introduced any substantial legislation, and the press just loooves them. (As for Hillary, the biggest item on her resume is that she's married to Bill Clinton. That, and she's a dyed-in-the-wool socialist who wants to institute the Nanny States of America.) Out of the Republican frontrunners, only McCain has been (and still is) a senator. While he's served with distinction for the most part, his part in the recent illegal immigrant amnesty debacle will be a big black mark against his name.
And if we're going to hold lobbying against Thompson, we should certainly consider holding Edwards' bloodsucking trial lawyer past against him. He made his pile by putting doctors out of business on dubious claims of malpractice. And how about Hillary's unscrupulous past?
I'm now looking very forward to seeing if Fred can walk as well as he can talk. Let the games begin!
UPDATE (11:45 ET): See? That didn't take long.

He's in...can he win?
Show Comments »
August 30, 2007
Fred Thompson to Announce Candidacy TODAY?
According to Jeff Emanuel over at Red State:
It's official: Fred Thompson will formally enter the Presidential race today, with an announcement to be made at 4:30pm.
For all who have waited for this for months -- here you go.
He's finally putting his money where his mouth is. Word is that he is making phone calls to supporters as we speak.
If it's true...IT'S ABOUT TIME! If it's not, I'll be royally annoyed.
Show Comments »
July 06, 2007
Fred Thompson vs. Hillary Clinton: Tied
The latest Rasmussen poll puts Fred Thompson and Hillary Clinton neck and neck, each garnering 45% of the support from potential voters polled. Of the remaining 10%, half said they would vote for someone else in the event of a Thompson/Clinton race, and the rest were unsure.
This is significant for a couple of reasons: one, Thompson hasn't yet made his campaign official, and so for him to garner this much attention means people really are tired of the same old crowd. Two, Mrs. Bill Clinton's positive/negative numbers are very significant. She is either loved or despised, with no middle ground. She does not have the election tied up by any means, so having a close rival is sure to shake things up over at Hillary! for President.
Of course, any independents entering the race would have an effect, but it's not clear which party would suffer at this point. It depends upon who runs, really, and if there are more than one. Analysts are saying that if Mike Bloomberg runs he'd drain support from the Republican candidate, but I'm not too sure about that. Bloomberg may have been a "Republican" when he was elected as NYC's mayor, but that was only a matter of convenience for him because he couldn't get on the Democrat ticket. Now he's an Independent, but no matter what affiliation he has, he is a major fan of socialist policies, and does what he can to further New York City's demise into a nanny state. I'll post further on Bloomberg's policies in the near future.
No wonder the MSM and the Dems are pulling out all the stops on Thompson. This week alone we've had at least two unsavory reports about him. Look for plenty more in the near future.
Come on, Mr. Thompson...get that official ball rolling, before your early supporters get tired of waiting.
Show Comments »
June 26, 2007
Fred 27%, Rudy 23%!
Fred has pulled ahead of Rudy in the latest Rasmussen poll (h/t Hot Air):
Thompson, preparing to formally announce his candidacy, leads the pack in the latest Rasmussen Reports national telephone survey with 27% support. That gives him a four-point advantage over former New York City Mayor Rudy Giuliani who is currently preferred by 23% of Likely Primary Voters. A week ago, it was Thompson 28% and Giuliani 27%. Two weeks ago, they were tied at 24%. Prior to that time, Giuliani had been on top in every weekly Rasmussen Reports poll for five months
Thompson leads Giuliani by 13 percentage points among conservative primary voters while Giuliani leads among moderates.
Among Republicans, 74% now have a favorable opinion of Giuliani. That's down from 82% in late May. Twenty-three percent (23%) of Republican voters have an unfavorable opinion of the former Mayor. Thompson's numbers among the GOP faithful have been moving in the opposite direction. Sixty-six percent (66%) of GOP voters have a favorable opinion of the actor while just 18% have an unfavorable view.
Among those with more strongly held opinions, Thompson currently has an edge --21% of Republicans have a Very Favorable opinion of him while 14% have a Very Unfavorable opinion. For Giuliani, those numbers are 18% Very Favorable opinion and 19% Very Unfavorable.
I still like Rudy and would support him wholeheartedly if he were to be nominated, but Fred is looking more and more like the man for me in the primaries. No wonder the Democrats aren't pulling any punches with a man who has yet to formally announce his candidacy!

Show Comments »
June 19, 2007
What's the Deal with Fred Thompson?
Former Tennessee senator Fred Thompson is seriously considering entering the race for the 2008 Republican presidential nomination. (An official announcement is expected in early July.) Within the past several months, we've seen public sentiment on the right go from "Fred who?" to "Run, Fred, run!" While leftwing bigwigs scoff at the notion of another conservative actor/politician with "down home" appeal, more and more people on the right are becoming intrigued by the idea of casting a vote that could very well put Thompson in the White House. "FredMania" is taking conservatives by storm. What exactly is it that makes his potential candidacy so tempting?
Read More "What's the Deal with Fred Thompson?"
Show Comments »
June 13, 2007
Fred Thompson Blog Now Online
Part of the I'm With Fred site, the Fred File is now up and running. He actually writes some of the posts himself, and comments are open.
My blog is not on the blogroll...*sob*...but considering those that are, I shouldn't be surprised that my insignificant rantings are not included. However, I am pleased to say that American Thinker made the cut, a site I am fortunate enough to contribute to from time to time. I'll have to be content with that. ;-)
Show Comments »
Trying to Poke Holes in Fred
Of course it was bound to happen. As Fred Thompson's popularity grows, his rivals will do what they can to poke holes in his political persona. This is politics, folks, and it's what happens when you run for office. According to Politico (h/t Cookiewrangler), the key problem areas for Thompson include:
*His lobbyist past
*His career as a trial lawyer
*He backed McCain-Feingold
*He can be a centrist
*He believes abortion should be regulated by the states
*As a lobbyist, Thompson made $1.3 million over two decades. That breaks down to what, $65K per year? Not exactly big bucks when you compare it to what other lobbyists make. And the money was earned legally, even if you don't approve of lobbyists. Mountain, meet molehill.
*So, he was a trial lawyer. Most of our representatives in the House and Senate are lawyers of one kind or another by trade. If we began "outing" all of the lawyers, there would barely be anyone left in Washington! (Say, that's not a half-bad idea...) Seriously, though, most of the major candidates on both sides (Rudy Giuliani, Mitt Romney, John Edwards, Hillary Clinton, Barack Obama) were either active lawyers at one point or at least attained a law degree. Trial lawyers as a group may have a lousy reputation, but it doesn't follow that all trial lawyers are lousy. Thompson also served as an assistant U.S. attorney, Watergate congressional counsel, and helped uncover a payoff scheme that put a Tennessee governor behind bars. He doesn't sound much greedier than your average lawyer to me.
*He backed McCain-Feingold. Well, I'm not a fan of the legislation, and it's too bad that he voted yes. But I am not the kind of voter who is so unyielding that I will refuse to forgive a candidate for disappointing me now and then. Don't forget who signed that legislation...
*The charge of centrist stems mainly from Thompson's split vote on Clinton's impeachment. Thompson's statement about why he voted the way he did can be seen here. But his conclusion boils down why he voted the way he did:
Is removal appropriate when the President lied to the grand jury that he denied to his aides that he had engaged in sex only as he had defined it, when in fact he had denied engaging in oral sex? Is removal warranted because the President stated that his relationship began as a friendship in the wrong year and actually encompassed more telephone encounters than could truthfully be described as `occasional'? To ask the question is to answer it. In my opinion, these statements, while wrong and perhaps indictable after the President leaves office, do not justify removal of the President from office.
He didn't believe the punishment fit the crime. And if he stands by his vote, you have to respect it, even if you don't agree with it. Honestly? This is water under the bridge. Bill Clinton's behavior with women while in the White House is an unattractive blot on our history to be sure, but let's put that particular incident behind us. (We should worry, though, if his partner in "crime" Hillary were to be elected.)
*Thompson's stance on abortion matches mine: I believe it should be a state issue, not a Supreme Court issue. Abortion on demand bothers me, but frankly it is not the defining issue for me. National security is number one in my book. Everything else is gravy.
Thompson was on the Tonight Show last night. I was too pooped to stay up, so I caught the highlights on Hot Air. It's the first time he actually admitted he wants to be president, even though he hasn't been dreaming of it all of his life. And the audience seemed to like him. He even made Leno laugh.
The left has started piling on Thompson for being too "folksy" and another "dumb" actor. Camille Paglia, whom I sometimes agree with, sometimes not (although I always find her work enjoyable to read), said
"Right now, the Democrats' best hope may be for the Republicans to veer right and nominate an erratic aging boy like the seedy Newt Gingrich or a Hollywood caricature of vintage 1910 American small-town life like the phlegmatically pithy Fred Thompson, whose homespun act feels tired and looks tired."
Small-town life. You can hear Paglia shuddering from here. Her response to Thompson's appeal is sadly typical of many liberals, who believe their sophistication is too much for red state rubes to handle. Oh, to be as worthy of adulation as they are!
Once Thompson officially announces, he can take part in debates. We'll then get a better idea of who he is, what he stands for, and what he has to offer. In the meantime, keep reading his columns on TownHall.com and elsewhere to start your education on Thompson. Will he hold up? Only time will tell.
Show Comments »
June 12, 2007
Fred Thompson to appear on Tonight Show
As you likely know, Fred Thompson caught up to Rudy Giuliani amongst Republicans in the latest Rasmussen poll. He'll also be on the Tonight Show with Jay Leno tonight (11:30 pm ET). If you're interested in finding out more about Fred!, you might want to tune in.
h/t: Draft Fred Thompson
Show Comments »
June 06, 2007
Holy Shamoly, Batman! $220K in 18 Hours!
According to Patrick Ruffini, Fred Thompson's new website I'm With Fred has raised a whopping $220 thousand in an 18-hour period. He also tells us that people signing up as "Friends of Fred" (including yours truly) have been doing so at the rate of 1,500 per hour.
Commenters on the above post are not impressed, but for a guy who hasn't offically announced his candidacy, I'd say it's not too shabby.
Onward!
Show Comments »