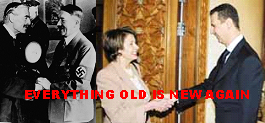 September 10, 2010
Where's Blumenthal?
And why is this different from Craigslist?
"Lust Link is the premiere Connecticut website for adult dating, alternative dating and CT sex, from the publishers of the Hartford Advocate, the New Haven Advocate and the Fairfield County Weekly. Whether you're looking for Connecticut swingers, BD/SM, role play, wife swap, bondage, submissive, or any other type of kinky online dating, you've come to the right place. Catering exclusively to Connecticut, Lust Link is the best site for adult dating and CT sex."
Maybe he wants to keep it in state?
Show Comments »
March 05, 2010
They Said It
"Only 36,000 people lost their jobs today, which is really good."
- Harry Reid

Show Comments »
March 31, 2009
James Carville Conjures Up Reactions in People's Minds, Too
This post courtesy of husband-dude:
That "brilliant" James Carville is at it again. After being thoroughly routed and humiliatingly drubbed after an ill-advised and ad-hominem attack on Rush Limbaugh - he has now decided Sarah Palin needs the same treatment.

"Her name conjures up all kinds of reactions in people's minds," Carville told me, adding that her association with the campaign will be used to portray the GOP as hidebound and to alienate moderates. "She's an uncomfortable figure for a lot of Republicans," Carville says. "They want to move beyond her. We like her."

Well, James - unlike your Democrat base that can't distinguish between that talentless hack Tina Fey and reality, we like her. So in the spirit of mutual antipathy, your name conjures up all sorts of images with us also.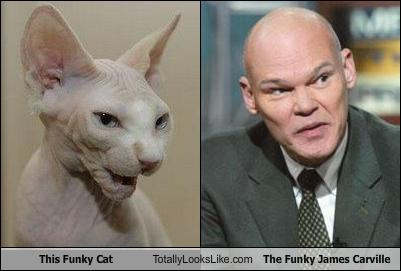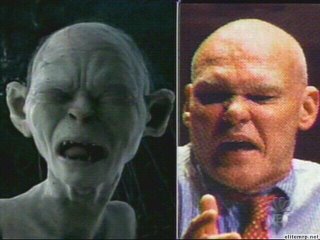 Keep up the good work James!
Show Comments »
December 18, 2008
Questions Remain about Obama and Blago
Show Comments »
December 09, 2008
Democrat Governor of Illinois (and Friend of Obama) Arrested on Federal Corruption Charges
Since the MSM often doesn't like to include the tag Democrat in their headlines when Dem politicos go wrong, I thought I'd do it for them. Here's the scoop:
Gov. Rod Blagojevich and his chief of staff, John Harris, were arrested by FBI agents on federal corruption charges Tuesday morning.
Blagojevich and Harris were arrested simultaneously at their homes at about 6:15 a.m., according to Frank Bochte of the FBI. Both were transported to FBI headquarters in Chicago.
In one charge related to the appointment of a senator to replace Barack Obama, prosecutors allege that Blagojevich sought appointment for himseld as Secretary of Health and Human Services in the new Obama administration, or a lucrative job with a union, in exchange for appointing a union-preferred candidate.
Another charge alleges Blagojevich and Harris conspired to demand the firing of Chicago Tribune editorial board members responsible for editorials critical of him in exchange for state help with the sale of Wrigley Field, the Chicago Cubs baseball stadium owned by Tribune Co.
Read more at the Chicago Tribune.
So, when will Obama throw pal Blagojevich under the bus with the rest of his inconvenient cronies?
Merry Fitzmas, everyone!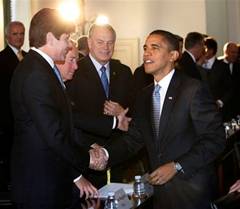 He's not the Rod Blagojevich I knew...
Show Comments »
June 12, 2008
How the Worm Has Turned
If Hillary Clinton's thick skin didn't quite let her get the feel for what Republicans have gone through for decades within the past six months, she has no excuse now. Camille Paglia had this to say about Hillary's, er, concession speech last weekend:
I was shocked and appalled at Hillary's inflammatory demagoguery, which was obviously intended to keep her candidacy alive through the August convention and beyond. The echo in the museum's marble entry hall gave the event an eerily retro quality, as if it were a 1930s fascist rally.
When the left begins comparing a Clinton to fascists - a term of endearment usually set aside for conservatives - you know it's all over but the shouting.
Show Comments »
August 17, 2007
Hurricane Dean
If and when Dean makes landfall in the U.S., you just know who will be blamed for it!
CASTRIES, St. Lucia - Hurricane Dean strengthened into a Category 3 storm and tore through the eastern Caribbean on Friday, ripping the roofs from a hospital and homes, and flooding buildings with rain and seawater. A 62-year-old man drowned — the storm's first death.
In a related story, thousands of people trapped in the storm's path have all heard the same sound: "YAAAAAHHHHH!"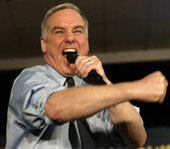 Wyatt Earp
Show Comments »
June 11, 2007
Dennis Miller Rips Harry Reid a New One
Video over at Hot Air. Go there. NOW!
Show Comments »
May 16, 2007
Democrats: Taxation Without Representation
UPDATE (5/17/07): That was a close one...Nancy wisely decided against this foolish move.
Posted on The Corner:
In a stunning move, House Democrats today revealed they will attempt to rewrite House rules that have gone unchanged since 1822 in order to make it possible to increase taxes and government spending without having to vote and be held accountable. House Republican Leader John Boehner (R-OH) today vowed Republicans will use every available means to fight this unprecedented change.
"This is an astonishing attempt by the majority leadership to duck accountability for tax-and-spend policies the American people do not want," Boehner said. "The majority leadership is gutting House rules that have been in place for 185 years so they can raise taxes and increase government spending without a vote. House Republicans will use every tool available to fight this abuse of power."
What happend to the open, honest, ethical Congress we were promised back in November?
*crickets*
If the Republicans fight this in the same manner they fought the upcoming immigration bill (read: amnesty bill), the sales for Pepto Bismol and Kaopectate will increase dramatically nationwide.
h/t: Michelle Malkin
Show Comments »
May 11, 2007
Did Dean Stick His Nose Into Kansas Relief Effort?
Note: None of the following has been confirmed.
I first heard of this on the Sean Hannity Show on the way home yesterday. Sean was talking to XM Radio's Quinn and Rose, who said they had a very reliable source tell them that Howard Dean phoned Kansas governor Kathleen Sebelius, telling her not to ask for help from the White House until further instructed. Then, according to Quinn and Rose, the source says Dick Durbin called and told Sebelius that the entire incident would be used to criticize the war.
Bryan over at Hot Air has posted a detailed statement he received from Quinn and Rose about the claims.
Again, this has not been independently confirmed. Sean Hannity called Sen. Sam Brownback, who is said to have been on the receiving end of Sebelius' phone confession about the incident, but Brownback is not saying anything at the moment...
If it's fake, then those who are looking to smear the players named should be publicly taken to task and humiliated for such a low blow. But if it's true, well...let's just say the blowback could get very messy indeed.
Show Comments »
February 22, 2007
The Lady Doth Protest Too Much, Methinks
Poor Nancy Pelosi...how dare Dick Cheney question her? Bull Dog pundit takes her to task at Ankle Biting Pundits.
It would be nice if our politicians would quit whining and pointing fingers. But instead of getting down to the business of running the country, they're too busy running their mouths. Cripes, this is getting tiresome...
Show Comments »
February 08, 2007
Pelosi Gets Her Plane...
...just not the big one she wanted.
The Department of Defense yesterday sent a letter to House Speaker Nancy Pelosi that puts limits on the size of the plane she may use to travel across the country and restricts the guests she can bring, The Washington Times has learned.

A congressional source who read the letter signed by Assistant Secretary of Defense Robert Wilkie said it essentially limits her to the commuter plane used by former Speaker J. Dennis Hastert, which requires refueling to travel from Washington to Mrs. Pelosi's San Francisco district. A second source, in the Bush administration, confirmed the contents of the letter.
The plane will only take her from Washington D.C. to San Francisco. She may not use it for any other purpose.
In addition, non-governmental personnel (like campaign contributors) may not fly, and if her family members want a ride, they have to pay the U.S. Treasury for the privilege. Other House members may only join her if the House ethics committee gives them the green light.
There is the possibility she will be allowed use of a larger craft that will not need refueling (which is why she says she needs it) if it is available, but at the moment, she'll have to make do with the lil' ol' twelve-seater Dennis Hastert got to use.
Favorite quote (from a "congressional source"):
"Just because she's second in line to be president does not entitle her to a military taxi service around the United States."
Previous:
Nancy Pelosi Is a High Flier on Our Dime
Pelosi Asks for Military Flight Rights
Show Comments »
February 07, 2007
Nancy Pelosi is a High Flier on Our Dime
Ye gads. This woman's gall is unbelievable. The Bush administration plans to honor her request to fly on Air Force jets as a security measure, but she is still insisting on a larger craft so that she can not only fly nonstop from Washington DC to San Francisco, but also give free rides to her staff, family, and other Democrats as she feels fit.
According to the Washington Times article linked above, Pentagon officials say that Rep. John Murtha (D-PA) accused them of sexism for not immediately granting her request. Murtha's people deny it.
After 9/11, then-House Speaker Dennis Hastert was given access to military aircraft as a security measure, as the Speaker is in next line for the presidency after the vice-president. So Pelosi's initial request is not out of line. But her wanting to travel with an entourage that rivals that of the president is not only outrageous on its face, but it shows that she's far too interested in the trappings of power than is good for us, the people she is supposed to be serving.
Previous:
Pelosi Asks for Military Flight Rights
Show Comments »
February 01, 2007
Pelosi Asks for Military Flight Rights
From the Washington Times (all emphasis mine):
The office of House Speaker Nancy Pelosi is pressing the Bush administration for routine access to military aircraft for domestic flights, such as trips back to her San Francisco district, according to sources familiar with the discussions.

The sources, who include those in Congress and in the administration, said the Democrat is seeking regular military flights not only for herself and her staff, but also for relatives and for other members of the California delegation. A knowledgeable source called the request "carte blanche for an aircraft any time."
According to the article, after 9/11, the safety of the Speaker (2nd in line to the presidency after the VP) became a focus of air travel.
Mrs. Pelosi's request is not new for a speaker, who is second-in-line in presidential succession. A defense source said the speaker's regular access to a military plane began after the September 11, 2001, attacks. Rep. J. Dennis Hastert, Illinois Republican, who was speaker at the time, started using U.S. Air Force planes for domestic travel to and from his district for security reasons. A former Hastert aide said the congressman did not use military planes for political trips or regularly transport his family.

The defense source said Mr. Hastert requested a plane with good communications so he could conduct legislative business. The military flights increased to the point the speaker used a military plane for many, if not all, flights to his Illinois district, the former aide said.

Sources said Mrs. Pelosi's request goes beyond what Mr. Hastert received. The speaker's legal counsel is spearheading the talks.
It will be more than interesting to see if this over-the-top request is granted.
h/t: Cookiewrangler
Show Comments »
January 30, 2007
Nancy Pelosi to Begin her Own Blog
Michelle Malkin reports that Nancy Pelosi will soon begin her own blog, citing the power of the nutroots, er, netroots.
I highly doubt Mrs. Pelosi will actually sit down at the keyboard to compose her own daily entries. It's likely a hired minion will be responsible for those, with Pelosi giving approval. Of course, I could be wrong.
I'm highly skeptical of the idea of Congressional members blogging. They already have their own (government sponsored) websites and the MSM at their beck and call. It's not as if they need another outlet for their palaver. And it's not as if they will actually fit into the blogosphere, seeing as most blogs (even those that focus on news and political commentary) have a bit of the author's personal touch. I guess the idea is for Pelosi and other Congressional bloggers to seem folksy...but in my opinion, it's a big stretch.
Show Comments »
January 29, 2007
The Most Ethical Congress in History (giggle)
It seems that Nancy Pelosi, Evan Bayh and Rahm Emanuel left some important information out of their personal finance reports, and they're now rushing to "rectify" the problem. Details here.
Draining the swamp? More like creating a swamp of their own.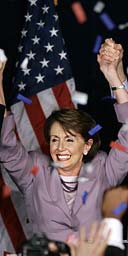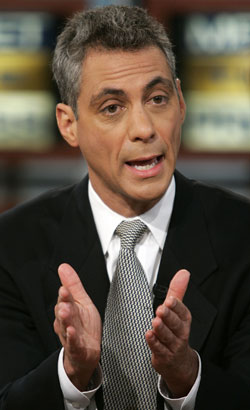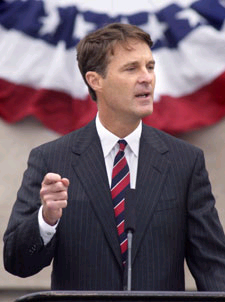 They really meant to disclose everything...they just got busy with, you know, things!

h/t: GOP Bloggers
Show Comments »
January 12, 2007
Barbara Boxer: Childless Rice Makes No Sacrifice
Will the chutzpah never end? Sen. Barbara Boxer (D-CA) told Secretary of State Condoleezza Rice that she has nothing to lose in Iraq because she has no "immediate family" serving. Rice, as always, kept her cool despite having to once again endure the type of personal insult that liberal Democrats seem to love slinging about. (Never mind the fact that we will all lose something if the situation in the Middle East is not resolved. Al Qaeda is playing for keeps. We need to do the same.)
As today's NY Post editorial page notes:
The junior senator from California ap parently believes that an accom plished, seasoned diplomat, a renowned scholar and an adviser to two presidents like Condoleezza Rice is not fully qualified to make policy at the highest levels of the American government because she is a single, childless woman.
And:
The vapidity - the sheer mindlessness - of Sen. Boxer's assertion makes it clear that the next two years are going to be a time of bitterness and rancor, marked by pettiness of spirit and political self-indulgence of a sort not seen in America for a very long time.
As a long-time supporter of "women's rights," which one would logically think includes the right to choose a demanding career instead of marrying and having children, Boxer's hypocrisy is stunning. But coming off Nancy Pelosi's focus on "the children" at last week's swearing-in ceremonies, I suppose we shouldn't be surprised. The Democrats are going to milk "the children" for all they can. (This new political tool is somewhat amusing, considering their stance on children in utero.)
Boxer's assertion also slams our military professionals: adults, not children, who make the decision to join the armed forces fully aware of what the stakes are. (And fully aware that they swear to defend and protect ingrates like Boxer.) Yes, all soldiers are someone's children. But so are those who join police and fire departments. Would Boxer suggest that they not be sent out on patrol or out to fight fires because, if they die in the line of duty, their parents would be sacrificing them? The whole notion is ridiculous.
Somehow, when Americans voted for "change" last November, I don't think the change they were looking for was a sharp drop in civility and common sense. But as the NY Post noted, we're in for a heaping helping of nastiness from a party that, even in victory, can't play nice.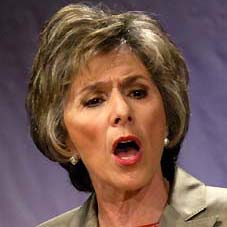 Crowned Queen of Chutzpah and Hypocrisy
On a tip from Cookiewrangler
Show Comments »
Slim Majority Prompts Same Old Tricks
New Congress, same story:
WASHINGTON -- The Senate's new Democratic leaders, the fragility of their thin majority on display for the first time, were set back Thursday when nine Democrats joined with Republicans in support of stricter House-passed rules on lawmakers' pet projects
Majority Leader Harry Reid, D-Nev., was forced to delay a final vote on a measure he opposes after losing 51-46 a parliamentary attempt to kill it.
The measure, an amendment to an ethics and lobbying bill, would have adopted a wider definition of "earmarks," specific projects inserted in bills, to include Corps of Engineer water projects, Pentagon weapon systems and items from other federal entities.

The language favored by Reid would require disclosure of only targeted funds directed to nonfederal entities such as city parks, state universities and private contractors. Reid crafted the ethics bill with Republican leader Mitch McConnell, R-Ky., but McConnell supported DeMint on the earmarks issue.
Here's the good part (emphasis mine):
After the move to kill the DeMint language failed, Democrats refused to allow the amendment to be approved by voice, a normal procedure, and an hour later Reid called the entire Senate to the floor to beseech them to reconsider. He did not set a time for a final vote.
It reminds me of all the filibustering we had to sit back and watch last year.
Looks like the "new direction" isn't garnering the approval ratings...they're still dismal.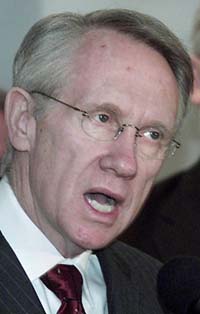 Reid's creed: If you can't lick 'em, stall 'em!
Show Comments »
January 10, 2007
Dick Durbin Enlists Kos Kidz
That's right; Dickie Durbin, the Democratic whip in the Senate, has asked the folks who post and comment at Daily Kos to help shape the Democrats' agenda for the next couple of years. John Hawkins has done the dirty work so you won't have to.
Show Comments »
January 09, 2007
Pelosi Peril
Must-read editorial in today's NY Post (h/t: HNAV):
Is history to repeat on the Democrats' watch? And how typical of the party to threaten to cut the legs out from under the U.S. military effort.
It's what it did in Vietnam more than 30 years ago:
* First, the Democratic-controlled Congress voted to end all U.S. military activities there by a set deadline.
* Then it cut off all military funding to South Vietnam.
Emboldened by these moves, North Vietnam invaded the South; President Gerald Ford pleaded for an emergency infusion of military and humanitarian aid, but Democrats voted it down.
Weeks later, Saigon fell, the agony of the Boat People began - and Cambodia's Pol Pot, waiting in the wings, made his move.
Now Pelosi & Co. are flirting with a repeat of that kind of disaster.
They maintain that the only avenue open to the United States in Iraq is a political solution - once that's reached, they claim, internal security will follow.
In fact, the truth is just the opposite.
As Sen. John McCain (R-Ariz.) notes on the opposite page, "security is the precondition for political progress and economic development."
Will that guarantee peace? No. But as Sen. Joe Lieberman (D-Conn.) added: "Our troops believe they can win, and that's important."
The Democrats are so busy running away from a war they initially approved that they're willing - even eager, perhaps - to facilitate an American defeat.
Show Comments »
December 20, 2006
Strolling Down Memory Lane with John Kerry
As John Kerry arrives in Syria to talk to a leader the Bush administration will not, my friend Aaron at Lifelike Pundits takes us on a stroll down memory lane with the senator who would be relevant.
During the 2004 campaign, Kerry claimed to speak with world leaders about Iraq without naming any. I guess we know now who he prefers to speak to.
Oh, and don't forget, Connecticut's other senator is in Syria with Kerry...what's his name again? Oh right, Chris "2008" Dodd.
Show Comments »
December 07, 2006
Secret Meetings Between Dems and Terrorists?
From yesterday'sIsrael National News:
Unnamed sources in the Islamist Hamas terror organization, currently holding power in the Palestinian Authority, said today that a Hamas delegation met with senior members of the American Democratic party. According to the Hamas sources, the meeting took place in a third party country that is unwilling to be identified at this stage.
Hamas spokespersons have said that the Democratic party victory in the recent US mid-term congressional elections indicate a change in the US policy towards the Hamas-led PA.
If this is true, than the Democrats are more despicable than I even imagined. But we'll have to wait for further confirmation. "Unnamed sources" in Hamas aren't exactly what I'd consider rock solid.
h/t: Moonbattery
Show Comments »
November 17, 2006
Dutch To Ban Burqa
This is big news:
AMSTERDAM (Reuters) - The Dutch government agreed on Friday a total ban on the wearing of burqas and other Muslim face veils in public, justifying the move on security grounds.
Immigration Minister Rita Verdonk will now draw up legislation which will result in the Netherlands, once one of Europe's most easy-going nations, imposing some of the continent's toughest laws against concealing the face.
"The cabinet finds it undesirable that garments covering the face -- including the burqa -- should be worn in public in view of public order, (and) the security and protection of fellow citizens," the Dutch Justice Ministry said in a statement.
Don't expect a calm acceptance of this from the Religion of Peace. Remember, a Moroccan immigrant killed filmmaker Theo van Gogh in 2004 because of a movie he made that was considered offensive to Muslims.

Show Comments »
November 16, 2006
Not An Auspicious Start for Pelosi
From Breitbart:
House Democrats on Thursday chose Maryland Rep. Steny Hoyer to be House majority leader over Rep. John Murtha, the choice of Rep. Nancy Pelosi, in line to become speaker.
Hoyer was elected on a vote of 149-86.
The balloting marked a personal triumph for him, but also a snub to Pelosi, moments after the rank and file selected her unanimously to become speaker when the House convenes in January.
Heh.
Show Comments »
Double Standards 101
Don't you just love it?
In his first interview since reportedly calling a Democratic bill on lobbying and ethics "total crap," Rep. John Murtha told "Hardball" host Chris Matthews he meant it was "crap" to deal with ethics problems when there are more serious issues facing the nation such as the war in Iraq.
"It is total crap that we have to deal with an issue like this when we've got a war going on and we got all these other issues," Murtha said.
Oh what a difference an election can make. What was Murtha saying about ethics just six weeks ago during the Mark Foley debacle?
Rep. John Murtha, D-Pa., faulted the House GOP leadership for not acting sooner. "It's outrageous," he said, citing reports indicating they were told months ago. "We have an obligation to protect these young pages. ... It really makes me nervous that they might have tried to cover this up."
He called for a quick investigation before the November elections to "hold people accountable," but said there was no need for an outside investigation. "I think it's something the ethics committee can handle. ... It's something that can be handled internally."
It's always different when one's own political future is at stake. Today is the vote for House Majority Leader, and Murtha hopes to be victorious.
Captain Ed and Hot Air have more.
Meanwhile, Robert Novak has a spot-on column on Nancy Pelosi's first misstep before she even takes the gavel.
h/t: Cookiewrangler
Show Comments »
November 09, 2006
So Much for Bipartisanship
From Insight:
Rep. Nancy Pelosi plans to sideline colleagues who are hawkish on national security in the Democratic leadership in the House.
[...]
"Nancy Pelosi wants total party discipline," a source in the Democratic Party leadership said. "If you played ball with the Republicans during this session, then you're not going to be given an important chair in the next session."
This shouldn't surprise anyone.
It seems one of the first on the chopping block is Jane Harman, whose seniority on the House Intelligence Committee gave some reason to think she would be awarded chairmanship.
The sources said the 61-year-old Ms. Harman, regarded as the best informed House Democrat on intelligence and technology issues, angered the liberal Ms. Pelosi by supporting the Bush administration's policies on defense issues, particularly the war in Iraq and the Patriot Act. They said Ms. Pelosi has rebuffed lobbyists in the pro-Israel community and defense industry that sought a chairmanship for Ms. Harman.
"If Nancy Pelosi's apparent determination to deny Jane Harman the chairmanship of the House Intelligence Committee to appease the Black Caucus is any indication, Democratic control is not going to be good news for those who believe in competent oversight of the national-security apparatus," said Loren Thompson, a defense analyst at the Lexington Institute.
But we already knew the Democrats' first priority has never been national security or defense.
It's possible the chairmanship of this important committee will go to Rep. Alcee Hastings (FL), whom the Black Caucus has been pushing for this appointment. Hastings, you might remember, was impeached for corruption and perjury (he accepted a $150,000 bribe) and removed as a federal judge in 1981. I'm relieved we'll have such impeccable leadership from the Democrats after the culture of corruption of the Republicans.
It's good to know that the chairmanship will be awarded based on who is most competent...make that most competent at being a Democrat player.
Show Comments »
Caveat Emptor
That means "let the buyer beware" in Latin. Too bad it's not required on all political ads. Nancy Pelosi (in between ordering draperies) is busy telling us that "Democrats are ready to lead. We're prepared to govern. But that means in a bipartisan way." If they're so interested in bipartisanship, where has that bipartisanship been in the last 12 years? Was all the filibustering just my imagination?
And we now have Harry Reid as the Senate Majority Leader. The man who, unbeknownst to many, has been involved in ethically questionable land deals. Why do so few know about it? Because the MSM didn't make it a reporting priority. Scandals about Republicans take precedence in our biased big media.
Loony Cindy Sheehan is already calling for impeachment and imprisonment of President Bush, and her reaction to Donald Rumsfeld's resignation was caught on video.
This is what we have to look forward to. But then, I don't think I should be surprised. Most voters only pay attention to politics in the month or two preceding the election. Now that it's passed, they'll go back to paying more attention to the divorces of Britney Spears and Reese Witherspoon, worrying about whether or not Nicole Richie will drop dead of anorexia, and who the next American Idol will be.
I said this in an e-mail to some blogging pals:
As a group, the baby boomers (specifically the liberal ones) have done the most damage to our country than any other generation I can think of. Their so-called "feel good" policies have no basis in reality and have been very costly to everyone, especially to those the Dems profess to be representing (the poor, women, minorities, etc.).
These are the people who will be shaping our policies for the next two years.
When the tax cuts that the Republicans pushed through expire and the economy slows down, when yet another minimum wage hike is pushed through and unemployment goes up as a result, when taxes are raised in order to fund yet more programs that don't benefit those who pay for them, and when we pull out of Iraq and a greater bloodbath than we've seen thus far occurs, you'll know who to thank.
Yourselves, for voting in the Democrats.
(Am I being a sore loser? I don't think I'm so much a sore loser as much as I am worried about the "new direction" this country is headed in. The Democrats didn't tell us about that new direction, and for good reason: they would never have been voted in otherwise.)
My friend Gary at Ex-Donkey has a different outlook.
Show Comments »
October 20, 2006
Losers for Lamont
Yes, 2004 loser Howard Dean was the latest to campaign for Ned Lamont. In the city of Hartford today, Dean did his best to get Lamont's campaign back on the upswing in the face of the latest poll numbers: Joe Lieberman leads Lamont 52 to 35 percent.
"Your state has done something extraordinary," Dean said. "Your state had a courageous person step up when nobody thought he could win and take on folks who supported the Bush policy."
So now the entire state is responsible for Ned Lamont's "courageous" campaign? If that's the case, I'm packing my bags and heading for a less "extraordinary" state. Ned Lamont is the last person whose campaign I want credit for.
See, what leftwing extremists like Dean and his followers forget is that there aren't just Democrats in this state. There are Republicans too. And outnumbering them both are voters registered as independents. Only Democrats voted in September's primary between Lamont and Lieberman. In this light, Lamont's big win isn't so big after all.
Next week, Lamont will be joined by the recently crowned king of Democrat losers John Kerry.
All that's left to do is for Al Gore to campaign for Lamont to put the proverbial last nail in the coffin. And just in time for Halloween!
Others talking about Lamont: Brainster, Ex-Donkey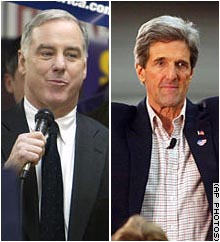 The campaign kiss of death!
Show Comments »
October 16, 2006
Harry Reid: Used Campaign Money as Christmas Bonuses
Harry Reid sinks deeper into the mire of his own making:
Senate Democratic leader Harry Reid has been using campaign donations instead of his personal money to pay Christmas bonuses for the support staff at the Ritz-Carlton where he lives in an upscale condominium. Federal election law bars candidates from converting political donations for personal use.
Questioned about the campaign expenditures by The Associated Press, Reid's office said Monday he was personally reimbursing his campaign for $3,300 in donations he had directed to the staff holiday fund at his residence.
This after the news that he didn't properly report a land deal that netted him $1.1 million.
Of course, he plans on reimbursing the campaign, as well as amending the 2001 report in which he failed to indicate the transfer of the land to an LLC headed by his pal Jay Brown in return for a stake in the LLC.
Reid said the failure to disclose those transactions previously was due to "clerical errors" and they amounted to "two minor matters that were inadvertently left off my original disclosure forms."
How convenient. When a Republican gets caught out in an ethical violation, it's evidence of that famous "culture of corruption." When a Democrat is caught, it's due to a "clerical error."
But where's the shock and outrage that accompanied the downfall of the likes of Randy "Duke" Cunningham, Tom DeLay...not to mention the recently disgraced Mark Foley?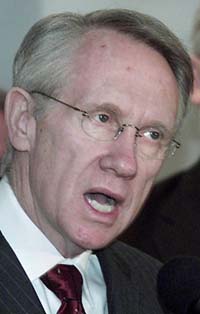 "It depends on your definition of 'ethics violation.'"

Show Comments »
October 06, 2006
Robert Byrd, King of Pork
>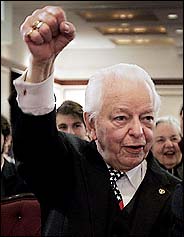 I've decided to highlight Senator Robert Byrd, D-WV, who would likely become head of the Senate Appropriations committee if the Democrats retake the Senate.
Known as the "King of Pork," Byrd shamelessly pads bills for such worthy causes as military expenditures with little "extras" for his home state of West Virginia. While this makes the folks who keep voting the old buzzard into office happy, it doesn't bode well for government spending and our pockets. Byrd has secured over a billion dollars in pork money for his state, funding projects such as the Robert C. Byrd Highway, Robert C. Byrd Federal Correctional Institution, Robert C. Byrd High School, Robert C. Byrd Freeway, Robert C. Byrd Center for Hospitality and Tourism, Robert C. Byrd Science Center...just to name a few. (Let's not forget the statue of him in the West Virginia state capitol rotunda.)
Words from Byrd: "One man's pork is another man's job. Pork has been good investment in West Virginia. You can look around and see what I've done." Remarks made March 15, 2001 during Senate floor debate.
I've taken it upon myself to write a song about Byrd. Sung to the King of Pain by the Police, it's called King of Pork:
Read More "Robert Byrd, King of Pork"
Show Comments »
Pelosi's Plan
Watch out, Nancy...your naked ambition is showing.
Pelosi has unveiled what she will do in the first 100 hours of her taking over as House speaker if Democrats gain control this November.
Day One: Put new rules in place to "break the link between lobbyists and legislation."
Day Two: Enact all the recommendations made by the commission that investigated the terrorist attacks of Sept. 11, 2001.
Time remaining until 100 hours: Raise the minimum wage to $7.25 an hour, maybe in one step. Cut the interest rate on student loans in half. Allow the government to negotiate directly with the pharmaceutical companies for lower drug prices for Medicare patients.
Broaden the types of stem cell research allowed with federal funds — "I hope with a veto-proof majority," she added in an Associated Press interview Thursday.
All the days after that: "Pay as you go," meaning no increasing the deficit, whether the issue is middle class tax relief, health care or some other priority.
To do that, she said, Bush-era tax cuts would have to be rolled back for those above "a certain level." She mentioned annual incomes of $250,000 or $300,000 a year and higher, and said tax rates for those individuals might revert to those of the Clinton era. Details will have to be worked out, she emphasized.
Please do notice that Pelosi said nothing about the war in Iraq and against Islamofascism. She has said in recent days, "[The election] shouldn't be about national security." Of course not, Nancy. Because if it was, you'd lose.
She's also frothing at the mouth about the recent Mark Foley scandal.
...she wants to put Hastert and other Republicans under oath and make them say what they knew of Foley's actions, when they learned it and what they did to stop him.
I wonder if she'll also put the (unconfirmed) Democrat operatives who knew of this story months ago under oath?
According to two people close to former congressional page Jordan Edmund, the now famous lurid AOL Instant Message exchanges that led to the resignation of Mark Foley were part of an online prank that by mistake got into the hands of enemy political operatives, the DRUDGE REPORT can reveal.
According to one Oklahoma source who knows the former page very well, Edmund, a conservative Republican, said he goaded an unwitting Foley to type embarrassing comments that were then shared with a small group of young Hill politicos. The prank went awry when the saved IM sessions got into the hands of political operatives favorable to Democrats.
Are you really sure you want Nancy Pelosi and the Democrats in charge?
Get to the polls November 7th.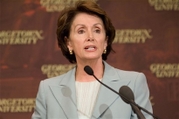 She's already redecorating the House Speaker's office
Previous: Why Conservatives Need to Vote in November
Show Comments »
September 29, 2006
What's The Plan?
Via My Way News:
"On his watch, five years after 9/11, he not only has failed to capture Osama bin Laden, but as the (National Intelligence Estimate) indicates, his failed policies have made America less safe and spawned terrorism, not decreased it," said Karen Finney, spokeswoman for the Democratic National Committee. "Democrats will be tough and smart, and will actually fight the terrorists, not leave them to plan future attacks."
That's really great. What I'd like to know, however, is what the Democrats' plan is. For the last five years, we have been hearing about how tough the Dems will be on terror. Bill Clinton even claims he left a comprehensive plan on how to combat terror behind for the Bush administration to utilize. (Funny how Clinton didn't have time to use it himself.)
So I ask the question that so many of us want an answer to: What do the Democrats plan to do to fight terrorists in general and Islamofascists in particular?
While I'm waiting, I think I'll vote Republican in November.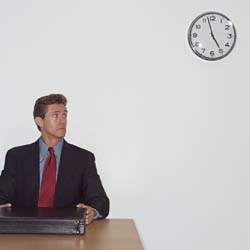 Do the Dems have a plan yet?
Show Comments »
September 14, 2006
Jimmy Carter Hopes Lieberman Loses
Jimmy Carter gave what can actually turn out to be a backhanded endorsement to Joe Lieberman in the upcoming Connecticut senate race:
[Ned] Lamont's campaign got a boost Wednesday from former President Carter, who offered a blistering critique of Lieberman's support for the Iraq war. "He was one of the originators of public statements that misled the American people into believing that the Iraqi war was justified," the former Democratic president said on CNN's "Larry King Live."
"He's joined in with the Republican spokespersons by saying that Democrats who disagree are really supporting terrorism," Carter said. "So for all these reasons, I've lost my confidence in Joe Lieberman and don't wish to see him re-elected."
Moderates who are undecided may want to go with Lieberman after this. Why would they want to go with the man whose wishy washy politics back in 1978 emboldened the Ayatollah Khomeni and his followers, giving rise to Islamic fascist terrorism worldwide?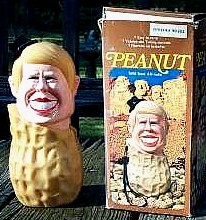 Jimmy Carter: a true nut
Ex-Donkey also weighs in.
Show Comments »
August 16, 2006
Election Double-Dipping
Check this out:
Man accused of voting twice in Bush-Gore election
August 16, 2006
BY ABDON M. PALLASCH Legal Affairs Reporter

If there's one thing Donovan Riley apparently learned during his time in Chicago, it was "Vote early and often."
Riley, 69, the former CEO of the University of Illinois Medical Center and a former law professor at Loyola University, is running for a state senate seat in Milwaukee.
On Nov. 7, 2000, the day of the big election between Vice President Al Gore and Texas Gov. George W. Bush, Riley appeared at the polling place in Oconomowac, Wis., where he had registered to vote just the day before, voting records show. His ex-wife owned a home there.
"Then he drove down to Chicago where he was already registered and he voted again," said Michael Crooks, a Wisconsin attorney who filed a complaint against Riley with Wisconsin election officials. "This is about as blatant as it gets."
Waukesha County District Attorney Paul Bucher said it's usually difficult to prove such allegations. "But in this case, these documents seem to be pretty good," he said.
The article goes on to quote Riley as saying "it's possible I made a mistake." Pulling the wrong lever is a mistake. Voting twice on the same day in different states is not.
By the way, Riley is running as a Democrat. His platform?
*economic opportunity, social justice, personal freedom
*health care for all
*ensuring women can make their own decisions about reproductive health
*safety without concealed guns
*fair elections
*accessible government
No word on what the DNC or Al Gore think.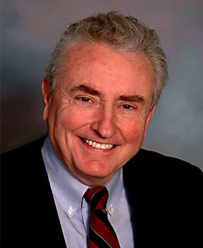 Please ignore the man behind the voting booth curtain!
h/t: GD
Show Comments »
July 19, 2006
Dems Call Lebanon Evac a "Mini-Katrina"
Leave it to the Democrats to compare our efforts to get Americans out of Lebanon to evacuation efforts after Hurricane Katrina:
"I think it is too bad that this is being treated like a mini-Katrina," said Harry Reid, the Senate Minority Leader. "These people are just being stranded in Lebanon and that is not a good reaction by this government."
[...]
"This is not anything that the State Department foresaw a day before it happened, much less Congress foreseeing a year or so in advance," said Ms. Pelosi. "The number of people involved here, the nature of the hostilities, are such that the urgency demands that these people be evacuated and they not have to pay their fare out."
Unbelievable. Trying to score points by using an unfortunate situation that exploded unexpectedly is beneath contempt. Question: why is it our government's responsibility to get them out when they went there of their own free will? They're doing the best they can.
Brought to you by the Democrats, who can't seem to give you anything else.
Hat tip: Rush Limbaugh

Show Comments »
July 05, 2006
New Jersey Budget Impasse Closes Atlantic City
Many who voted for John Kerry continue to display his campaign bumper stickers on their cars, as do many who voted for George W. Bush in the 2004 election.
I wonder how many New Jersey voters who said "yes" to John Corzine for governor are keeping their bumper stickers visible?
ATLANTIC CITY - The casinos here did the unimaginable this morning and ceased all gambling operations amid a state budget impasse that idled New Jersey's gambling inspectors.
[...]
Gov. Corzine, in a speech this morning on the budget crisis that has gripped the state, defended his budget proposal and said he had no choice in closing state services.
"It is deplorable that the people of this state are left in such a painful position," he said. "The people of New Jersey have every right to be angry."
Corzine and the Legislature remain about $1 billion apart on a balanced budget. Corzine has proposed increasing the sales tax from 6 percent to 7 percent to close the gap, while Democratic lawmakers remain steadfastly opposed to it.
Corzine's action brought a quick halt to lottery sales and road construction on Saturday. State parks, campgounds and race tracks were also to close this morning as the historic government shutdown enters a fifth day. Atlantic City's casinos, which cannot operate without state inspectors, will remain shut until the state adopts a budget.
I wonder if Corzine thinks the voters should be angry at the legislature or at him?
While one may or may not condone gambling, to close down an industry that brings millions to the state's coffers because legislators cannot agree on a budget is considered foolhardy by many, as the state stands to lose $1.3 million in tax revenue each day the casinos are closed.
Not only that, but the people who work at the casinos who depend on that paycheck are now getting the shaft.
My friend Jeanette, who lives in New Jersey with her husband, said in an e-mail, "Don and I can only take comfort in that we did not vote for him!!!!!!!"
Corzine didn't take a salary because he's a millionaire in his own right. It's too bad that didn't make up the budget shortfall.
UPDATE (2:45 pm): Here is a sampling of what folks in New Jersey think of the shutdown.

Show Comments »
June 23, 2006
Hillary: Division is a Strength
Via Breitbart:
Sen. Hillary Rodham Clinton conceded Friday the Democrats are "openly struggling with a lot of the difficult issues," but said that was better than the GOP's "hear no evil, see no evil, speak no evil."
The senator and potential presidential candidate said the Democrats' debate a day earlier on the Senate floor about war policy in Iraq was actually a sign of party strength, not weakness.
"Although unity is important it is not the most important value. It is, I think, a tribute to the Democratic Party at this moment in time that we are honestly and openly struggling with a lot of the difficult issues facing our country," Clinton, D-N.Y., told the New Democrat Network.
On the issue of Iraq, Clinton has been buffeted by competing forces within her party. Many elements of the party's liberal base want an immediate or timed withdrawal of troops from Iraq, while others feel such a position may weaken the party's electoral chances this year and in 2008.
Clinton is up for re-election this year, and repeatedly insists she is not thinking ahead to 2008 presidential politics.
Many in the audience of a more liberal group booed Clinton last week when she said she opposed setting a fixed date for troop withdrawal.
On Thursday, four of the six Democrats flirting with a possible White House bid in 2008, including Clinton, chose a middle-of-the-road approach, voting for a nonbinding resolution that would have urged the administration to start withdrawing troops by year's end.
But they opposed a rival proposal that would have carried the force of law and set a firm date by which all combat forces must be out of Iraq.
In her speech Friday, Clinton accused the Republican-controlled Congress of being "supine" to the goals of the Bush administration, foregoing their oversight role.
After the speech, she told reporters that the Democrats' public disagreements were a better alternative than the GOP's unified front.
"I think we come out more united," said Clinton. "We're not blindly united like the other side is, where they are like the three monkeys, See No Evil, Hear No Evil, Speak no Evil. They're not going to say anything negative about the president, the vice president, the secretary of defense or anybody else."
Wow, any more whitewash and Tom Sawyer will have to step down as king of the shysters!
As one who is a proponent of multiculturalism, it is not surprising that Clinton thinks of divisiveness as a unifer. During wartime, inner squabbling is not the way to get the job done. Nor is pandering to the extremists of one's party. Nor is smearing a sitting president for political gain.
Republicans know this. Democrats do not. This is why the Democrats cannot regain the power they so desperately crave.
Show Comments »
June 20, 2006
Nearly 50%: No Hillary
Ouch, that's gotta hurt:
(CNN) -- With the presidential election more than two years away, a CNN poll released Monday suggests that nearly half of Americans would "definitely not vote for" Sen. Hillary Rodham Clinton.
Other potential Democratic candidates got big no's as well: 47% said no to John "Frenchie" Kerry and 48% gave a thumbs down to Al "Snore" Gore.
On the Republican side, Rudy Giuliani and John McCain fared much better than Jeb Bush.
While I doubt polls like this will stop Hillary, it makes for great speculation in the time leading up to the 2008 race.
Speaking of Al Gore, we had a visit from some of our customer service reps from one of our vendors today. They live in Missouri and flew in to New York yesterday. Last night, the highlight of their trip was getting in to see a taping of the David Letterman show. When I asked who the guests were, I was told with little enthusiasm, "Al Gore." He was the only guest and (I think) the show will air this Friday. This became the big joke around the table during lunch! What a disappointment to get tix to see David Letterman, and get stuck with Al Gore as guest.
Oh well, better Al Gore than Michael Moore...
Show Comments »
June 01, 2006
Apologies Always Suffice...
...when a DemoPrat makes a remark like this:
"The man who, how do I phrase this diplomatically, who will put a bullet between the president's eyes if he could get away with it. The toughest senator, the best representative. A great, great member of the Congress of the United States."
The "triggerman" being discussed is Senator Charles Schumer (D-NY). The man making the comment is NY State Comptroller Alan Hevesi, who is also a Democrat.
Where was the comment made? At the Queens College commencement. Nice sentiment for a graduation, don't you think?
Now I really don't think Hevesi meant that Schumer would actually pull out a gun and shoot President Bush. He was speaking metaphorically. And he did apologize.
However, can you imagine the furor if a Republican said the same of a Republican lawmaker and a Democratic president?
Tacky.
Michelle Malkin says he is Bush Derangement Syndrom exhibit #999.
Show Comments »
May 24, 2006
Hillary Draws Hundreds...er, Tens
Nashville, Tennessee wasn't exactly the place to kickoff a new website touting Hillary Clinton.
GOP and the City has the details.
I wonder if the person who made this decision is still employed?
Show Comments »
May 22, 2006
Democrats: Contributing to the Culture of Corruption
If Nancy Pelosi thought that coining the little phrase "culture of corruption" when referring to the Republicans was a good idea, she might want to think again.
A congressman under investigation for bribery was caught on videotape accepting $100,000 in $100 bills from an FBI informant whose conversations with the lawmaker also were recorded, according to a court document released Sunday. Agents later found the cash hidden in his freezer.
At one audiotaped meeting, Rep. William Jefferson, D-La., chuckles about writing in code to keep secret what the government contends was his corrupt role in getting his children a cut of a communications company's deal for work in Africa.
As Jefferson and the informant passed notes about what percentage the lawmaker's family might receive, the congressman "began laughing and said, 'All these damn notes we're writing to each other as if we're talking, as if the FBI is watching,'" according to the affidavit.
Jefferson, who represents New Orleans, has not been charged and denies any wrongdoing.
Read the whole article here.
Here's the problem: No party is more privy to corruption than the other. Human beings of any political persuasion can be afflicted with greed and be tempted to do favors in return for money or goods they are not entitled to.
Republicans do it. Democrats do it.
What it boils down to is personal integrity. Either you have it or you don't.
The question remains: will Pelosi and other high-ranking Dems consider this part of a trend toward "culture of corruption," or will they try to brush it under the rug as an anomaly?
I leave you to guess the answer.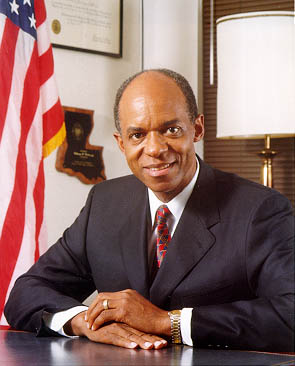 The latest addition to the Culture of Corruption
hat tip: PCD
More: Moonbattery, Michelle Malkin
Show Comments »
May 11, 2006
Anger Management Tour: Starring the Democratic Left PART II
From the American Thinker: The Politics of Anger on the Left
And President Bush, by his very persona, triggers the very wellsprings of anger and resentment on the part of the secular fundamentalists who dominate the contemporary Left. A large segment of the American intelligentsia and its hangers-on has found an object wholly outside their framework of affection. People who obtained their status and income partially from the ability to speak articulately, and master a body of learning, find it troubling when one who does not flaunt his reading of books and newspapers and does not wield a large vocabulary of eloquently-spoken words rises above them in status. It is an insult to the personal values they have embraced, and on whose rightness their own sense of self-worth depends.
[...]
The energy generated by the resulting anger intoxicates those who have no solace in the ability to command others to conform to their vision, lacking access to the instruments of state power. But like the thrill brought on by amphetamines or other nervous system stimulants, the short term surge comes at the cost of longer term damage to health.
Americans tend to favor optimism and a sunny disposition in their political leadership. Ours is a nation built on the pursuit of happiness as an inalienable right granted us by our Creator. More than two hundred years after this right was articulated in the Declaration of Independence, Ronald Reagan won overwhelming electoral support running on the slogan "Morning in America." Aside from its limited electoral appeal, anger is operationally a tricky, even dangerous force to harness. "Blind anger" is a common expression precisely because anger tends to render its carriers insensible to the complexities and subtleties of their environment. Particularly when the angry gather together, their anger feeds on itself and multiplies its force. It is precisely for this reason that mobs are recognized as dangerous. Even if the shared anger is nonviolent, it still is capable of blinding the angry to the probable reactions of others. Convinced of their utter righteousness, seriously angry political movements readily overplay the cards they are dealt. Haters of Bill Clinton learned the hard way that the middle/majority of Americans could not be mobilized to share their passion, even when they held an ace, in the form of their enemy's false testimony under oath.
Comments on my previous post on this subject prove the very point I was trying to make.
Hat tip: Dissecting the Left
Show Comments »
May 10, 2006
Censure Jimmy Carter
What a good idea! Jimmy Carter was not only our worst president ever, but is our worst ex-president ever.
Check out this site devoted to his censure.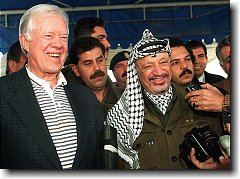 America's biggest embarrassment!
Hat tip: Stuck on Stupid via Kitty Litter
Show Comments »
May 09, 2006
Anger Management Tour: Starring the Democratic Left
Richard Cohen in today's Washington Post writes of the flurry of angry e-mails he received regarding his column on Stephen Colbert's performance at the White House correspondents' dinner. (Cohen found it unfunny.)
Kapow! Within a day, I got more than 2,000 e-mails. A day later, I got 1,000 more. By the fourth day, the number had reached 3,499 -- a figure that does not include the usual offers of nubile Russian women or loot from African dictators. The Colbert messages began with Patrick Manley ("You wouldn't know funny if it slapped you in the face") and ended with Ron ("Colbert ROCKS, you MURDER") who was so proud of his thought that he copied countless others. Ron, you're a genius.

Truth to tell, I peeked into only a few of the e-mails. I did this because I would sometimes recognize a name I thought I knew, which was almost always a mistake. When I guilelessly clicked on the name, I would get a bucket of raw, untreated and disease-laden verbal sewage right in the face.
Cohen says he's seen this kind of anger before:
But the message in this case truly is the medium. The e-mails pulse in my queue, emanating raw hatred. This spells trouble -- not for Bush or, in 2008, the next GOP presidential candidate, but for Democrats. The anger festering on the Democratic left will be taken out on the Democratic middle. (Watch out, Hillary!) I have seen this anger before -- back in the Vietnam War era. That's when the antiwar wing of the Democratic Party helped elect Richard Nixon. In this way, they managed to prolong the very war they so hated.
The hatred is back. I know it's only words now appearing on my computer screen, but the words are so angry, so roiled with rage, that they are the functional equivalent of rocks once so furiously hurled during antiwar demonstrations. I can appreciate some of it. Institution after institution failed America -- the presidency, Congress and the press. They all endorsed a war to rid Iraq of what it did not have. Now, though, that gullibility is being matched by war critics who are so hyped on their own sanctimony that they will obliterate distinctions, punishing their friends for apostasy and, by so doing, aiding their enemies. If that's going to be the case, then Iraq is a war its critics will lose twice -- once because they couldn't stop it and once more at the polls.
He's right. The teeming hatred from the far left is damaging the Democrats' cause. These folks see the world in black and white. Cohen, certainly not a fan of President Bush and his administration, dared to call a blatantly Bush-bashing comedy performance unfunny, and suddenly he's in the president's back pocket. Anything that could remotely be seen as giving the president an iota of support, no matter how small, is a reason to arrive at the gates of the castle with torches and pitchforks in hand.
To the far left, there is no such thing as having small disagreements while still sharing the larger picture. The same thing could be said for the far right, as well as any group of extremists. But as the Republicans currently control both the executive and legislative branches of our government, right wing crazies don't pose as much danger to us as the left wing crazies do to the Democrats. If they don't get it together soon, they can kiss any chance of getting back in the driver's seat goodbye.
(On another note, I've noticed that e-mail, especially the kind sent from addresses such as "RoadRageCharlie@Email.com", is undermining some of the veneer of civility in our society. It's easy to hide behind the anonymity of the keyboard, sending out missives of bile and hatred to someone we've never met and probably never will meet. It's the same with blogs, both those who write them and those who post on them. I've had to delete comments from people who, disagreeing with what I've said, decide to fill up the comment box with expletives that would make sailors of old blush. What's the answer? I don't know. But debate and polite disagreement are a heck of a lot nicer than, "You stupid ****, you don't know ****!")
Show Comments »
April 27, 2006
Teddy Kennedy Opposes Wind Farm Project
Via Boston.com:
As record oil prices turn attention to the need for renewable fuels, momentum is building in Congress to buck Senator Edward M. Kennedy's bid to block the proposed Cape Cod wind energy project, potentially reviving efforts to construct the sprawling windmill farm in Nantucket Sound.
The chairman and the top Democrat on the Senate Energy and Natural Resources committee said yesterday that when the bill Kennedy backs that would effectively halt the wind farm comes up for a vote in the Senate, they will object on procedural grounds. They say they'll argue that a renewable energy project shouldn't be lumped in with a bill governing the Coast Guard.
More:
Kennedy rejected suggestions that he doesn't like the wind farm because it would be near his Cape home, and said the project probably wouldn't be visible from the Kennedy compound. He said he's against the project because it would create a range of environmental and navigational problems and would hurt tourism, one of the area's key industries.
Frankly, I think he's against the project because he plans to provide all the power the wind farm would generate from his very own piehole. All of these years being a blowhard are finally paying off for the good senator from Taxachusetts...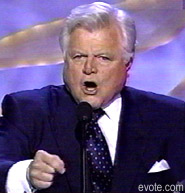 "You want wind?"
Show Comments »
March 15, 2006
No Class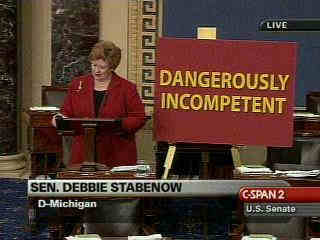 Sen. Debbie Stabenow (D-MI) went to the Senate floor Tuesday afternoon and displayed an enormous sign that read "Dangerously Incompetent" while giving a speech attacking the Bush administration over Homeland Security funding...
(source: Drudge)
And the Dems wonder why Americans aren't voting for them. Who wants to vote for a bunch of people with middle school mentalities?
Show Comments »
March 01, 2006
Conyers in Ethics Flap? Fuhgeddaboutit
Two former aides to Rep. John Conyers (D-Mich) allege that he forced them to babysit and chauffer his kids. They also claim that some of his other aides used his office to plump their pocketbooks.
Some shrug off the allegations:
A former staffer who has worked for two House Democrats said, "This type of behavior is so prevalent, the unofficial duties that members require you to do off-the-record. Most staffers are subjected to this unfair treatment. It's the great untold story on Capitol Hill."
Will there be an outcry demanding that Conyers be investigated? Not from the Democrats, I'm sure, nor its MSM mouthpiece. A Google search of "conyers former aides babysit ethics" brings up nothing. Any other search keyword ideas?
Granted, it may not be as serious as taking bribes or stealing from the kitty. But an ethics violation is an ethics violation. Will this be investigated or ignored?
In other words, don't expect the usual hue and cry regarding one of their own.
Moonbattery has more.
Show Comments »
February 14, 2006
And the Dems Wonder Why They Keep Losing
More playground antics from the Democrats:
THE DRUDGE REPORT has obtained an email sent Monday evening by Democratic National Committee (DNC) research director Devorah Adler that contains ten opposition research packets on potential 2008 GOP presidential contenders.
In one packet titled "Newt Gingrich: 08 Watch February 2006" a picture of the former Speaker of the House Newt Gingrich (R-GA) appears with --- him holding two full plates of food!
The quote underneath the Gingrich photo reads "In His Own Words: Gingrich's Solution To Childhood Obesity: 'Turn off the TV, cut the fatty diet and get exercise.' [AP, 2/8/06]"
The ten Republicans picked by the Democrat Party include: Sen. George Allen (R-VA), Sen. Sam Brownback (R-KS), Sen. Bill Frist (R-TN), Gingrich, Former Mayor Rudy Giuliani (R-NY), Sen. Chuck Hagel (R-NE), Gov. Mike Huckabee (R-AR), Sen. John McCain (R-AZ), Gov. George Pataki (R-NY) and Gov. Mitt Romney (R-MA).
One Republican strategist who had seen the opposition research packets said: 'We should expect nothing less than name-calling and referring to one's political opponents as 'fat' from Howard Dean's Democrat Party.'
This goes right up there with "Yeeargh!" and "Bush is stupid/Bush is evil."
Real strategies? Real alternatives? Who needs 'em when you can say, "Nah nah nah nah nah!"
Show Comments »
February 13, 2006
Al Gore's Most Recent Rant
It's hard to tell which former presidential figure is a bigger embarrassment to America: Jimmy Carter or Al Gore. Yes, I know Gore was never actually president, but he was vice president. And I know Jimmy Carter was only a cardboard cutout president...but I digress.
Yesterday, Al Gore saw fit to criticize our current government yet again on foreign shores. And not just any foreign shore, but Saudi Arabia.
Former Vice President Al Gore told a mainly Saudi audience on Sunday that the U.S. government committed "terrible abuses" against Arabs after the Sept. 11, 2001, attacks, and that most Americans did not support such treatment.
Gore said Arabs had been "indiscriminately rounded up" and held in "unforgivable" conditions. The former vice president said the Bush administration was playing into al-Qaida's hands by routinely blocking Saudi visa applications.
"The thoughtless way in which visas are now handled, that is a mistake," Gore said during the Jiddah Economic Forum. "The worst thing we can possibly do is to cut off the channels of friendship and mutual understanding between Saudi Arabia and the United States."
Gore told the largely Saudi audience, many of them educated at U.S. universities, that Arabs in the United States had been "indiscriminately rounded up, often on minor charges of overstaying a visa or not having a green card in proper order, and held in conditions that were just unforgivable."
"Unfortunately there have been terrible abuses and it's wrong," Gore said. "I do want you to know that it does not represent the desires or wishes or feelings of the majority of the citizens of my country."
In other words, "Please like me and hate George W. Bush."
On paper, Saudi Arabia is a friend to the U.S. However, there have been noticable cracks in that facade. From WaPo in June of last year:
"We entered one of the companies' [offices], and found there an American infidel who looked like a director . . . When he turned to me, I shot him in the head, and his head exploded. We entered another office and found one infidel from South Africa, and our brother Hussein slit his throat. We asked Allah to accept [these acts of devotion] from us, and from him."

That's how Fawwaz bin Muhammad Nashami described one part of an attack last month in Khobar, Saudi Arabia, that killed 22 people. The terrorist commander, who escaped after the attack, was interviewed by Sawt al-Jihad, a journal sympathetic to al Qaeda. As translated by the Middle East Media Research Institute, the interview provides both a detailed account of the attack and a vivid glimpse into the minds of the jihadists who seek to overthrow the royal family of Saudi Arabia.
More...
The Saudi government is in a "state of terminal denial and paralysis," according to Mai Yamani, a Saudi analyst based in London, interviewed by the Lebanon-based Daily Star.
"Termites of terrorism and violence are eating at the foundation of the state," said Yamani, an associate fellow at the Royal Institute of International Affairs in London. Yamani says she has been barred from working in Saudi Arabia because of her writings.
Saudi leaders "have not shown a united front in dealing with security issues or the question of reform in the country," she said.
The government has few good options: "If they embark on reforms, they are accused of bowing to the Americans... If they don't do anything, even the moderates are going to throw themselves in the arms of the jihadists. If they try to curb the power of the religious police -- the Mutawa -- they will have a backlash."
Indeed, there are Saudi citizens who have answered the call to jihad against America and the West. So are we or aren't we wise to be a little more discriminatory as to who we let over our borders? What's wrong with being vigilant about expired visas and fishy green cards? And I'd like for Gore to be a little more specific when he describes conditions of people being detained as being "unforgivable." What's unforgivable, not having cable television?
Al Gore may seem like a child having a temper tantrum every time he opens his mouth in public these days. He's had a case of diaper rash ever since losing the 2000 election. But that's nothing compared to the damage he does to our current government's attempts at stopping another terrorist attack here at home. If, Heaven forbid, there is another attack perpetrated by a Saudi citizen, I can hear Al Gore now:
"Why wasn't the Bush administration more vigilant in taking precautions against expired visas and green cards that weren't in order?"
Let's hope he never has the occasion to say it. But if the opportunity arises, don't put it past him.
Brainster has more, as do Michelle Malkin and Captain Ed.
Show Comments »
February 08, 2006
Dodd: This Has Not Been a Very Good Two Months
An excerpt from the NYTimes:
WASHINGTON, Feb. 7 — Democrats are heading into this year's elections in a position weaker than they had hoped for, party leaders say, stirring concern that they are letting pass an opportunity to exploit what they see as widespread Republican vulnerabilities.
In interviews, senior Democrats said they were optimistic about significant gains in Congressional elections this fall, calling this the best political environment they have faced since President Bush took office.
But Democrats described a growing sense that they had failed to take full advantage of the troubles that have plagued Mr. Bush and his party since the middle of last year, driving down the president's approval ratings, opening divisions among Republicans in Congress over policy and potentially putting control of the House and Senate into play in November.
Asked to describe the health of the Democratic Party, Senator Christopher J. Dodd of Connecticut, the former chairman of the Democratic National Committee, said: "A lot worse than it should be. This has not been a very good two months."
"We seem to be losing our voice when it comes to the basic things people worry about," Mr. Dodd
Like national security?
You know, the Dems are going about this all wrong. Rather than worry about how they are not exploiting perceived weaknesses in the Republican party, they should be coming up with their own plans for how to lead our country. Don't like how President Bush and the GOP are doing it? Then come up with real alternatives.
Instead of concrete answers, Americans get this from people like Howard Dean:
"If we get back in power, we are going to make a real effort to go get Osama Bin Laden. We are not going to let him lollygag around for four years after the September 11th attack. And also we are going to equip our troops with the body armor that they deserve in order to fight this war. We need to do a better job on defense than this President is doing."
How? He doesn't say how, and that's the problem. All rhetoric and no substance. That's todays' Democratic party in a nutshell.
Show Comments »
February 07, 2006
Getting Ready for 2008
For someone who constantly denies plans to run for prez in 2008, Hillary seems to be doing a lot to shore up her image with the public. Her latest stunt? Trying to look like someone with a strong marriage and dedicated family.
The state of Bill and Hillary Clinton's union is apparently strong - at least judging by the mongo diamond that Hillary was sporting on her ring finger yesterday.
Sources say the former President quietly gave the iceberg-sized bling - thought to exceed 3 carats - to his wife months ago, in advance of their 30th wedding anniversary on Oct. 11 last year.
Like that ring is going to make us forget all that (publicly) transpired between Bill and his extramarital amours.
Yuck.

Show Comments »
January 27, 2006
John Kerry's Swan Song
John Kerry is leading the Samuel Alito filibuster charge in a last-gasp attempt to stay relevant on the national political landscape.
"Judge Alito's confirmation would be an ideological coup on the Supreme Court," Kerry said in a written statement.
"We can't afford to see the court's swing vote, Justice Sandra Day O'Connor, replaced with a far-right ideologue like Samuel Alito."
What a laugh! With all 55 Republican senators and three Democrats on record as supporting Alito, where does Kerry think this will take him? Does he think by this asinine move he'll endear himself to the far left fringe in his obvious bid for another nomination for 2008? We expect these things from Ted Kennedy, and now Ketchup Boy seems to be trying to take over the "top lefty" spot.
Kerry was the best the Democrats could offer in 2004. He failed them. What makes him think they'll give him a second chance? Politics is a blood sport, and no prisoners are taken.
Actually, I hope he continues his quest. It's great grist for the guffaw mill. With entertainment like this, who needs reality TV?
Note: As of this writing, a poll you can find at the bottom of the story linked above shows 60% of respondents believing Kerry wants to filibuster because of politics, while 40% say its conviction. Heh.
Show Comments »
January 02, 2006
John Kerry's Union Connection
Chris over at Lucky Dawg News has a scoop about John Kerry and his sucking up to unions. Now I am not a big fan of unions, but I don't like to see anyone used. Click here to see how Chris connects the dots between Kerry, his wife, and a certain Daniel I. Booker.
Interesting, isn't it?
Show Comments »
December 15, 2005
AOL Poll: Most Still Don't Like Hillary
On AOL today there is an AP article about Hillary Clinton's rising political star since becoming a senator nearly six years ago.
In 1999, Hillary Rodham Clinton was skewered as a carpetbagger from Illinois and Arkansas who would get her comeuppance at the hands of the mayor of New York City. Today, she appears to be coasting to a 2006 Senate re-election victory that could set her up for a White House run two years later.
...
Independent polls show Clinton with solid approval ratings and far ahead of the potential Republican competition. She also has a ton of money in the bank - about $14 million as of the end of September and still counting. On Tuesday, she and her famous husband hosted 900 people at $500 a plate in New York City.
Doesn't she sound like a clear winner? However, a reader poll attached to the article tells a different story. As of this writing, here are the results thus far:
Has your opinion of Hillary Clinton changed in the last six years?
No, I still don't like her 47%
Yes, I like her more 23%
Yes, I dislike her more 17%
No, I still like her 13%
Would you vote for her for president?
No 67%
Yes 33%
Total Votes: 245,811
What do you think? Click on the article link above and vote for yourself, then check the current results...
Show Comments »
December 12, 2005
In Their Own Words
Senator Daniel Inouye is demanding that President Bush instruct the GOP to stop playing this ad, calling it a
...shameful and disgusting attempt to distract the American people from the problem in Iraq. It may improve the President's political fortunes, but the American people and our troops will pay the price. I hope that President Bush realizes how shameful it is to play politics when what we really need is leadership, and that he will direct his Party to take down this ad immediately."
Let's rewrite the above statement using a few different (but strategically placed) words:
The Democrats' latest comments about not being able to win the war in Iraq and likening our soldiers to terrorists is a shameful and disgusting attempt to distract the American people from the progress being made in Iraq. It may improve Democrats' political fortunes, but the American people and our troops will pay the price. I hope the Democrats realize how shameful it is to play politics when what we really need is leadership, and that they will cease from making such damaging comments in public immediately.
See what a little creative editing can do? The problem here is, Democrats are now upset that their own statements are being used against them. It's not as though the GOP made this stuff up. Howard Dean, John Kerry and Barbara Boxer made these statements on radio and television, but when the words they uttered are thrown back in their faces, Democrats can't take it and whine about the "shameful" playing of "politics." Do the Dems really think Americans don't realize that they too are playing politics?
As Arnold Ahlert says in today's NY Post:
Democrats seem to think that when Dean says winning the war "is an idea which is just plain wrong," or Kerry says American troops are "going into the homes of Iraqis in the dead of night, terrorizing kids and children," they're entitled to do so — without rebuttal. Any refutation of their viewpoint is an "attack," while their odious two-year "Bush lied" campaign is "principled dissent."
Their quotes betray them. They've had plenty of opportunity to demonstrate solidarity with a wartime president, support our soldiers in harm's way and send a message of American resolve to terrorist thugs. With some notable exceptions, such as Sen. Joe Lieberman, they did none of it.
It's about time they are taken to task — with their own words, no less.
Well said.
Crossposted to Lifelike Pundits.

Show Comments »
December 10, 2005
This Just Cracks Me Up
From the mouth of Rep. Earl Pomeroy (D-ND):
"My words to Howard Dean are simple - shut up."
Thank you!
Show Comments »
December 06, 2005
Dean: The Man Who Would be President
If an alien out in space heard Howard Dean's interview on WAOI, San Antonio yesterday, the alien might have thought he was listening to our country's leader speak:
"I think we need a strategic redeployment over a period of two years," Dean said. "Bring the 80,000 National Guard and Reserve troops home immediately. They don't belong in a conflict like this anyway. We ought to have a redeployment to Afghanistan of 20,000 troops, we don't have enough troops to do the job there and its a place where we are welcome. And we need a force in the Middle East, not in Iraq but in a friendly neighboring country to fight (terrorist leader Musab) Zarqawi, who came to Iraq after this invasion. We've got to get the target off the backs of American troops.
(Cue Hail to the Chief)
You have to say this for him: Dean's chutzpah has taken him a long way from being an unknown doctor to loudmouth for the Democrats. I'm wondering, though, if he has military advisers who told him about strategic redeployment? It sounds great, but will it work?
It's gone beyond questioning his patriotism at this point; I'm beginning to question his sanity.
Joe at Geosciblog has a few things to say on this subject!
Show Comments »
March 21, 2005
More Democratic Name Calling
I am really sick and tired of the Democrats getting away with calling Republicans Nazis, racists, and the like.
Now one of them is comparing Vice President Dick Cheney to Saddam Hussein.
As Cheney prepares to go on a "campaign" trip to drum up support for President Bush's plan for Social Security reform, Senator John Corzine (D-NJ) had this to say:

"He's certainly not being sent on the road to convince Democrats, moderates or Baby Boomers."
Okay, so far so good...just the usual political pandering. Then, apparently:
In a conference call with reporters Monday, Sen. John Corzine, D-NJ, one of the leading opponents of the president's plan, said Cheney had "a virtual career of disdain for Social Security," and compared his appearances to sending Saddam Hussein to campaign for democracy in Iraq.
What is it about the Democrats that they think they can compare Republicans with every two-bit dictator who has roamed the Earth?
Republicans could compare someone like Barbara Boxer to...oh, say Che Guevara. But likely as not, it would be taken as a compliment.
The Right would never get away with calling someone on the Left a Nazi or Saddam Hussein...as well they shouldn't. So why the h*ll do Democrats keep getting a free pass?
Show Comments »
Dean is Delusional
Howard Dean, oh exalted DNC chair, now thinks the Democrats hold a majority in the country.
In a speech to his party last night, Dean made the following observations:
While Dean wants focused policies, he acknowledged some issues aren't clear-cut and his party must work hard to come up with effective messages.
It will be difficult to win over the many Americans who appear to disagree with Democratic policies on social and moral issues, such as abortion, he said.
"The majority is on our side. We need to figure out how to talk differently about these issues."
What majority? Who claimed victory last November 2?
Dean is an MD. Perhaps he should consider prescribing himself medication for schizophrenia...
Show Comments »