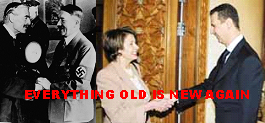 May 20, 2010
Blog Mohammed Day
For about an hour, I posted a lovely stick figure of my own creation. But after stumbling on this I knew I had a win/win.
This slanderous and without a doubt blasphemous cartoon was created by.... wait for it... a Muslim! By a mullah no less. This piece of propaganda was meant to stir up outrage throughout the Muslim ummah.
So, if someone feels like going all fatwah--eee, I would suggest directing your pointless rage at the mullah who made this picture to mess with your head.
update: Imam Ahmad Abu Laban of the Islamisk Trossamfund and Akhmad Akkari were the mullahs responsible for the cartoon below - please contact either of these two men if you have a problem with this depiction and ask exactly what did they mean?
update 2: As of today, we've removed the image. Mainly because we found the cartoon offensive and poorly done. I strongly recomend that Imam Abu Laban and Akhmad Akkari work on their drawing skills.
Show Comments »
March 12, 2008
Sheer Insanity: The Burka as Haute Couture
This slideshow over at ABC.com is absolutely one of the most ridiculous things I have ever seen: the burka as a fashion statement.
Look at the rich colors and fun fabrics...and be sure not to miss the head-to-toe covering of sinful flesh and the mesh opening for the eyes that gives a woman a clouded view of the world. Which, of course, makes sense for someone who would choose to wear such a garment of her own free will.
The idjits who designed these, the models who wore them, and the photographers who captured them in all their Kodachrome glory have probably never been subjected to the Shari'a law that forces women into this sack. But it's multicultural, doncha know? And multiculturalism has taken the place of common sense in too many places today.
Maybe I will order one...the one in camo. It never hurts to be prepared.
UPDATE: Apparently this was a joke...okay, I was pwned.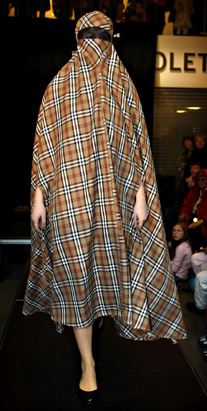 A fun, stylish Burberry-inspired number...but you'd get 200 lashes because it's too short.
Show Comments »
May 24, 2007
Islam vs. Islamists UPDATE: PBS Will Allow Broadcast
From the Washington Times:
The Corporation for Public Broadcasting (CPB) and Oregon Public Broadcasting (OPB) announced a joint agreement yesterday to make "Islam vs. Islamists" available to the 354 Public Broadcasting Service member stations across the nation as a "stand-alone" TV program, with a little extra embellishment.

"We plan to distribute the film to any public broadcasting station that wants it. We'll package it and also produce some sort of discussion to accompany the film, and give it some context," OPB President Steve Bass told The Washington Times yesterday.

"There has been a lot of debate on whether this program needed editing. Some said yes, some no. When you're dealing with an object of controversy, it is better to let the audience draw their own conclusions," Mr. Bass said.

"As stewards of the investment in public broadcasting, this fulfills our responsibility to the taxpayer," CPB President Patricia Harrison said yesterday.

The often-disquieting 52-minute film explores the struggles of moderate American Muslims at the hands of their radical brethren and gives details about a "parallel" Islamist society that is slowly but surely developing within the U.S. borders. The film was produced by conservative columnist Frank Gaffney Jr., founder of the Center for Security Policy, filmmaker Martyn Burke and Middle East scholar Alex Alexiev.
Goodness, let the audience draw their own conclusions? What a concept! It's going to sweep the nation! As for responsibility to the taxpayer, you're darn tootin'. It's our tax dollars that paid not only for the creation of this film, but also for the salaries of the likes of the high-and-mighty Patricia Harrison.
We may have to wait a few months, but the film will be aired by those stations who wish to. I have to wonder, though, what the "extra discussion" will be about. Still, it's a victory.
If you're one of those who wrote to PBS letting them know of your displeasure, pat yourself on the back! And be sure to contact your local station and let them know you want them to air it. We the people...doing the work those on our dime won't.
In the beginning: Islam vs. Islamists: Trailer Online
Show Comments »
Dr. Zudi Jasser: Must-See Interview
Erick Stakelbeck, who has regular features on Hot Air, interviews Dr. M. Zuhdi Jasser. Dr. Jasser is an American of Syrian descent who spent 11 years in the US Navy, and currently serves as chairman of the Phoenix-based American Forum for Islamic Democracy (whose slogan is, "At home with American liberty and freedom"). As Stakelbeck says, Jasser, a devout Muslim, realizes that "Muslims are freer here than anywhere in the world."
During the interview, Dr. Jasser discusses his personal experiences with one of the "flying imams," how the John Doe lawsuit fosters the goals of terrorism, the best antidote to Islamism, and the decision by PBS to censor the documentary Islam vs. Islamists.
Be sure to watch this one. We need more sane voices like Dr. Jasser's in this debate.
Show Comments »
May 16, 2007
Londonistan Calling
A disturbing look at what London in particular (and Britain in general) has become by the erudite Christopher Hitchens.
Show Comments »
May 08, 2007
Halal or Haram?
Robert Spencer of Jihad Watch has a video up on Hot Air which points out some of the pitfalls we infidels face with our ignorance of Shari'a law. So if you're worried about insulting Muslims as a result of this ignorance, you can play a simple game called Halal or Haram? to find out what's okay and what's not okay in the eyes of those watchful imams.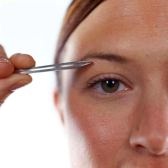 Eyebrow plucking is a no-no according
to Islamic Shari'a law
Show Comments »
May 04, 2007
Michelle Malkin Interviews Co-Producer of Islam vs. Islamists
Frank Gaffney, co-producer of the banned PBS flick about peaceful American Muslims and their struggle to take their religion back from the Islamofascists, is interviewed by Michelle Malkin, with video on Hot Air.
In a nutshell: Complaints by Islamist sympathizers scuttled the film. If the producers don't make the PC changes demanded by PBS (or rather CPB, the Corporation for Public Broadcasting), they won't air the film. And, since the producers received funds from CPB to make the film, CPB has first dibs on distribution rights...which means no one else can air the film either.
Action is required! You can sign a petition at FreeTheFilm.net, you can contact PBS directly, or you can contact your representatives in the House and Senate.
PBS/CPB is censoring an important film financed by our tax dollars. The ball is now in our court.
Previous: Islam vs. Islamists: Trailer Online
Show Comments »
May 02, 2007
Finnish Blogger Summoned by Police for Criticizing Islam
According to Gates of Vienna, Finnish writer and blogger Mikko Ellilä "has been summoned by the police for a hearing under Finland's 'incitement against groups' law." Click on the link above for more details.
While no charges have been brought yet, the mere fact that he is being brought before the police for merely being critical of Islam does not bode well for free speech in that quarter.
If I lived in Finland, I guess I'd be called before the cops too.
h/t: Larwyn
Show Comments »
April 02, 2007
British Schools Drop Holocaust Studies to Avoid Offending Muslims
Some schools in Britain are no longer studying the Holocaust for fear of offending resident Muslims (h/t Moonbattery):
Schools are dropping the Holocaust from history lessons to avoid offending Muslim pupils, a Governmentbacked study has revealed.
It found some teachers are reluctant to cover the atrocity for fear of upsetting students whose beliefs include Holocaust denial.
There is also resistance to tackling the 11th century Crusades - where Christians fought Muslim armies for control of Jerusalem - because lessons often contradict what is taught in local mosques.
The findings have prompted claims that some schools are using history 'as a vehicle for promoting political correctness'.
Those of us who wonder why Blair's government has not been more forceful in the hostage situation with its sailors can quit wondering. It seems all of Britain is infected with PC-itis, especially as it pertains to Muslims. My advice to the Brits: start ordering those prayer mats and burqas now and beat the rush.
UPDATE: Brainster asks the crucial question:
Hey, aren't these the same school teachers who courageously teach evolution and sex education despite the fact that Christian fundamentalists object? What could possibly be the difference here?
Show Comments »
March 24, 2007
Cinnamon Stillwell Appointed N. California Rep of Campus Watch
Congrats to Cinnamon Stillwell! From her e-mail:
Having spent the last five years as a political columnist and more recently, a blogger, I've now decided to further my involvement in the battle of ideas. In particular, the one raging on American college campuses and most especially, Mideast studies. At this critical juncture in history, it's imperative that the next generation receive an accurate, unbiased education in this most crucial of subjects.
To that end, I'm happy to announce that starting April 1, I'll be the Northern California Representative for Campus Watch. Campus Watch is a program of the Middle East Forum, a think tank that aims to improve Middle East studies at North American universities through research and writing. Founded by Mideast scholar Daniel Pipes and based in Philadelphia, Campus Watch will be developing a presence on the West Coast and I'll be assisting those efforts.
As far as columns go, I'll be writing for Campus Watch and continuing to write for SFGate.com (once a month on a freelance basis) and FamilySecurityMatters.org. Along with contributing to the Campus Watch blog, I plan on continuing to maintain my own blog.
Here's her blog post about it.
From the press release:
Philadelphia – The Middle East Forum has appointed R. John Matthies to be assistant director of Islamist Watch and Cinnamon Stillwell to be Northern California representative of Campus Watch.
Mr. Matthies is currently assistant professor of French literature at Brigham Young University. He holds a Ph.D. in romance languages and literatures from the University of Washington (Seattle), where he has also taught, and has a special interest in Islam in France and French imperialism in North Africa. His linguistic expertise includes knowledge of Arabic and Hebrew.
Islamist Watch, a new project of the Middle East Forum, combats the ideas and institutions of nonviolent, radical Islam in the United States and other Western countries.
Ms Stillwell is a contributing political columnist for the San Francisco Chronicle online and a contributing editor to FamilySecurityMatters.org. Her articles have appeared in many other publications, plus she maintains a weblog and writes for other internet sources. She has written about Yale for Campus Watch and about Duke, and UC Berkeley for other publications.
Campus Watch, a program of the Middle East Forum, aims to improve Middle East studies at North American universities through research and writing.
It's a well-deserved honor. I'm sure she'll be keeping everyone on his toes!
Show Comments »
February 14, 2007
PC: Incubator of Islam
This is absolutely a must-read at American Thinker today. Go now!
Show Comments »
Utah Shooter Muslim?
UPDATE: WND reports that Talovic was Muslim.
Sweetness and Light dares to conjecture what the MSM won't (h/t Atlas Shrugs) about the lone gunman in a Utah mall this week, who happened to be a Bosnian refugee:
And while I'll admit it is a bit of conjecture on my part to say that Mr. Talovic is a Muslim.
It is a pretty safe bet, given that his first name is reported to be Solejman, which is a variation on Suleiman.
Lest we forget, Suleiman the Magnificent is one of the greatest Muslim heroes. Not many Bosnian Christians would be naming their children Solejman.
So I think it's a safe bet Mr. Talovic is a Muslim.
Didn't our former commander-in-chief Clinton send our soldiers into Bosnia to save the Muslims there from being exterminated?
The big story on the AP today is how an off-duty policeman was key in preventing more senseless deaths, and bravo to Kenneth K. Hammond for jumping in at a crucial moment. But according to the piece, investigators are still "trying to figure out" why Talovic went on his rampage.
If this guy really is a Muslim, don't expect to hear much more about it.

Show Comments »
February 07, 2007
French Paper On Trial for Muhammed Cartoons
This is a case that we all need to be watching closely. A satirical weekly magazine, Charlie-Hebdo is defending itself for daring to run the Muhammed cartoons a year ago.
Charlie-Hebdo and the publication's director, Philippe Val, are charged with "publicly slandering a group of people because of their religion." The charge carries a possible six-month prison sentence and a fine of up to $28,530.
The Paris Mosque and the Union of Islamic Organizations of France brought the charges.
[...]
France's Charlie-Hebdo ran the drawings last February. The magazine featured a cover page showing Muhammad with his head in his hands, crying and saying: "It's hard to be loved by idiots."
In opening arguments Wednesday, Val defended the decision to run the drawings, saying they were aimed "at ideas, not men."
"If we no longer have the right to laugh at terrorists, what arms are citizens left with?" he asked, adding "How is making fun of those who commit terrorist acts throwing oil on the fire?"
The article says that "observers" don't expect French Muslims to get their knickers in a bunch if the magazine's director gets off. That's a mistake. This kind of attitude just goes to show how blind the French really are to what's happening in their country.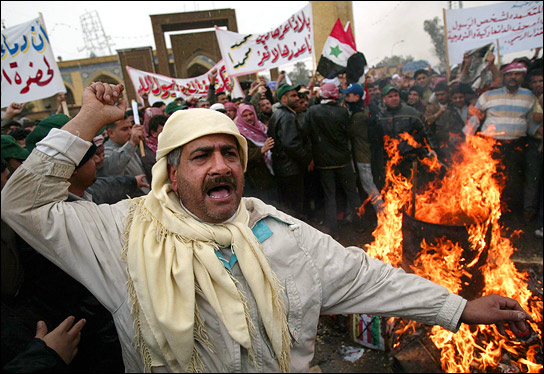 Remember the rioters? They'll be back.

Show Comments »
December 06, 2006
Mahmoud Ahmadinejad Says "Follow the Path of God"...Or Else
Funny, he didn't talk about this in the letter he wrote to us in fellowship last week:
"These oppressive countries are angry with us ... a nation that on the other side of the globe has risen up and proved the shallowness of their power," Ahmadinejad said in a speech in the northern town of Ramsar, the semi-official news agency Mehr reported Wednesday.
"They are angry with our nation. But we tell them 'so be it and die from this anger'. Rest assured that if you do not respond to the divine call, you will die soon and vanish from the face of the earth," he said.
I'm assuming that divine call does not include Christianity, Judaism, Buddhism, Taosim, etc.
"We hope to have the big nuclear celebration by the end of the year (March 2007)," Ahmadinejad said, echoing comments he has made on numerous occasions in recent months.
What would a big nuclear celebration entail? A tickertape parade and fireworks? Or a test of that nuclear power that, of course, Iran is planning to use strictly for a clean source of energy?
h/t: Cookiewrangler
Previous:
Ahmadinejad's Letter: Let's Talk
Oh Boy, a Letter!
Show Comments »
November 30, 2006
Ahmadinjad's Letter: Let's Talk
Oh, to get that dialogue flowing. If we could just talk about our problems, they'll all just go away and everyone will be happy. Right?
That's what Mahmoud Ahmadinejad wants you to think. He's written such a reasonable letter that lets us know what's on his mind. He really does care! The full text is here. Let's look at some of the passages:
Noble Americans,
Such courtesy and respect!
Were we not faced with the activities of the US administration in this part of the world and the negative ramifications of those activities on the daily lives of our peoples, coupled with the many wars and calamities caused by the US administration as well as the tragic consequences of US interference in other countries;
Were the American people not God-fearing, truth-loving, and justice-seeking, while the US administration actively conceals the truth and impedes any objective portrayal of current realities;
And if we did not share a common responsibility to promote and protect freedom and human dignity and integrity;
Then, there would have been little urgency to have a dialogue with you.
Were Americans not attacked by Islamic extremists from your part of the world; were we not dealing with the consequences of the previous adminstration's failure to act upon similar attacks; if we didn't have to worry about Iran's support of Islamic terrorist groups in the Middle East and around the world; and as Iran has yet to show responsibility to promote and protect freedom and human dignity and integrity...there really isn't much to talk about, is there?
More:
We all deplore injustice, the trampling of peoples' rights and the intimidation and humiliation of human beings.
Except when they are women, Jews, Christians, and other infidels.
Palestine is brought into the mix:
Palestinian mothers, just like Iranian and American mothers, love their children, and are painfully bereaved by the imprisonment, wounding and murder of their children. What mother wouldn't?
Jewish mothers do, but they don't count.
For 60 years, the Zionist regime has driven millions of the inhabitants of Palestine out of their homes. Many of these refugees have died in the Diaspora and in refugee camps. Their children have spent their youth in these camps and are aging while still in the hope of returning to homeland.
The Palestinians continue to support leaders who refuse to comporomise despite many generous offers made by the Israeli government. The Palestinians' and their supporters' main objective is to drive the Israelis into the sea or blow them off the face of the Earth, whichever method proves most expedient.
Let's take a look at Iraq. Since the commencement of the US military presence in Iraq, hundreds of thousands of Iraqis have been killed, maimed or displaced. Terrorism in Iraq has grown exponentially. With the presence of the US military in Iraq, nothing has been done to rebuild the ruins, to restore the infrastructure or to alleviate poverty. The US Government used the pretext of the existence of weapons of mass destruction in Iraq, but later it became clear that that was just a lie and a deception.
A "deception" that the rest of the world believed as well, and proof is being produced that it wasn't such a deception after all. And the numbers of Iraqis who are killed or maimed would be much lower if terrorists bent on undermining this fledgling democracy did not exist.
Although Saddam was overthrown and people are happy about his departure, the pain and suffering of the Iraqi people has persisted and has even been aggravated.
The likelihood that Iran has been supporting militants (read: terrorists) financially and logistically need not concern you.
There is much, much more...more than I can cover here. Let's skip to the end:
We should all heed the Divine Word of the Holy Qur'an:
"But those who repent, have faith and do good may receive Salvation. Your Lord, alone, creates and chooses as He will, and others have no part in His choice; Glorified is God and Exalted above any partners they ascribe to Him." (28:67-68)
I pray to the Almighty to bless the Iranian and American nations and indeed all nations of the world with dignity and success.
Yes, we should all heed the Qur'an, as conversion to Islam is our only hope of salvation in Ahmadinijad's eyes, before Armageddon.
Michelle Malkin has a wrapup of other reviews of this extraordinary piece of rubbish. Gary at Ex-Donkey also responds.
Previous: Oh Boy, A Letter!
Show Comments »
November 21, 2006
Six Imams Removed From Plane
From Breitbart:
Six Muslim imams were removed from a US Airways flight at Minneapolis- St. Paul International Airport on Monday and questioned by police for several hours before being released, a leader of the group said.
The six were among passengers who boarded Flight 300, bound for Phoenix, around 6:30 p.m., airport spokesman Pat Hogan said.
A passenger initially raised concerns about the group through a note passed to a flight attendant, according to Andrea Rader, a spokeswoman for US Airways. She said police were called after the captain and airport security workers asked the men to leave the plane and the men refused.
Apparently the imams were saying their prayers while waiting. One of them expressed dismay that Americans know so little about Islam...but not for want of trying on the part of Muslim leaders.
CAIR is on the case:
Ibrahim Hooper, spokesman for the Washington-based Council on American-Islamic Relations, expressed anger at the detentions.
"CAIR will be filing a complaint with relevant authorities in the morning over the treatment of the imams to determine whether the incident was caused by anti-Muslim hysteria by the passengers and/or the airline crew," Hooper said. "Because, unfortunately, this is a growing problem of singling out Muslims or people perceived to be Muslims at airports, and it's one that we've been addressing for some time."
I don't know why anyone might get nervous around a group of Muslims on a plane. Could it be because of this? Or this? Until we see more active condemnation of atrocities perpetrated in the name of Islam, don't expect the majority of "uninformed" Americans to embrace the religion of peace.
UPDATE (11:41 am): In a (somewhat) related piece, Michelle Malkin tells us how Nonie Darwish was disinvited to speak at Brown University because she's too controversial in the eyes of Muslim students. Once again, open debate is squelched in the name of political correctness.

Show Comments »
November 15, 2006
Conyers: Don't Go Dissin' Islam
UPDATE: I erroneously said this would "criminalize" disrespect of Islam, and Paul (always so kind in his criticisms) pointed out my error. However, I still want to know when such a resolution is coming for other religions.
In what might be a warmup to impeachment hearings, John Conyers is sponsoring House Resolution 288, which would, for all intents and purposes, criminalize disrespect of (read: criticism of) Islam. (h/t: LGF)
Read it for yourself:
Expressing the sense of the House of Representatives condemning bigotry and religious intolerance, and recognizing that holy books of every religion should be treated with dignity and respect.
Whereas believers of all religions, including the Abrahamic faiths of Christianity, Judaism and Islam, should be treated with respect and dignity;
Whereas the word Islam comes from the Arabic root word meaning "peace" and "submission";
Whereas there are an estimated 7,000,000 Muslims in America, from a wide variety of ethnic backgrounds, forming an integral part of the social fabric of America;
Whereas the Quran is the holy book for Muslims who recite passages from it in prayer and learn valuable lessons about peace, humanity and spirituality;
Whereas it should never be official policy of the United States Government to disparage the Quran, Islam, or any religion in any way, shape, or form;
Whereas mistreatment of prisoners and disrespect toward the holy book of any religion is unacceptable and against civilized humanity;
Whereas the infringement of an individual's right to freedom of religion violates the Constitution and laws of the United States: Now, therefore, be it
1 Resolved, That the House of Representatives–
(1) condemns bigotry, acts of violence, and intolerance against any religious group, including our friends, neighbors, and citizens of the Islamic faith;
(2) declares that the civil rights and civil liberties of all individuals, including those of the Islamic faith, should be protected;
(3) recognizes that the Quran, the holy book of Islam, as any other holy book of any religion, should be treated with dignity and respect; and
(4) calls upon local, State, and Federal authorities to work to prevent bias-motivated crimes and acts against all individuals, including those of the Islamic faith.
Notice that Conyers went with an "estimated 7,000,000 Muslims in America." That number is hotly debated, but giving the higher number gives the bill more credence.
Of course, he didn't mention the intolerance displayed by those Muslims who believe in restoring Shari'a law toward women, homosexuals, and non-Muslims in general (you know, us infidels).
Be sure to click on the first link above to read some of the groan-inducing comments left by Conyers' sycophants.
I'm waiting for a law that forbids the disrespect of Judaism and Christianity: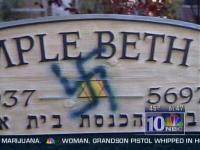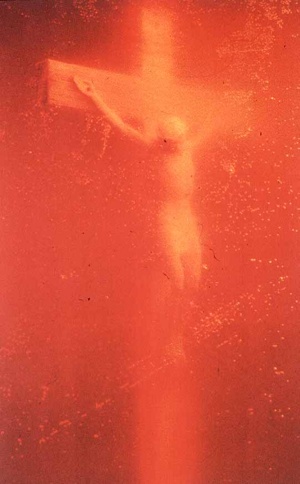 Show Comments »
November 09, 2006
Bullying Works
This is something DePaul University's Paul Klocek found out the hard way.
John Ruberry, the Marathon Pundit, has been following Klocek's story (Klocek was fired by DePaul after arguing with Muslim students about the Israeli-Palestinian conflict), and he's dug up another nugget about (Council for American Islamic Relations) CAIR's role in the affair. Read about it here.
Show Comments »
October 09, 2006
More Danish Muhammed Madness
The religion of peace is up in arms yet again:
COPENHAGEN, Denmark - Videos showing anti-immigrant party members mocking the Prophet Muhammad were pulled from Web sites Monday as two youths seen in the clips were reported in hiding and the Foreign Ministry warned Danes against travel to much of the Middle East.

Muslim clerics from Egypt and Indonesia condemned the video broadcast in Denmark last week showing members of the Danish People's Party youth wing with cartoons of a camel wearing the head of Muhammad and beer cans for humps. A second drawing placed a turbaned, bearded man next to a plus sign and a bomb, all equaling a mushroom cloud.
More:
In Jordan on Monday, a powerful umbrella for some 200,000 professionals including engineers, doctors and journalists, said the video "reveals hatred toward the Prophet who came to the world with a message to enlighten the people."
Is this the message they're talking about?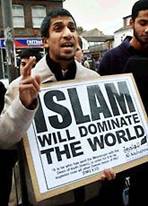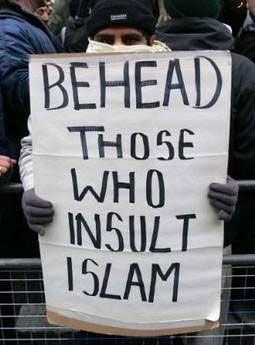 Sorry, but until Muslims can handle criticism and even fun being poked at their expense, don't expect the rest of us to believe in the enlightenment they promise. To paraphrase what I've said before, followers of a religion who whine and cry every time said religion is the subject of unflattering commentary, that religion must not have much to recommend it.
And for those of you who may have missed the cartoons that started the whole cartoon fatwah, click here.
More coverage from: The London Fog, Shooting the Messenger and Anti-Strib

Show Comments »
September 27, 2006
Germany Goosesteps Toward Dhimmitude: Part II
More on a subject I blogged about two days ago. Via MyWay News:
BERLIN (AP) - German Chancellor Angela Merkel warned against "self-censorship out of fear" on Wednesday, a day after a leading Berlin opera house decided not stage a production because of concerns it could provoke Islamic ire.
German leaders widely condemned the Deutsche Oper's decision not to put on a production of Mozart's "Idomeneo" with a scene featuring the severed heads of Jesus, Buddha and the Prophet Muhammad, after Berlin security officials said they could not guarantee the opera house's security in the event of violent protests.
"We must be careful that we do not increasingly shy away out of fear of violent radicals," Merkel told the Hannover Neue Presse. "Self-censorship out of fear is not tolerable."
Muslim reaction in Germany is mixed:
Ali Kizilkaya, leader of Germany's Islamic Council, welcomed the move, saying a depiction of Muhammad with a severed head "could certainly offend Muslims."
But a leader of Germany's Turkish community said it was time Muslims accepted freedom of expression in art.
"This is about art, not about politics," Kenan Kolat told Bavarian Radio. "We should not make art dependent on religion - then we are back in the Middle Ages."
But we know which reaction will get the headlines. So do the fearful German artsy types and the Islamofascists...which is why the opera was cancelled in the first place. (Note there is no fear of Christian or Buddhist reprisals. Think we're on to something here?)
Yes, I call them Islamofascists. Victor Davis Hanson, in an article for National Review Online earlier this week, tells us why it is indeed correct to call these radicals Islamofascists:
Envy and false grievance, as in the past with Italian, German, or Japanese whining, are always imprinted deeply within the fascist mind. After all, it can never quite figure out why the morally pure, the politically zealous, the ever more obedient are losing out to corrupt and decadent democracies — where "mixing," either in the racial or religious sense, should instead have enervated the people.
More:
Such reactionary fascism is complex because it marries the present's unhappiness with moping about a regal past — with glimpses of an even more regal future. Fascism is not quite the narcotic of the hopeless, but rather the opiate of the recently failed now on the supposed rebound who welcome the cheap fix of blaming others and bragging about their own iron will.
By throwing in the towel before one's hat has even been thrown into the ring, Gemany continues its march toward dhimmitude, despite Merkel's words of caution. The rest of Europe seems to be going along for the ride. American leftists are always urging us to be more like Europe. This is definitely one more reason why we should not be.
Michelle Malkin has more.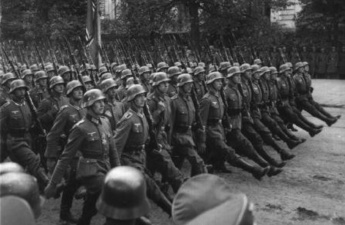 Not marching toward the Third Reich, but to dhimmitude
Show Comments »
September 25, 2006
Germany Goosesteps Toward Dhimmitude
From Breitbart.com:
Berlin's Deutsche Oper has removed the provocative staging of a Mozart opera from its schedule for fear of enraging Muslims, the opera house said in a statement.
One of three opera houses in the German capital, it cancelled director Hans Neuenfels's production of "Idomeneo", a 1781 drama set in ancient Crete, because authorities warned it could present an "incalculable security risk".
In the staging, which sparked audience protests during its premiere in December 2003, King Idomeneo presents the lopped-off heads of Poseidon, Jesus, Buddha and the Prophet Mohammed and displays them on four chairs.
German critics saw the show at the time as a radical attack on religion and religious wars.
Musical director Kirsten Harms decided to cancel the new staging of the opera, scheduled for November, to avert "any danger to the audience or staff" that could arise from violent protests.
The opera itself deals with resistance to sacrifices demanded by the gods but makes no mention of any of the world's major religions.
The cancellation comes two weeks after Pope Benedict XVI sparked Muslim anger on a visit to his native Germany when he quoted from a medieval text that criticized some teachings of the Prophet Mohammed as "evil and inhuman".
And the Danish newspaper Jyllands-Posten set off a firestorm in the Muslim world when it printed 12 caricatures of the Prophet Mohammed last September and other, mostly European, newspapers followed suit.
Islam considers images of the prophet to be blasphemous.
Sparked Muslim anger? Set off a firestorm? Does Breitbart.com subscribe to Euphemisms R Us?
I wonder if the musical director worried about the reactions of Buddhists, Christians and Greek mythology fans? I rather doubt it. Not surprising, since they aren't likely to riot, burn buildings and issue fatwahs.
It's fortunate indeed for the theatrical community that most religions don't go into murderous mode every time those religions are depicted in an unflattering manner onstage. What would we be left with then?
More on this story from: Western Resistance, The Dread Pundit Bluto
Show Comments »
September 20, 2006
What the MSM Didn't Tell You
Hugh Hewitt reports that major press outlets didn't bother to report a very important part of Iranian President Mahmoud Ahmadinejad's speech at the UN yesterday...the ending. Here it is:
"I emphatically declare that today's world more than ever before longs for just and righteous people with love for all humanity, and above all longs for the perfect, righteous human being and the real savior who has been promised to all peoples and who will establish justice, peace and brotherhood on the planet. Oh Almighty God, all men and women are your creatures and you have ordained their guidance and salvation. Bestow upon humanity that thirst for justice, the perfect human being promised to all by you, and make us among his followers among those who strive for his return and his cause."
Hewitt writes:
When the fanatical president of a strong and ambitious for nuclear weapons country appears at the United Nations, that's news. When that president has repeatedly threatened Israel with destruction, denied the Holocaust's existence, and sent long rambling letters to the leaders of the U.S., France, and Germany, people will want to know what he says and what it means.
When he delievers a radical address that --in soft tones, yes, but urgent ones-- declares the U.N. to be illegitimate, the war against Israel by Hezbollah to be a creation of the U.S., goes out of his way to alert Christians that Jesus was just a prophet, and then closes with an apocalypse-welcoming appeal to God, that's not just news, it is very crucial news, news that underscores many important facts for the West and the U.S., chief among them that "diplomacy" leading to a "better deal" isn't on this radical's mind. He wants his nukes. He wants the apocalypse.
And the appeasement press does not convey this; doesn't even bother to report the closing appeal to the Almighty.
Why would they? To liberals and their MSM cheerleaders, Western conservatism is a greater threat. So blinded by that ideal, they refuse to take Ahmadinejad or other Muslim radicals seriously.
To their...and our...peril.
On a tip from husband dude.
Show Comments »
When Shari'a Law Comes A-Callin'
Last week, Rosie O'Donnell made her debut on the daily all-women gabfest The View. During the show, which aired live on the fifth remembrance of 9/11, Rosie made the following claim:
"...radical Christianity is just as threatening as radical Islam in a country like America."
Cue loud applause from the audience.
Of course, living in a country where one has the right to say just about anything without fear of retribution no matter how wrong or tasteless, it was easy for Rosie to say these words. Here she is, an open lesbian in a publicly acknowledged relationship, raising children and living the good life afforded her by her career. Does Rosie really think that radical Christians would take those things away from her? Does she really believe that radical Christians are the same as radical Muslims? If so, she doesn't get out very often.
The following are all examples of the justice meted out by Shari'a law, the Islamic law that all radical Muslims would have ruling not only in Middle Eastern countries, but the world over. WARNING: Some of the following images are disturbing. If you are easily upset, don't look.
Read More "When Shari'a Law Comes A-Callin'"
Show Comments »
September 15, 2006
Oriana Fallaci Dies
It took cancer to silence the woman who would not be silenced by her critics. Oriana Fallaci, the Italian journalist who penned books "The Rage and the Pride" and "The Force of Reason" (both highly critical of Muslims and Islam), died today.
A translation of the essay she wrote after the London bombings can be found here.
A lawsuit was lodged against Fallaci in Italy by disgruntled Muslim activist Adel Smith (accusing her of defaming Islam) earlier this year. In my opinion, followers of a religion who feel they must turn to the courts every time someone criticizes said religion must not have much to recommend it...much like leftism.
Fallaci refused to be cowed by Islamic fascists and their supporters, whose main goal is to silence any who would dare to go against them. We should all follow her lead.
Michelle Malkin has a wonderful tribute. Be sure to check the trackbacks on her entry for other posts about an amazing woman.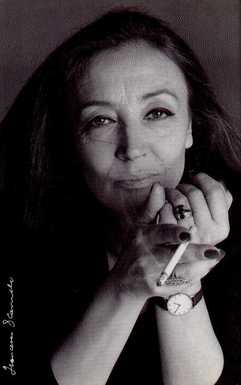 Spoke her mind
September 05, 2006
Brits Introduce Burqa-Style Hospital Gowns
Further demonstrating how far down the Dhimi Path the Brits have gone, a hospital has introduced a burqa-style hospital gown to keep Muslim women properly modest. Britain can be comforted, knowing that creating gowns acceptable to Muslim patients is higher on the priority list than fixing its problem-ridden National Health Service (NHS).
The blue "Inter-Faith Gown" is the first of its type in Britain and has been trialled at the Royal Preston Hospital. It will be available to those who want it from November 1.
Hospital bosses said the gown -- which covers the entire body from head to toe -- provides extra comfort and cover for patients undergoing medical procedures and whose culture or religion requires more modest attire.
They described the response from patients as "overwhelming" and said it had attracted interest from a number of other hospitals around the country.
Inter-Faith gown? Somehow I doubt Christians, Jews or Hindus will be wearing it. Unless, of course, Islamofascists succeed in converting the world's population to Islam.
The Daily Express editorialized:
"If people want to live in Britain, then they must accept British standards and the British way of life... The standard hospital gown is surely good enough for everyone."
If the gown is a success, British hospitals can expand on their Muslim-inspired products, such as halal hospital food and rooms that have an extra bed for that male relative who has to accompany women in public.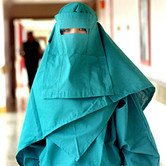 No, you can't see her appendectomy scar
Moonbattery has more.

Show Comments »
August 31, 2006
Muslim Miss England: Stereotyping Causes Terrorism
I think that crown she's wearing is putting a wee bit too much pressure on her poor little brain. According to 19-year old Hammasa Kohistani, who became the first Muslim Miss England last year:
"The attitude towards Muslims has got worse over the year. Also the Muslims' attitude to British people has got worse. (Note how British Muslims don't consider themselves British? -- ed.)
"Even moderate Muslims are turning to terrorism to prove themselves. They think they might as well support it because they are stereotyped anyway. It will take a long time for communities to start mixing in more.
"People may feel I am just a sugar coating on the situation. I am a symbol to show it's not really that bad."
But at the same time, she said, "there is this hostility, which comes "mainly from the Government."
The Prime Minister told MPs last month that moderate Muslims were not doing enough to tackle extremists in their own community.
Miss Kohistani said: "Tony Blair addressed Muslims in particular, telling them that they need to sort out the problem within. That was a huge stereotype of the Islamic community. Even the more moderate Muslims have been stereotyped negatively and feel they have to take actions to prove themselves."
So the recent acceleration of terrorist attacks perpetrated by Muslims is in retaliation to being stereotyped. I see. Has it not occurred to Miss Kohistani that blowing oneself up in a crowd of "non-believers" in order to achieve paradise in the name of Allah has been and always will be a problem within the Muslim community?
And why would "moderate Muslims" take to violence and terrorism to prove themselves if they don't like being stereotyped as terrorists? That's like Barbra Streisand having her nose redone to an even larger size to prove that she doesn't like being stereotyped as someone with a large, unattractive nose.
I suppose the denouncements from Muslim community leaders and the death threats Kohstani received upon winning the pageant are also stereotypical behavior that is the fault of the British government. There's nothing like being able to point the finger of fault at someone else to ease nasty tensions.
It seems to me Kohstani is more concerned about appeasing radicals who might be targeting her for harm than truly analyzing the matter. In this, she is proving herself to be more European than she might like.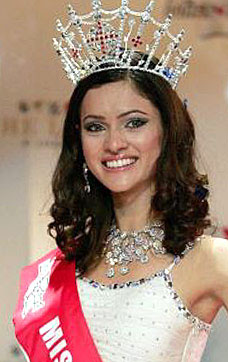 Sucking up to those who say, "Off with her head!"
Show Comments »
August 21, 2006
Not All Professors are PC
It seems that not all professors are fooled by the kind of PC nonsense that groups like CAIR would like to blind us with. The letter below was written by a professor at Michigan State University with regard to a planned protest by a student Muslim group about the Danish Muhammed cartoons:
Dear Moslem Association:
As a professor of Mechanical Engineering here at MSU I intend to protest your protest. I am offended not by cartoons, but by more mundane things like beheadings of civilians, cowardly attacks on public buildings, suicide murders, murders of Catholic priests (the latest in Turkey!), burnings of Christian churches, the continued persecution of Coptic Christians in Egypt, the imposition of Sharia law on non-Muslims, the rapes of Scandinavian girls and women (called "whores" in your culture), the murder of film directors in Holland, and the rioting and looting in Paris France.
This is what offends me, a soft-spoken person and academic, and many, many, many of my colleagues. I counsel you dissatisfied, aggressive, brutal, and uncivilized slave-trading Moslems to be very aware of this as you proceeded with your infantile "protests." If you do not like the values of the West — see the 1st Amendment — you are free to leave.
I hope for God's sake that most of you choose that option.
Please return to your ancestral homelands and build them up yourselves instead of troubling Americans.
Cordially,
I. S. Wichman, Professor of Mechanical Engineering
I love it! And, according to Snopes.com, this e-mail is not a fake. Poor Wichman was a bit dismayed that this e-mail was made public:
"I used strong language in a private communication that I would certainly not have used if this communication would have gone public. ... For the record, I thought it was a private communication and it was written in haste. I think a very minor thing has been blown completely out of proportion. I wrote it in 60 seconds. It was not like I sat and pondered over this thing for days. It was like you talking one night to your wife or your kids."
(Note to all: In this day and age, don't e-mail anything if you are worried about privacy of the contents!)
In any case, the Muslim Students' Association and other groups are calling for official condemnation from MSU, but the university says it will take no action, as the e-mail was a private communication and did not reflect the university's view.
This will be something to watch. I am sure the Muslim groups calling for him to be officially reprimanded will not be dissuaded so easily. Congratulations are to be extended to MSU for supporting one of its faculty in a matter that most definitely falls under the category of free speech.
h/t: Gayle
Show Comments »
August 17, 2006
Deputy PM: Bush Is Crap
While there's no official record, Britain's Deputy Prime Minister John Prescott is said to have referred to President Bush and his administration as crap. But why did he say it?
The remark is said to have been made at a private meeting in Mr Prescott's Whitehall office on Tuesday with Muslim MPs and other Labour MPs with constituencies representing large Muslim communities. Muslim MPs wanted to press home their objections to British foreign policy and discuss ways of improving relations with the Muslim communities.
Of course. Sucking up to the Muslim community is more important than finding out what's really going on. But that's just politics as usual. It's funny how you never hear about politicians in any Western country worrying about how to improve relations with Christian or Jewish communities...
And of course, the old cowboy jokes just had to come out. According to MP Harry Cohen, who was present at the meeting:
"We also had a laugh when he said old Bush is just a cowboy with his Stetson on. But then he said, 'I can hardly talk about that can I?'
That Prescott is brilliance personified.
Show Comments »
July 29, 2006
The Religion Of Peace Strikes in Seattle
What would you say about someone barging into Jewish center shouting, "I am a Muslim American angry at Israel" and then begins shooting?
It happened in Seattle yesterday. One woman is dead and five others are injured.
Here's what the authorities in Seattle are saying:
Police would not confirm the account. When asked if the suspect was Muslim, Police Chief Gil Kerlikowske said at a news conference, "you could infer that that was his background."
...
"This was a purposeful, hateful act, as far as we know by an individual acting on his own," Mayor Greg Nickels said at the news conference.
There is a problem with this analysis. While all religions require followers to believe its tenets, Islam is about total submission. Radical Islamists believe that it is their duty to either convert or destroy nonbelievers. The term "peaceful coexistence" does not seem to be a part of their vocabulary. So while Naveed Haq (the alleged shooter) may have acted on his own, he was really acting in accordance with Islam, which is dedicated to the takeover of the world -- beginning, of course, with the Jews and Israel.
Then there's the "I'm a Muslim American" angle. Why is he a Muslim American? Because in today's "culture sensitive" society, being American isn't enough. We all have to be (insert ethnicity or religion here) Americans. This is what multiculturalism has wrought. Putting one's ethnicity or religion ahead of one's nationality has become the norm. It is in this way that our society, as a society, is beginning to unravel. Haq didn't think of the people at the Jewish center as fellow Americans. He put his own Muslim identity before his American identity.
As Americans we believe in "life, liberty and the pursuit of happiness." Islam is the antithesis of this belief: for example, consider its Shar'ia law and suppression of women.
The warning signs are all around us. It won't end with this incident. When will we face the facts?
Michelle Malkin has his photo and a complete roundup.

Show Comments »
April 20, 2006
Muslim Students Taught Nonbelievers are Filth
And this is surprising why? Via Drudge:
MUSLIM students training to be imams at a British college with strong Iranian links have complained that they are being taught fundamentalist doctrines which describe nonMuslims as "filth".
The Times has obtained extracts from medieval texts taught to the students in which unbelievers are likened to pigs and dogs. The texts are taught at the Hawza Ilmiyya of London, a religious school, which has a sister institution, the Islamic College for Advanced Studies (ICAS), which offers a degree validated by Middlesex University.
Strong links to Iran? Who would have thought it possible?
The article says the students wish to remain anonymous. Who can blame them? At least they're speaking out.
The text is one of a number of books that some students say they find "disturbing" and "very worrying". Their spokesman told The Times: "They are being exposed to very literalist interpretations of the Koran. These are interpretations that would not be recognised by 80 or 90 per cent of Muslims, but they are being taught in this school.
One of the teachers passes the buck:
Dr Bahmanpour said: "We just read the text and translate for them, but as I said I do not deal with the book on purity. We have left that to the discretion of the teacher whether he wants to teach it or not.
"The idea is not to teach them jurisprudence because most of the fatwas of Muhaqiq are not actually conforming with the fatwa of our modern jurists. The idea is that they would be able to read classical texts and that is all."
Here's the doctrine in question:
'The water left over in the container after any type of animal has drunk from it is considered clean and pure apart from the left over of a dog, a pig, and a disbeliever'
'There are ten types of filth and impurities: urine, faeces, semen, carrion, blood of carrion, dogs, pigs, disbelievers'
'When a dog, a pig, or a disbeliever touches or comes in contact with the clothes or body [of a Muslim] while he [the disbeliever] is wet, it becomes obligatory- compulsory upon him [the Muslim] to wash and clean that part which came in contact with the disbeliever'
You gotta love that tolerance!
I have a strong suspicion that fundamentalist Islamists, including terrorists, are getting much of their funding from Iran. This possibility should be explored. Will it happend? Or will we continue to worry more about appeasement and the appearance of tolerance in this touchy-feely world?

Show Comments »
March 03, 2006
Support Denmark Rally
Photos now up! Click on each for a larger image. Scroll down...
Welcome Michelle Malkin readers!
I went to the rally at the Danish embassy in NYC during my lunch hour. I took plenty of photos, but am not able to post them until I get home tonight. Until then, a few impressions:
Only a few folks were there when I arrived, and I was worried that not many people would show. As it turned out, we probably had about 100 people. (I'm not good at estimating crowds, though, so the number may actually be higher or lower.) There were some great signs, great hats and face makeup, and a bunch of great people out for a great cause.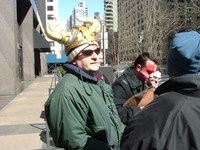 Media? Fuhgeddaboutit. There were some freelance reporters, but no bigshots that I know of. No cameras from CNN, ABC, CBS or NBC. Not even FOX was there. Around 12:45 (with 15 minutes to go) some students from the Columbia School of Journalism came with a camera and interviewed Michael Weiss of Snarksmith, the organizer of the rally. They also interviewed a few other people. The widow of a journalist kidnapped and killed in Basra was there as well (her name escapes me; I'll figure it out...should have brought a notepad!), and she was grateful to see all the people there. (Lisa Vincent, widow of Stephen Vincent, shown below addressing the crowd...thanks to Katie for providing me with her name.)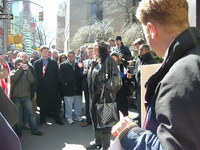 The Man from GOP and the City was there for a short time (he's originally from the South and got cold, poor guy, and left shortly after he arrived). About 15 minutes into the rally, we were told by a cop to move from the front of the embassy to the Dag Hammarskjold Plaza park across the street. We weren't sure why, but the crowd moved peacefully.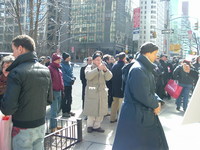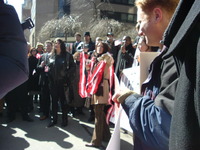 Pamela of Atlas Shrugs speaks to the crowd
There were a lot of diverse people there with diverse opinions about religion and politics. A lot of people spoke out about why they were there. We all agreed on one thing: that a free society cannot have one special interest group dictate what can and cannot be said and/or published. One interesting quote came from a black woman. I don't have exactly what she said, but basically it was that thousands of people died so that she could be where she is today, and she was not about to miss a rally of such importance. That got a big round of applause!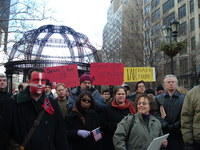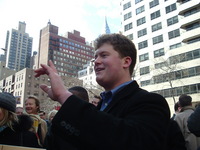 The MSM didn't come out of this looking too rosy. There was plenty of criticism of them not printing the cartoons because they were being "sensitive," when really they are afraid. Why can't they be honest about it? If the NY Times and other big outlets would simply admit they were afraid of the violent outbursts, then we might not be so hard on them. But for them to act sanctimoniously when they are really just a bunch of wimps is very misleading.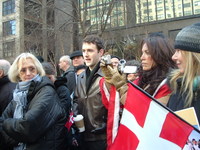 Michael Weiss, organizer of the rally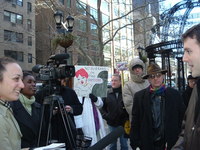 Weiss being interviewed by CSJ students
It was cold but fun. I'm glad I was able to be a part of it. Check back tonight (after 8 pm Eastern) and I will have my photos up.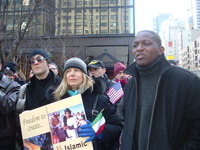 More coverage: Atlas Shrugs, The Resplendent Mango
Show Comments »
REMINDER: Solidarity Rally at Danish Embassy in NYC Today
From noon-1 pm today, there is a solidarity rally at the Danish Embassy, located at 885 Second Avenue (at 47th). Participants may bring signs, flags, and whatever else they would like to use to show support of Denmark, but no electronic sound amplification devices (i.e. bullhorns, microphones). This is to be a peaceful rally!
Snarksmith reports that there will be a small police presence for those of you who may be worried about the possibility of unrest.
I'll be there, and I'll be taking photos...which I won't be able to post until tonight when I get home.
If you're in the area, I hope you can make it!
Show Comments »
March 01, 2006
Stand Up for Free Speech: Danish Embassy, NYC


Mirroring last week's peaceful gathering at the Danish embassy in Washington DC (jump started by Christopher Hitchens), likeminded folks are invited to an event at the Danish embassy in New York City. Snarksmith has details:
There is no way that a city like New York should neglect to stand up for free speech, democracy and secular cosmopolitan values. So I am pleased to inform you that the rally for Solidarity With Denmark is indeed on for this week.
It will be held outside the Danish consulate at One Dag Hammarskjold Plaza, 885 Second Avenue, on FRIDAY, MARCH 3RD, FROM 12:00 PM TO 1:00 PM. (A fitting an emulation of the hugely successful D.C. version.)
I've been in touch with the consul-general himself, and he has graciously welcomed us. I promised the event would be as civilized and dignified as this noble cause demands, and in order to obviate a city permit, please note that NO electronically amplified sound equipment or bullhorns may be used. But signs and placards -- the cleverer the better -- are of course highly encouraged. Relevant cheeses, plastic toy building blocks and Shakespeare allusions also kosher...
Spread the word.
I'll be there. Will you?
Hat tip: Michelle Malkin
Show Comments »
February 28, 2006
Arab Nations: Ban Slandering of Religion
I'll take Double Standards for $400, Alex!
I posted about this earlier this month , and it seems the MSM is finally catching on to it.
Arab and Islamic governments should pressure the United Nations to ban the slandering of religions, said more than 200 Arab politicians who renewed their criticism today of the contentious Prophet Muhammad cartoons.
The call, which was made at the end of a two-day conference at a Dead Sea resort in Jordan, comes amid outrage felt throughout the Islamic world over the publication in a Danish newspaper of a series of cartoons of Islam's prophet.
"We urge Arab and Muslim governments to spare no effort to pressure the UN to issue a resolution banning the slandering of religions," the politicians from 16 Arab countries representing the Arab Inter-Parliamentary Union said in a statement.
Those who violate such a resolution should face legal action, added the statement.
The UN is not, I repeat, not, a governing world body, as much as it would like to be. Here is the purpose of the UN, from its own website:
The purposes of the United Nations, as set forth in the Charter, are to maintain international peace and security; to develop friendly relations among nations; to cooperate in solving international economic, social, cultural and humanitarian problems and in promoting respect for human rights and fundamental freedoms; and to be a centre for harmonizing the actions of nations in attaining these ends.
I don't see anything about passing international laws. The UN can put pressure on its member countries, I suppose, but those sovereign nations make their own laws, thank you very much.
However, for the sake of argument, let's say such a law was passed worldwide. Then any Arab or Muslim nation would face legal action for publishing cartoons such as these: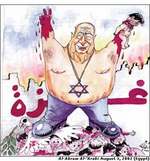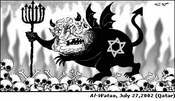 Some have argued that the cartoons are deriding the Jews as a people and not their religion. I say, hogwash. Deriding someone as a Jew is deriding the Jewish faith. Period. Freedom of speech for me but not for thee seems to be the order of the day...
Show Comments »
February 21, 2006
Christopher Hitchens Stands Up for Denmark
Christopher Hitchens wrote a superb (as usual) article today in Slate regarding the freedom of the press crisis that now faces much of the free world. He asks why we are ignoring Denmark, a staunch ally. Why indeed?
Read the article, as you should. Then, if you live in the Washington DC area, consider contacting Hitchens, as he is hoping to have a peaceful event at the Danish embassy there in order to show our solidarity with Denmark at this important time.
As for me, I would love to help organize a sister event at the Danish embassy in NYC. I e-mailed Hitchens (don't know if he will actually reply), but if any of you are in or around New York and would like to participate in such a venture, please contact me (click on the EMAIL ME icon on the left sidebar or leave a comment).
For the record: I have said it before and will say it again. I don't think deliberately offending religious sensibilities of anyone is tasteful. However, free society doesn't mean freedom from being offended. We cannot allow radical Islam to dictate what we can and cannot print or broadcast. Peaceful protests? Fine. Boycotting? Again, while it is hurting Danish companies, it is also an acceptable way to protest. But burning, rioting and death threats cross the line, as does a religion that expects special treatment while doing plenty of offending itself.
If you're interested in the event I mentioned above, I hope to hear from you. I certainly can't do it alone!
Hat tip: Michelle Malkin
Show Comments »
February 20, 2006
Why Do They Hate Us? Because They Do
Westerners are asking why radical Islamists hate us and have come up with a plethora of answers, ranging from "misunderstanding" to "haves vs. have-nots."
Brigitte Gabriel is an Arab Christian who suffered at the hands of Muslims in her childhood because she is an infidel in their eyes. She shared her story and her insights at the Intelligence Summit last Saturday, February 18. Excerpts from her speech are posted on Frontpage Magazine. Here is one of the most powerful passages:
America cannot effectively defend itself in this war unless and until the American people understand the nature of the enemy that we face. Even after 9/11 there are those who say that we must "engage" our terrorist enemies, that we must "address their grievances". Their grievance is our freedom of religion. Their grievance is our freedom of speech. Their grievance is our democratic process where the rule of law comes from the voices of many not that of just one prophet. It is the respect we instill in our children towards all religions. It is the equality we grant each other as human beings sharing a planet and striving to make the world a better place for all humanity. Their grievance is the kindness and respect a man shows a woman, the justice we practice as equals under the law, and the mercy we grant our enemy. Their grievance cannot be answered by an apology for who or what we are.
Absolutely a must-read.

Show Comments »
February 15, 2006
Cartoon Fatwah Update
The religion of peace is showing its fangs. And it's going high tech.
Michelle Malkin and other blogs are being spammed and threatened regarding their posting of the cartoons of Muhammed.
Here's something to keep in mind:
"No people in history have ever survived who thought they could protect their freedom by making themselves inoffensive to their enemies." - Dean Acheson
Show Comments »
February 09, 2006
Shocker: Hezbollah Encouraging Cartoon Protests
From AP via Yahoo:
In Beirut, Hezbollah leader Sheik Hassan Nasrallah urged Muslims worldwide to keep demonstrating until there is an apology over the drawings and Europe passes laws forbidding insults to the prophet.
The head of the guerrilla group, which is backed by Iran and Syria, spoke before a mass Ashoura procession. Whipping up the crowds on the most solemn day for Shiites worldwide, Nasrallah declared:
"Defending the prophet should continue all over the world. Let Condoleezza Rice and Bush and all the tyrants shut up. We are an Islamic nation that cannot tolerate, be silent or be lax when they insult our prophet and sanctities."
"We will uphold the messenger of God not only by our voices but also by our blood," he told the crowds, estimated by organizers at about 700,000. Police had no final estimates but said the figure was likely to be even higher.
What a load of hooey. First they want apologies, then they want laws passed that will forbid offending Islam. Perhaps if they are worried about offending the sanctity of religion, they won't mind if laws are passed worldwide against offending Christianity and Judaism. Oh, wait, never mind...it's the "free speech for me but not for thee" mantra.
Kind of like the American left. Who says the left has no influence?
And tyrants? Who are they to discuss tyrannical actions when they are demanding that we bend to their will?
The key phrase that we should be focusing on here is the phrase "Islamic nation." Not "Islamic religion," but "nation." Radical Islamists believe that the entire world should not only convert to Islam, but that Islam should rule every facet of our every day lives using Sharia law. And those who do not convert will be annhialated. (Kind of like the Borg of Star Trek: "You will be assimilated. Resistance is futile.") They won't stop on their own...we need to stop them.
The idiocy continues; stay tuned.
h/t: GD

Show Comments »
America "Leads" Europe
As a former presidential candidate who wanted America to make amends with Europe, John Kerry should be proud that we have regained our status as leader of Europe. At least, that's what some protesters in Afghanistan think:
Police killed four people Wednesday as Afghans enraged over drawings of the Prophet Muhammad marched on a U.S. military base in a volatile southern province, directing their anger not against Europe but America.
The U.S. base was targeted because the United States "is the leader of Europe and the leading infidel in the world," said Sher Mohammed, a 40-year-old farmer who suffered a gunshot wound while taking part in the demonstration in the city of Qalat.
"They are all the enemy of Islam. They are occupiers in our country and must be driven out," Mohammed said.
Poor Sher Mohammed must be yearning for the days of the Taliban, where men were king and women were cowed.
Still, I know I'm pretty excited, knowing we're the "leading infidel" in the world as we know it. What a great T-shirt or bumper sticker slogan. "America: Infidel Leader of the World"

Show Comments »
February 07, 2006
Moscow Museum Joins Cartoon Fatwah
Add Yury Samodurov in Moscow to the list of infidels who must be punished severly:
MOSCOW, Feb. 7 (UPI) -- A Moscow museum has announced it will exhibit the entire series of cartoons of Mohammed that have caused riots throughout the Islamic world.
Yury Samodurov, director of the Sakharov Museum and Public Center, said on Russian television that the center was ready to organize a public exhibition of the cartoons satirizing the founder of Islam that originally were published in a Danish newspaper, Pravda.ru reported Monday.
"We must show the whole world that Russia goes along with Europe, that the freedom of expression is much more important for us than the dogmas of religious fanatics," Samodurov said.
The exhibition reportedly will open in March. Lawyer Yury Shmidt has said he will invite French philosopher Andre Glucksmann and French novelist Michel Houellebecq to the opening ceremony to read lectures about the threat of Islamic fundamentalism.
In 2003 the Sakharov Museum outraged many Russian Orthodox believers with the art exhibit "Be Careful -- Religion," which many felt was insulting to their beliefs.
Again, I don't think we should go out of our way to insult anyone's religious beliefs. However, we should not allow bully boy tactics to stifle our freedom of speech and expression.
Onward!
Show Comments »
February 06, 2006
Cartoon Fatwah vs. Piss Christ
From Frontpage Magazine, a must-read article:
Though some criticisms of Piss Christ, and the man who created it, were intemperate, Serrano's art was never forced underground, nor was his life seriously threatened, nor was he forced into hiding a la Salman Rushdie or placed in protective custody. Violence-prone packs of Christians did not roam the streets of Paris, or London, or Frankfurt, or Madrid, or New York calling for the head of Piss Christ's creator.
Read the whole thing here.
Show Comments »
February 03, 2006
This Is Cartoon Fatwah
OK, the call has gone out and I am responding. Here, for your viewing pleasure, are the cartoons that Muslims in Europe and elsewhere are calling for blood over. This is part of the blogburst being sponsored by Michelle Malkin and others.
A disclaimer: I do not think that it's "fun" to offend the religious sensibilities of others. I do not go out of my way to do so. (Think "Piss Christ" and the lovely painting of the Madonna covered in elephant dung, both of which I find offensive myself.) Perhaps these cartoons are in bad taste. But, they're out there. Had Muslims not made such a stink, I doubt many outside of Denmark would have even heard of them, let alone seen them. But they've crossed the line in threatening death to the cartoonists and other kinds of violence. This is not the way civilized people behave. The so-called Religion of Peace is not exactly making a case for that moniker. Where are the moderate Muslims we keep hearing about? Why aren't they protesting this outrageous behavior? Because they are either afraid or they silently agree with them. The free world comes with a price, and part of that price is the right to offend someone else. It's not right, but it happens. And we have to act like adults and deal with it in an adult manner.
Issuing fatwahs is not the way.
Without further ado, the cartoons. Click on each one for a larger view.
I'm curious, too, as to why Michael Moore hasn't said anything about this. He compared the insurgents (read: Islamic terrorists) in Iraq to America's Minutemen. Does he have an opinion? Or is he too busy tooting his horn about his upcoming mockumentary on American healthcare (and promising bit parts to people who offer dirt on healthcare institutions).
Just wondering...
tagged: jyllands-posten mohammed muhammad cartoon
Show Comments »
November 08, 2005
French Attitude to Blame for Riots?
Jacques Chirac has admitted privately that the failure of France to accept Islamic immigrants played a part in the current rioting.
Chirac, in private comments more conciliatory than his warnings Sunday that rioters would be caught and punished, acknowledged in a meeting Monday with Latvian President Vaira Vike-Freiberga that France has not integrated immigrant youths, she said.
Chirac deplored the "ghettoization of youths of African or North African origin" and recognized "the incapacity of French society to fully accept them," said Vike-Freiberga.
France "has not done everything possible for these youths, supported them so they feel understood, heard and respected," Vike-Freiberga quoted Chirac as saying.
Meanwhile, French tourism (which accounts for nearly 7 percent of France's GDP), faces a crisis as well. Twelve countries, including the United States, have issued warnings to their citizens who plan on traveling to France, although none have actually recommended outright avoidance.
France's tourism minister complained that the media is blowing the unrest out of proportion:
"You get the impression that France is awash with flames and blood, which is not at all the case," said the minister, Leon Bertrand. "You cannot deny the images, but there are images and images."
That's rich, considering how French television covered the aftermath of Hurricane Katrina. It's okay for France to pass judgment, but no one has the right to judge France.
Some things never change.

Show Comments »
November 07, 2005
France Burns While Chirac Offers Platitudes
For nearly two weeks, Muslim youths have been rioting in Parisian suburbs, and the incidents are spreading like wildfire (pardon the cliche).
Speaking of cliches, what is French president Jacques Chirac doing about it?

"The law must have the last word," Chirac said in his first public address on the violence. France is determined "to be stronger than those who want to sow violence or fear, and they will be arrested, judged and punished."
And it's taken nearly two weeks for this wisdom to come out of his mouth? I might have expected more out of a mime.
Chirac said France was determined to promote "respect for all, justice and equal opportunities." Violence has been concentrated in poor suburbs with large immigrant populations.
"But there is a precondition, a priority, I repeat," he said. "That is the restoring of security and public order."
Respect for all...that's nice. But obviously the respect the French are showing their immigrant population isn't exactly bowling them over. This is where the policies of multiculturalism are hitting the fan. By not actively trying to get these people involved in mainstream French culture to begin with, the French government pretty much shot itself in the foot.
This begs another question: why does immigration in France and other European countries seem to be so difficult? After all, here in America, while there are always a few malcontents running around, we don't usually see this kind of widespread rioting by one group of people for such a prolonged time.
Here's my theory: America is a country of immigrants. It's much easier to consider oneself an American, and be considered an American, because everyone and their predecessors came from somewhere else. Yes, the initial group of settlers in this country came from England, but soon after there were immigrants from other countries. And while (unfortunately) it was because of slavery that black people first came to this country, we have had racial diversity for all of our existence. It hasn't been without its flaws, but think about it--how long has such diversity been around for France and other European countries? It's much more difficult to immigrate to a European country and call yourself French, German, Spanish, etcetera, because until maybe 40 or 50 years ago, those countries were mostly made up of people of the same ethnic and social backgrounds. Here in America, diversity has been around from nearly day one. We're used to it. (Again, we're not perfect, but we continue to work on it.)
While Chirac bleats about respect and justice, the Muslim rioters aren't listening. They haven't been listening for a long time, because they have been disenfranchised (a popular phrase on the left) for much of their existence in France and they're ready for a change.
Forget about arresting them. Police involvement obviously isn't enough. It's time to bring in the French troops (such as they are) and use martial force to stop the rioters in their tracks. Only then can they sit down and talk about it, something the French love to do.
I'll be surprised if they take this route, however. After all, this is France we're talking about. They like to think they are above such "cowboy" tactics that us uncouth Americans are more likely to utilize, and think that the mere suggestion of "truth and justice" will win the day. (As if the rest of us have forgotten the way the French Revolution was conducted!) Chirac has been quoted as saying, "The construction of Europe is an art. It is the art of the possible." More like impossible, the way the French are bungling it.
As John Ruberry over at Marathon Pundit told me, "It's getting worse." And I don't see it getting better any time soon.
*Hugh Hewitt weighs in.
Show Comments »
November 05, 2005
Proof that Multiculturalism Doesn't Work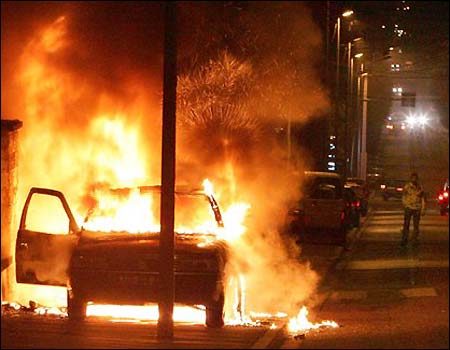 Yet the New York Times and other MSM outlets have headlines such as Riots Spread from Paris to Other French Cities and refer to the rioters as simply "immigrants"--leaving out the "Muslim" part. After all, it's not PC to point the finger of blame a group with protected status, even though they're the ones at fault.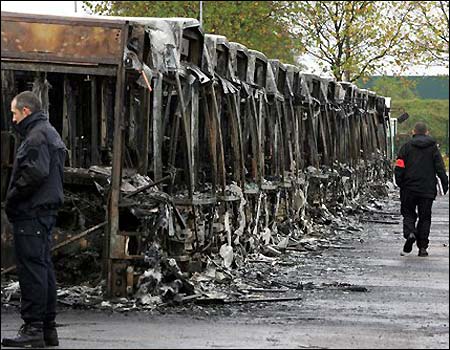 Click on these links for more:
Moonbattery: Multiculturalism Blossoms in France
Michelle Malkin: What's French for "Hell Breaking Loose?"
Tinkerty Tonk: Out of Control
The Bernoulli Effect: Is the Era of Appeasement Over?
And, for laughs and giggles:
Independent Sources: Islamic Vogue
Show Comments »